Studiengangdetails
Molecular Biology

Abschluss:

Master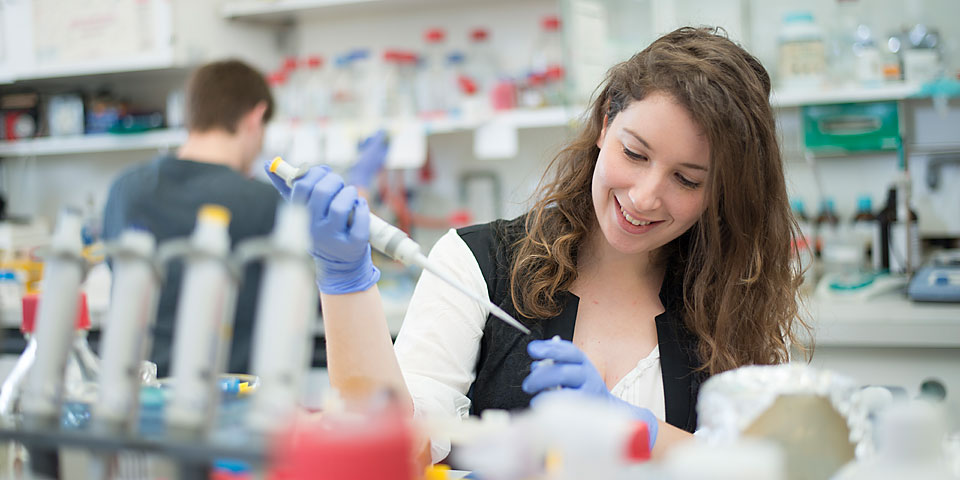 This Master's degree program is offered by the Biozentrum of the University of Basel. It provides direct access to molecular biology research and teaching at the international top level in a working atmosphere which equally promotes professional and personal development. The core activity of the Master's degree is a supervised practical research project of at least 12 months length. In parallel, the students attend lectures and seminars in their area of specialization. Possible areas of specialization are Biochemistry, Biophysics, Cell Biology, Computational Biology, Developmental Biology, Genetics, Immunology, Infection Biology, Microbiology, Neurobiology, Pharmacology and Structural Biology. The Master's degree demonstrates the capacity to conduct a scientific research project and to present the results in written and oral form.
Focal areas of teaching and research
Research at the Biozentrum Basel embraces a wide range of topics and techniques, following the overarching intent to understand the molecular organization of living organisms. The research is concerned with structure and function of macromolecules, the wiring of regulatory circuits, as well as identifying general principles underlying complex biological systems and their dynamic interactions. Research at the Biozentrum comprises the areas Growth & Development, Infection Biology, Neurobiology, Structural Biology, Biophysics, Computational & Systems Biology. These research areas share concepts and technologies and act in a synergic and collaborative manner. New relevant questions often arise at the interface between research areas, while innovative solutions can be provided by the individual techniques. The Master's degree program has been designed to meet all requirements of modern biological research.
Course structure
The Master degree program Molecular Biology is a postgraduate "mono-course" degree consisting of one core subject. It requires a successfully completed Bachelor's degree and awards a total of 90 ECTS credits. One ECTS credit point corresponds to approximately 30 hours of study.
Master of Science (90 ECTS)
Molecular Biology
90 ECTS
Mono-courses
Combination of subjects
The degree programs at the Faculty of Science generally consist of an in-depth subject with the possible addition of a second elective subject. The Master's degree program Molecular Biology is a "mono-course" and does not include an elective subject.
Career opportunities
After successfully completing their Master's degree the graduates are optimally qualified for a doctorate or to follow a profession in the life sciences. The subject Molecular Biology is of interdisciplinary nature and the career opportunities include activities in the fields of medicine, biotechnology and pharmaceutical industries. Practical applications of the subject are found in basic research, but also in business, society and politics. Numerous jobs are open within the university, in private industry, government service, schools and organizations, as researchers, communicators, teachers or advisors.
Related Links and Downloads
Das richtige Studium gefunden?