Study-Details
Sport, Bewegung & Gesundheit: Studienrichtung Prävention und Gesundheitsförderung

Degree:

Bachelor
Im Bachelorstudium «Sport, Bewegung und Gesundheit» werden zwei Studienrichtungen angeboten: der Bachelorstudiengang «Prävention und Gesundheitsförderung» und das Bachelorstudienfach «Sportwissenschaft».

Ziel ist es, hochqualifizierte Personen auszubilden, welche im Bildungs- und Gesundheitssektor tätig sind. Daher beschäftigen sich die Studierenden im Bereich der Prävention, Rehabilitation und Gesund-heitsförderung mit bewegungs- und gesundheitsbezogenen Inhalten in Bezug auf unterschiedliche Adressatengruppen und Lebensalter.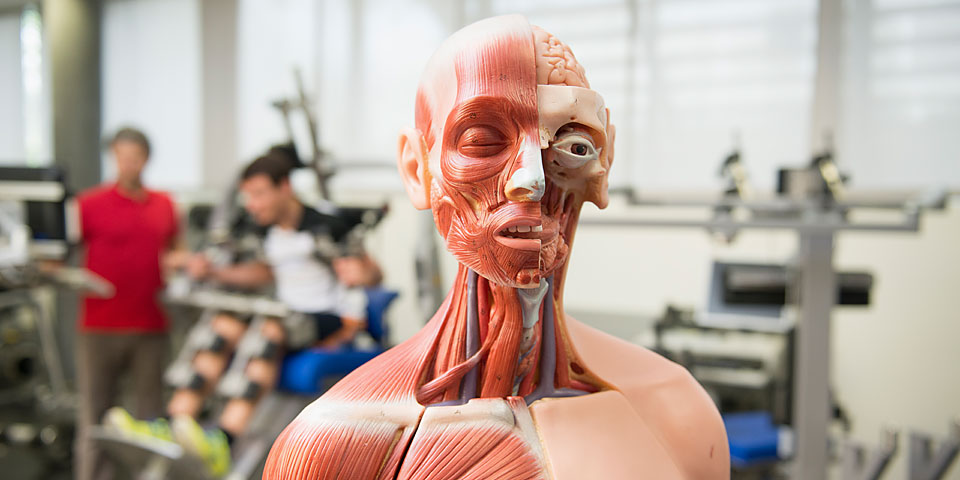 Das Bachelorstudium «Sport, Bewegung und Gesundheit» ist in drei Abschnitte gegliedert. In den ersten beiden Semestern erwerben alle Studierenden die notwendigen sportwissenschaftlichen Grundlagen (Anatomie, Physiologie, wissenschaftliches Arbeiten und Schreiben etc.). Hinzu kommt eine umfangreiche sportpraktische Ausbildung.
Vom dritten bis zum fünften Semester besteht für die Studierenden in den Vertiefungsmodulen die Möglichkeit, ihr Studium gemäss den eigenen Interessen und (Berufs-)Zielen individuell auszurichten. Das obligatorische Profilmodul am Ende des Bachelorstudiums dient der weiteren Profilierung. Den Kern bilden ein Praktikum oder die Mitarbeit an einem (Forschungs-)Projekt sowie die Anfertigung der Bachelorarbeit.
Schwerpunkt der Lehre und Forschung
Forschung und Lehre werden von den drei Bereichen Sport- und Bewegungsmedi­zin, Bewegungs- und Trainingswissenschaft und Sportwissenschaft betrieben. Sie beschäftigen sich mit den sportwissenschaftlichen, trainingswissenschaftlichen und sportmedizinischen Grundlagen von Bewegung. Der Fokus liegt auf Präven­tion, Rehabilitation und Gesundheitsförderung im Lebensverlauf, d.h. bei Menschen jeden Alters, sowie bei chronisch kranken Menschen. Forschung, Lehre und Studium sind international ausgerichtet. Die Forschungsergebnisse werden publiziert und der Bevölkerung zur Verfügung gestellt, damit ein gezielter Beitrag für die Volksgesundheit geleistet werden kann.
Studienaufbau
Der Bachelor umfasst insgesamt 180 Kreditpunkte (KP). Ein Kreditpunkt (KP) ECTS entspricht ungefähr 30 Arbeitsstunden.
Bachelor of Science (180 KP)

Sport, Bewegung und Gesundheit –
Prävention und Gesundheitsförderung
160 KP

Wahlbereich
20 KP

Studiengang
Fächerkombination
Der Studiengang Sport, Bewegung und Gesundheit – Prävention und Gesundheitsförderung ist ein Monostudiengang ohne weitere Fächer. Am Departement für Sport, Bewegung und Gesundheit kann ebenfalls das Studienfach «Sport, Bewegung und Gesundheit – Sportwissenschaft» in Kombination mit einem ausserfakultären Zweitfach studiert werden.
Weiterführende Masterstudien
Weiterführende Links und Downloads
Found the right program?