Free Content
Culture & Values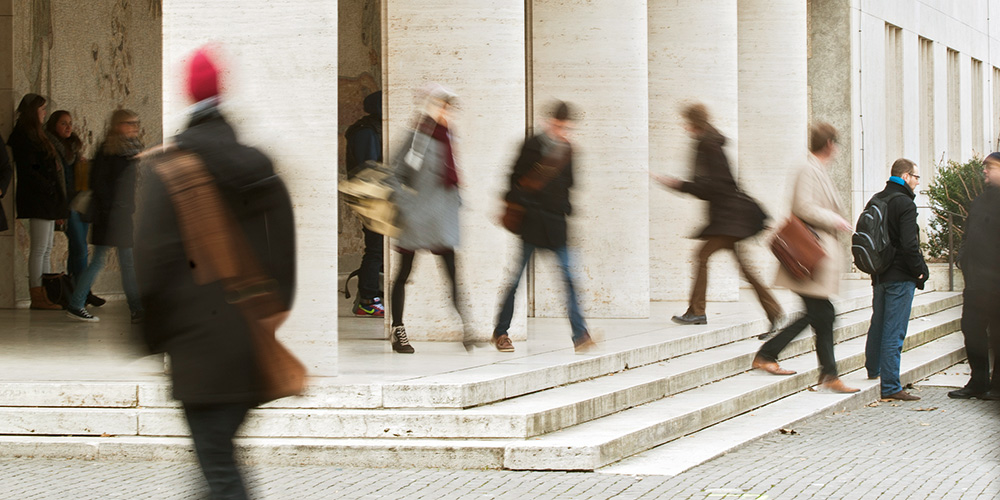 The University of Basel fosters a culture of trust, respect and tolerance while at the same time committing each and every individual to achieve the best results possible. The University of Basel seeks to educate and train its students, so they become independent, critically reflective, innovative individuals who are able to assume responsible roles within society.
The University of Basel is also a modern employer, offering its staff a working environment in which they can excel and continue to develop. It therefore regularly reviews the attractiveness of its terms of employment and the working environment.
Teamwork
The University of Basel values the diverse potential of its staff and offers an attractive environment for self-development at all levels. Our team approach is key. No one is alone. We move forward together. We believe in an appreciative, cooperative culture of leadership and collaboration combined with open dialog.
Encouraging diversity and individuality
As a place of work and education for around 19,000 people from over 100 countries, the University of Basel both relies on and is committed to diversity. It sees itself as an organization that values the different experiences and perspectives of its members and promotes their diverse strengths, regardless of age, religion, gender, gender identity, cultural background, language, social or professional status, lifestyle, political conviction, sexual orientation or disability.
Diversity and Integrity
Diversity management
A university-wide diversity strategy is being established in cooperation with various university units with the aim of ensuring that study, research and administration processes are free of discrimination and barriers to accessibility. Additionally, university processes, strategies and the legal foundations that underpin them are being evaluated to ensure equal opportunities for men and women. Where necessary, they are being adapted or expanded.

Personal integrity
The University of Basel is committed to a respectful work culture in which the personal integrity of its employees is respected and protected. The University of Basel does not tolerate sexism, sexual harassment, discrimination, bullying or abuse of power. The Personal Integrity Coordination Office is tasked with supporting and safeguarding this respectful work culture.

Academic integrity
Faculty confidants serve as advisors and mediators in cases of suspected academic misconduct. The confidants designated by the various faculties serve as the contacts for all members of the University of Basel for any matters concerning integrity violations as defined by the University of Basel regulations on academic integrity and misconduct.


Ombudsman's Office
The Ombudsman's Office is appointed by the Senate and operates independently of the other bodies at the University of Basel. The Ombudsman's Office is available to all members of the university to handle internal university-related complaints.
---
Co-determination
The University of Basel encourages all of its members to be prepared to take on responsibility. All members have a right to co-determination, which can be exercised through a range of groups.
Representatives from the groups participate in dealing with the university's affairs as part of various boards and committees. The members of the University of Basel are also represented when the faculties and departments convene.
---
A university open to all
At the University of Basel, institutions share their knowledge with the general public. The thrilling experience of research becomes an integral part of society. Beyond academic teaching and research, the University of Basel engages in a lively exchange with society, culture and business. Its focal areas reflect current political and social developments and help to advance our community. As part of its responsibility toward the cantons that support it, the University of Basel provides a wide range of services open to anyone in the region who is eager to learn.
---
Sustainability
Sustainability lies at the heart of the University of Basel's core values, and sustainable principles are applied to research, teaching and operations. Sustainability is firmly anchored in the Strategy 2022–2030 and the university's mission statement. The Sustainability Office initiates and coordinates numerous projects as one central entity.
---
International networks
International exchange means mutual inspiration and productive competition for the best ideas. The University of Basel is taking on this global competition.
In its internationalization, the University of Basel pursues objectives on several levels that can be realized in the shape of strategic initiatives from the President's Board as well as through supporting measures for initiatives within the faculties. Both approaches are connected and supported equally by the International Office of the University of Basel. Located in Basel, the University has an international outlook: internationalization at home plays an equally important role as cross-border internationalization. This encompasses all measures for incorporating an international dimension into education, teaching, administration, marketing and communications, including diverse activities such as English-speaking summer schools. Guest lecturers, exchange students and PhD candidates all enrich Basel's teaching and research. The University of Basel uses English as its second language of communication.
Bilateral research groups
Building on its international identity, the University of Basel invests in collaborations, research projects and partnerships both within Europe and worldwide. In addition to partnerships involving the entire university, the focus is on bilateral collaborations in research groups or study programs. The University of Basel sees itself as part of a global scientific community. It offers attractive and internationally competitive terms of employment.

An international corner on the Rhine
Eucor – The European Campus is a cross-border university alliance of five French, German and Swiss universities located on the Upper Rhine that cooperate in teaching, research, administration, culture and sports. Not only bachelor's and master's students profit from this: in addition to lectures, courses are also open to PhD candidates and postdocs from the partner universities. This mobility within the European Campus also applies to staff. Joint research projects are financially supported.

Non-European partnerships
The University of Basel is specifically expanding its collaboration with universities outside Europe. The focus is on three geographical regions: Africa (South Africa and Sub-Saharan Africa), the Boston area and Asia (China, South Korea, Japan). Basel has already established successful bilateral research collaboration with South Africa and selected countries in the Sub-Saharan region.