Free Content
Chief Financial Officer
Dr. Jürgen Rümmele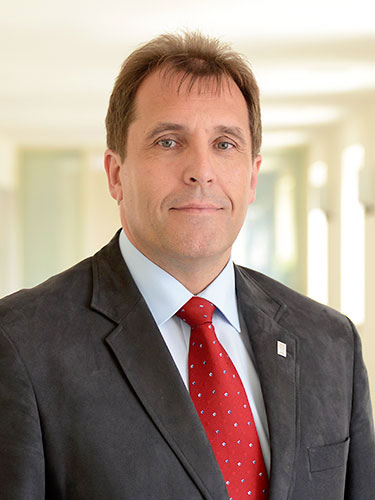 Dr. Jürgen Rümmele joined University in June 1998, shortly after University Basel became independent from the cantonal government. He has played a major role in developing the university's finance, controlling and reporting systems. In addition to the work involved in preparing the annual budget and the medium-term financial planning, he is also responsible for the university's annual financial statement.
Dr. Jürgen Rümmele (60) was born in the German town of Tiengen and grew up in Utzenfeld, a small community near Schönau in the southern Black Forest. He studied economics at the University of Freiburg, where he also worked as an academic assistant on the business administration seminar course of Professor Hilke for four years after graduating in 1986. In the summer of 1990, he obtained his doctorate in the field of financial reporting and accounting policy on the topic "The importance of valuation consistency in accounting."
After working as a management consultant for three years, he moved to Sandoz International AG in 1993, where his role in the Group Reporting department meant he was also involved in the merger with Ciba-Geigy to form Novartis in 1996. At the new company, Dr. Jürgen Rümmele headed the "Structures and Processes" group and was responsible for monthly management reporting. He was also involved in preparing the consolidated financial statements as the main project manager for the development and implementation of a new, globally used consolidation tool. He then moved to University Basel in June 1998.
Finances
Person

Dr. Jürgen Rümmele

Chief Financial Officer