Free Content
National Networks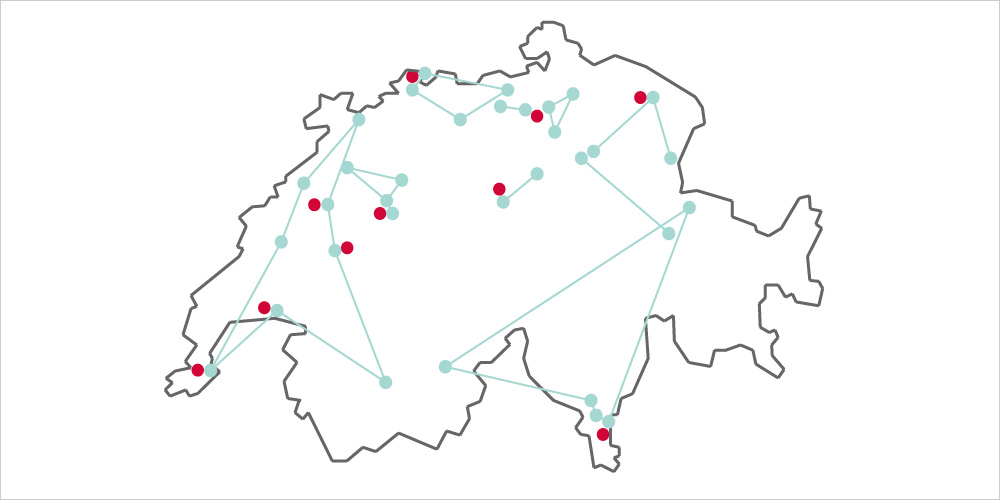 Research is increasingly taking place in interdisciplinary networks and national and international research associations. The reason for this is the recognition that interdisciplinary approaches are of great importance for successful research into complex issues and lead to fruitful results. Small-scale Switzerland offers scientists a diverse environment of highly qualified institutions and research groups within close reach.
National Centres of Competence in Research (NCCRs)
With the National Centres of Competence in Research, the federal government promotes long-term research projects on transdisciplinary topics of strategic importance for Swiss science, economy and society. Through their national networking and local focus, the NCCRs contribute to structuring the Swiss research landscape and enable new research directions that cannot be initiated by individual institutions alone. The University of Basel is Leading or Co-Leading House in the following NCCRs:
NCCR «AntiResist – New approaches to combat antibiotic-resistant bacteria» (2020-2032)
The NCCR AntiResist will establish an interdisciplinary center for antibiotics research in collaboration with researchers from the Departments of Biozentrum and Biomedicine as well as the University Hospital Basel and the Department of Biosystems at ETH Zurich in Basel. The goal is to search for new antibiotics and develop alternative strategies to combat antibiotic-resistant germs. The aim is to link basic research directly with clinical research.
The background to this is the progression of antibiotic resistance, which is increasingly threatening global health and posing a growing problem in clinical practice. For the development of new active substances, Prof. Dehio and his team start with the patient. Using specific tissue culture models, they want to realistically reproduce the infection process in humans in the laboratory in order to discover novel targets for innovative antibiotics. This will form the basis for developing new drugs together with the pharmaceutical industry in the future.
Director: Prof. Dr. Christoph Dehio (University of Basel)
Deputy Director: Prof. Dr. Urs Jenal (University of Basel)
Deputy Director: Prof. Dr. Dirk Bumann (University of Basel)
Contact: Sarah Thomforde (University of Basel)
NCCR «SPIN – Spin Qubits in Silicon» (2020-2032)
The NCCR SPIN aims to develop a scalable technology that will enable the construction of a general-purpose quantum computer. Prof. Zumbühl and his team are relying on the semiconductor silicon, which has proven itself in industry for decades. The SPIN researchers believe that silicon technology holds extreme promise for enabling the on-chip integration of billions of devices. This would lead to particularly powerful quantum computers.
Groups from the Department of Physics at the University of Basel have been working successfully for many years on quantum computing issues using spin qubits, but so far mainly with other semiconductors. To develop research with silicon, the NCCR SPIN is based on a collaboration with IBM Research Zurich. This industrial research laboratory has the necessary expertise in silicon nanofabrication and will take over the production of prototypes.
Director: Prof. Dr. Dominik Zumbühl (University of Basel)
Co-Director: Prof. Dr. Daniel Loss (University of Basel)
Deputy Director: Dr. Heike Riel (IBM Research Zurich)
Deputy Co-Director: Prof. Dr. Jelena Klinovaja (University of Basel)
Contact: Mariann Bühler (Universität Basel)
NCCR «MSE - Molecular Systems Engineering» (2014-2026)
In the Molecular Systems Engineering (MSE) focus area, synthesis processes are transferred from biological cells to synthetic systems. Biological systems can use them to produce new functional molecular building blocks and thus control complex molecular processes. Thanks to advances in life sciences, systems chemistry, systems biology, engineering and nanoscience, researchers are beginning to better understand the engineering principles developed by nature at the molecular level. The NCCR MSE aims to develop new engineering principles that reveal how individual molecular modules can be assembled into functioning molecular production chains. The research results will help to address future economic and technical challenges.
Director: Prof. Dr. Thomas Ward (University of Basel)
Co-Director: Prof. Dr. Daniel Müller (ETH Zurich)
Contact: Aleksander Benjak
NCCR «QSIT – Quantum Science and Technology» (2011-2023)
The NCCR QSIT deals with modern quantum physics, in particular future applications in the field of information technology. Quantum mechanics is a groundbreaking theory of physics and the basis of almost all modern technical devices. First of all, it describes the behavior of «quantum particles» such as atoms, electrons, photons, which behave quite differently from ordinary things in our daily life. In recent years, theoretical physicists have proposed concepts to harness the non-intuitive properties of quantum mechanics in new ways. Tailor-made quantum systems can be realized experimentally and studied with a precision that was unimaginable not long ago. In the NCCR Quantum Science and Technology, 33 research groups are working together. The Leading House is ETH Zurich, the Co-Leading House is the University of Basel.
Director: Prof. Dr. Klaus Ensslin (ETH Zurich)
Deputy Director: Prof. Dr. Tilman Esslinger (ETH Zurich)
Co-Director: Prof. Dr. Martino Poggio (University of Basel)
Contact: Klara Berg
The University of Basel in Swiss Research Networks
Swiss Personalized Health Network (SPHN)
The Swiss Personalized Health Network (SPHN) is a national initiative to promote the development in personalized medicine and personalized health in Switzerland. The SPHN creates the conditions to enable the exchange of health-related data necessary for research (e.g. Swiss Biobanking Platform). The overall goal is to be able to prevent and diagnose more precisely thanks to new findings, and to treat diseases more efficiently and with fewer side effects.
Contact: info@sphn.ch
Zurich-Basel Plant Science Center
The Zurich-Basel Plant Science Center is an established center for plant sciences of the University of Basel, ETH Zurich and the University of Zurich. It was founded in 2002 and serves to promote scientific exchange and collaboration to increase knowledge about plants and the organisms that interact with them. Through innovative and transdisciplinary research projects and by implementing the findings of basic research, sustainable development in the environment and agriculture is promoted. Dialogue with the public is strengthened by contributing a scientific perspective on social, economic and political issues.
Directors: Prof. Dr. Yvonne Willi, PD Dr. Günter Hoch
Contact: Sylvia Martinez
Swiss Institute of Bioinformatics (SIB)
The Swiss Institute of Bioinformatics is an association of bioinformatics research and service groups from the major Swiss universities and research institutions, working closely with world-leading research institutions. SIB leads and coordinates the field of bioinformatics in Switzerland and drives progress in biological and medical research. SIB provides state-of-the-art bioinformatics infrastructure to the national and international life science community and supports top researchers. At the University of Basel, the Bioinformatics Core Facility of the Department of Biomedicine and the sciCORE Center for Scientific Computing are members of SIB.
Directors: Prof. Dr. Ron Appel, Prof. Dr. Christophe Dessimoz
Contact: communication@sib.ch