Articel Content
Ferdinand Hodler on the silver screen.
A film by film pioneer François-Henri Lavanchy-Clarke from 1896 documents the national exhibition in Geneva. In the illustrious turmoil in front of the camera, a team of researchers has now discovered the artist Ferdinand Hodler.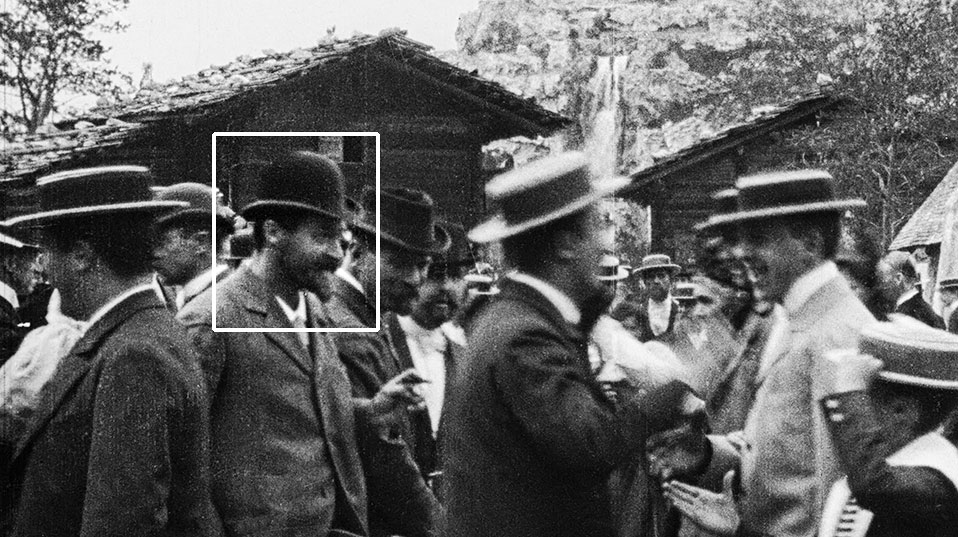 Even in the field of Cultural Studies, there is still scope for surprising discoveries: The influential Swiss painter Ferdinand Hodler (1853–1918) was caught on film as he visited the Swiss Village at the Exposition Nationale in May 1896. This rare find was uncovered by a Media Studies research group and the Digital Humanities Lab at the University of Basel.
Dr. Hansmartin Siegrist and his research team conducted a microanalysis of the oldest conserved film reel of Basel from 1896 while researching the early work of the film pioneer François-Henri Lavanchy-Clarke. Lavanchy-Clarke was the first person outside of France to hold a license for the Lumière brothers' cinematograph. He also ran a pavilion at the State Exhibition which, as well as showcasing Sunlight products manufactured by the English 'soap king' William H. Lever, and coffee produced by the Basel Mission Trading Company, also functioned as Switzerland's first temporary cinema.
Lavanchy-Clarke opened the doors of this Palais des fées on the same evening as the opening of the State Exhibition of Swiss Art. Hodler had won the competition to paint 26 panels for the entrances and the facade of the Pavillon des Beaux-Arts, and was therefore one of the most celebrated artists at the State Exhibition. Lavanchy-Clarke's films were used to advertise the State Exhibition across Switzerland.
Following in-depth analysis of the film material and extensive visits to a specialist archive of artists, the researchers were able to identify many of Hodler's colleagues. In addition to the more typical archival research, the team also employed methods involving the overlaying of photographs with physiometric data.
---
More articles in the current issue of UNI NOVA.