Study-Details
Geographie - ausserfakultäres Bachelorstudienfach

Degree:

Bachelor
Die Geographie ist ein interdisziplinär ausgerichtetes Fach mit natur- und gesellschaftswissenschaftlichen Inhalten, Perspektiven und Methoden. Dieser integrative Ansatz macht die Stärke dieses Faches aus.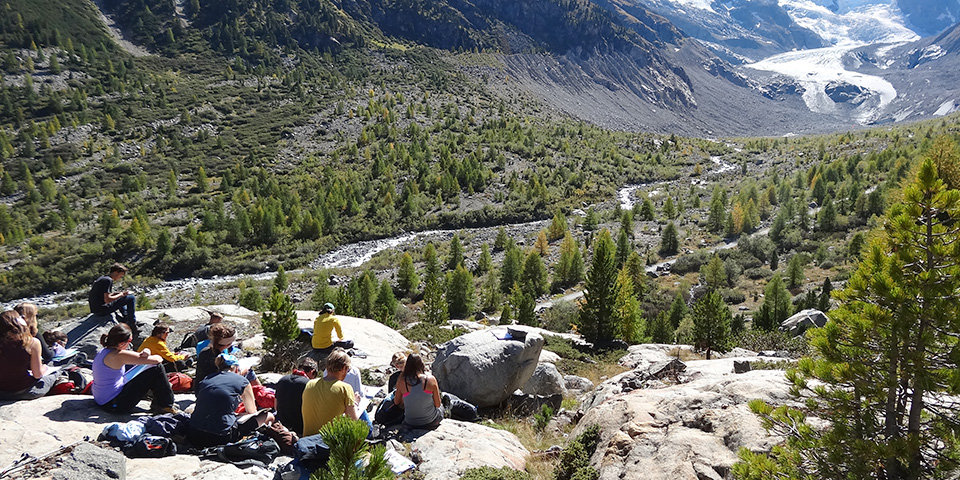 Die Geographie stellt Erkenntnisse über physische, sozioökonomische Prozesse in den konkreten Kontext von Orten und Regionen und vermittelt so ein differenziertes Bild der unterschiedlichen Kulturen, Wirtschaftsformen, politischen und sozialen Systeme, physischen Umwelten und Landschaften, die unsere Erde prägen.
Schwerpunkt der Lehre und Forschung
Die Profilierungsbereiche der Basler Geographie sind Umweltwandel und Landnutzungsänderungen: Land ist eine knappe Ressource, deren Verfügbarkeit von biophysikalischen Faktoren wie Klima oder Bodenqualität beeinflusst wird. Die Landnutzung wird ausserdem durch menschliches Handeln bestimmt, z. B. durch den Ackerbau oder Entwaldung. Wichtige methodische Schwerpunkte sind Modelle zur Politikfolgenabschätzung sowie empirische Sozialforschung. In der Physiogeographie ist das Zusammenwirken der Sphären an der Erdoberfläche Schwerpunkt in Forschung und Lehre. Neben den konzeptionellen Grundlagen der Physiogeographie werden Formen und Prozesse sowie Landschafts­ökologie und Umweltwandel vertiefend behandelt. Methodisch wird ein Spektrum von der Messung im Feld und Analyse im Labor, der numerischen Modellierung von Umweltwandel, bis hin zur Visualisierung räumlicher Daten mit Hilfe geographischer Informationssysteme abgedeckt.
Studienaufbau
Der Bachelor ist der erste Studienabschluss vor dem Master. Er umfasst insgesamt 180 Kreditpunkte (KP). Das ausserfakultäre Studienfach Geographie (75 KP) wird mit einem zweiten Phil.-Hist. Studienfach, einem zweiten ausserfakultären Studienfach (jeweils zu 75 KP) und einem freien Wahlbereich (30 KP) oder als oder als Zweitfach zu Sportwissenschaft (105 KP) studiert. Ein Kreditpunkt (KP) ECTS entspricht ungefähr 30 Arbeitsstunden.
Bachelor of Arts (180 KP)

Geographie
75 KP

Fach aus Phil.-Hist. Fakultät oder ausserfakultär
75 KP

freier Wahl-
bereich
30 KP

Zwei Studienfächer
Fächerkombination
Das ausserfakultäre Studienfach Geographie wird auf Bachelor- wie Masterstufe in Kombination mit einem zweiten Studienfach aus der der Phil.-Hist. Fakultät, einem ausserfakultären Studienfach (siehe Studienangebote | Philosophisch-Historische Fakultät ) und einem freien Wahlbereich oder als Zweitfach zu Sportwissenschaft studiert.
Weiterführende Masterstudien
Weiterführende Links und Downloads
Found the right program?