Free Content
29 April 2021
Refugees in their own country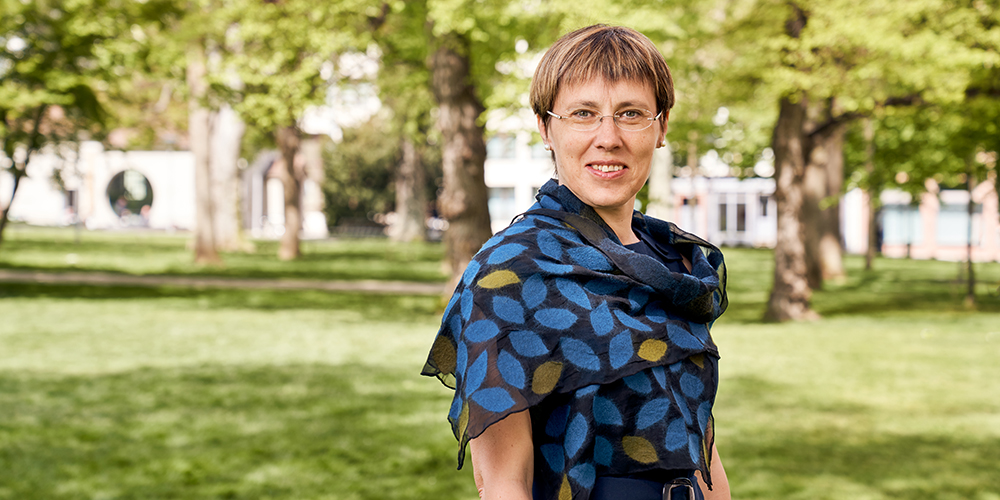 The tense situation in eastern Ukraine is fueling fears of a renewed escalation of a conflict that has forced two million people to flee their homes since 2014. Sociologist Professor Viktoria Sereda is investigating what this displacement means for individuals and Ukrainian society. She is currently a visiting researcher at the University of Basel.
---
Professor Sereda, war and violence lead people to leave their homes. What has been the impact of the armed conflicts in Ukraine?
The conflict over Crimea and Ukraine's Donbass region has driven a total of around two million people from their homes to resettle in Ukraine or across its borders. As a result, Ukraine has been one of the top 10 countries in the world with the most internally displaced people (IDPs) and refugees over the past decade. Yet in the refugee debates that dominate the media in western countries, internal refugees – those displaced within their own country – are virtually absent.
Why has this refugee movement gone so unnoticed?
When it comes to refugees, concerns about the integrity of one's own country dominate the debate in European countries and the United States. But the displaced people in the Ukraine conflict have largely remained in their own country.
How has Ukrainian society dealt with this?
The country was not prepared for the war and this internal flow of refugees, but the great social solidarity with IDPs has helped a lot in providing them with the necessities. They have been given a chance to make a new start and been able to draw positive things from it. However, it is important to know that those who fled had to leave someone behind – usually older relatives – to protect the family's property from looting and dispossession. Those who remained at home have been in greater distress since the beginning of the pandemic.
How has the pandemic changed the situation in the contested regions?
Between Ukraine and the self-declared Donetsk and Luhansk People's Republics, which function under illegal Russian-controlled military regimes, previously lay one of the most porous borders in Europe, with one and a half million people moving between these areas every month. At the beginning of the pandemic, these borders were completely closed for two months, and even today it is only possible to cross under strict conditions.
What are the consequences for the population?
The inhabitants of Donetsk and Luhansk are cut off from important resources as a result; for example, from their financial resources, because they can only collect their Ukrainian pension on Ukrainian territory and the banks in their region are no longer Ukrainian. They also can no longer access medical care on the other side of the border. Conversely, those who have fled eastern Ukraine can no longer easily visit their relatives who remain there to support them, because they would then not be able to leave due to quarantine regulations. A humanitarian crisis is taking place in the middle of Europe that has received hardly any attention. Some NGOs are on the ground, such as the Red Cross, but very little information about the situation in these regions gets out.
What reference do you make to the Ukraine conflict in your research?
My focus is on tracing the situation of IDPs since 2014. Refugees are often viewed in a rather one-dimensional way as victims, but the story of flight can also be empowering; it can open up new opportunities and act as an incentive to take control of one's destiny in a new beginning. I am also interested in how the conflict and the integration of refugees have shaped Ukrainian society and its self-image. In the public debate, refugees are often seen as a separate group, but these discussions are actually always about society as a whole and its identity.
You yourself are from Ukraine, but because of your research you are very mobile and move from country to country. How does this experience shape you?
Most researchers from Ukraine have to be internationally mobile in order to keep up with the latest publications, as access to scientific literature is very limited in Ukraine. In addition, western research centers are moving forward and offering new spatial and digital instruments with a wide variety of functions and spheres of application. I also use the experience I have gained from integration courses in various places directly in my teaching to show students how close this topic is; for example, in Switzerland. Mobility also allows me to draw the attention of the international research community to the two million people who were driven out of their homeland under the eyes of Europe and yet have remained unnoticed for so long.
Professor Viktoria Sereda is researching and teaching at the University of Basel in the spring semester of 2021 as a URIS fellow (Ukrainian Research in Switzerland). Her research at the intersection of everyday sociology and identity history is based on interviews with internally displaced Ukrainians. In a course entitled Migration and Belonging, she will use case studies to encourage students to discuss belonging, multiculturalism, and integration.