Free Content
28 May 2018
"Japan has continually been exposed to outside influences"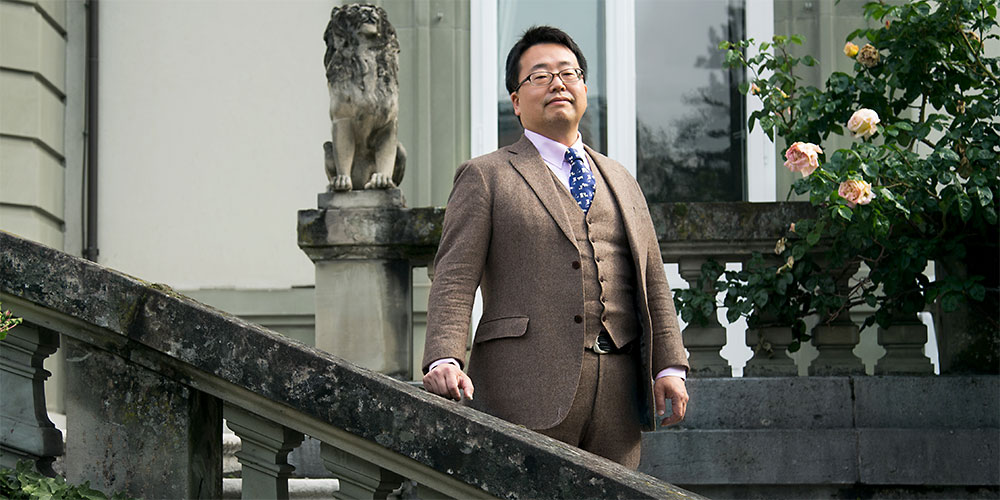 Atsushi Shibasaki is researching cultures and cultural exchange as a visiting professor at the University of Basel's Institute for European Global Studies. In our interview, he talks about the friendliness of Basel's inhabitants, parallels between Japan and Switzerland, and the importance of Bob Dylan.
Atsushi Shibasaki says that, on arriving in Basel, the things that surprised him the most were the city's international atmosphere and the remarkable helpfulness of its inhabitants: "My Family and I were worried because we only speak very basic German, so we were all the more relieved to find that almost everyone here speaks English." The authorities also gave them a voucher for 80 free German lessons: "This offer really helped in terms of integration."
At the invitation of the University of Basel's Institute for European Global Studies, where Shibasaki is currently working as a visiting professor, he has been living in Basel for around a year with his wife and two young daughters. He is a professor at the Faculty of Global Media Studies (GMS) at Komazawa University in Tokyo, where his diverse research interests center around the importance of international cultural relations. For example, he studies the historical development of an international awareness in modern Japan and the influence of the German philosopher Immanuel Kant on the world view of the Japanese.
Influences from abroad
There are many clichés about Japan. It is much rarer, however, to encounter a profound understanding of the culture in the West. To our eyes, the marked tendency towards conformity and the resulting social codes and behavioral patterns often make Japanese society seem reserved. Shibasaki says he wants to challenge this impression.
In contrast to the image of a self-contained society, the researcher says that Japan has also been influenced by foreign cultures for centuries – traditionally by China and the Korean peninsula, and above all from the 20th century by Europe, and especially the USA: "The Japanese have continually been exposed to cultural influences, which they have to a certain extent borrowed, adapted, and thus adopted in their own unique way." Shibasaki believes that this is a typical example of "antagonistic acculturation", a form of cultural defense to prevent domination by outside influences. This, he says, is one reason why Japan has managed to keep its traditional cultural roots alive to this day.
"A culture of living well"
Might there be some parallels with Switzerland in this regard? Life here is extremely comfortable, stress-free, and safe – apart from the high prices, the visiting professor says with a smile. Unlike in Tokyo, he says the people in Basel rarely seem stressed: "They are patient and always seem to have time, despite living in a multicultural city with an extremely dynamic economy."
Sometimes, you almost get the impression that people here still live in the 20th century, Shibasaki says. This is not meant in a derogatory way – quite the contrary: "It seems to me that the people of Basel have held on to a 'culture of living well' by not becoming too infected – yet – by global consumerism or greed for material possessions."
A Bob Dylan fan
One person who has been trying to free themselves from the marketing mechanisms of the international music business for decades is the singer-songwriter and musician Bob Dylan. "I've been a fan of his since my youth," Shibasaki reveals, "and I can even sing and play some of his songs with the guitar and harmonica." It comes as no surprise, then, that the Japanese Society for Peace Studies recently asked him to write an essay on the political and cultural influence of this exceptional musician.
In this work, he plans to focus on Dylan's contribution to global peace and his remarkable response to receiving the Nobel Prize. Shibasaki says it is extremely difficult to grasp the essence of Dylan's artistic activities: "Many see him primarily as a gifted lyricist and poet. However, I believe his importance lies in his unique mixture of poetry, music, and performance."