Study-Details
Mathematik - ausserfakultäres Bachelorstudienfach

Degree:

Bachelor
Mathematik ist eine Sprache, die es erlaubt, Sachverhalte von hoher Komplexität präzise zu beschreiben und damit rationaler Behandlung zugänglich zu machen. Mathematik ist ein fester Bestandteil unserer Kultur und Zivilisation. Sie beschäftigt sich mit abstrakten Strukturen und entwickelt Methoden zu deren Untersuchung. Sie ist in der Lage, Probleme der realen Welt mittels mathematischer Strukturen zu modellieren und mittels numerischer Methoden einer konkreten Lösung zuzuführen.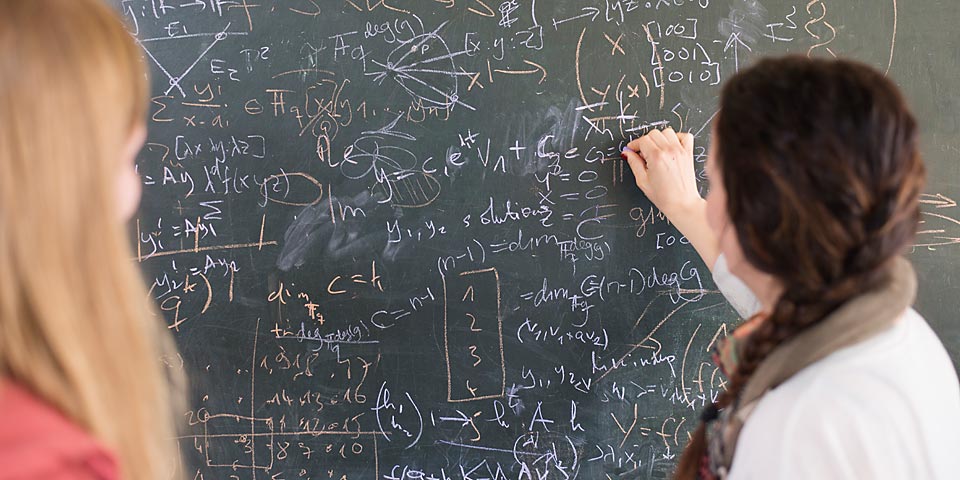 Schwerpunkt der Lehre und Forschung
Die Schwerpunkte in Lehre und Forschung sind:
Algebra und Zahlentheorie
Analysis
Angewandte und rechnergestützte Mathematik
Wahrscheinlichkeitstheorie
Studienaufbau
Der Bachelor ist der erste Studienabschluss vor dem Master. Er umfasst insgesamt 180 Kreditpunkte (KP). Das ausserfakultäre Studienfach Mathematik (75 KP) wird mit einem zweiten Phil.-Hist. Studienfach zu ebenfalls 75 KP und einem Komplementärbereich (Wahlbereich; 30 KP) oder als Zweitfach zu Sportwissenschaft (105 KP) LINK studiert. Ein Kreditpunkt (KP) ECTS entspricht ungefähr 30 Arbeitsstunden.
Bachelor of Arts (180 KP)

Fach aus Phil.-Hist. Fakultät
75 KP

Mathematik ausserfakultär
75 KP

Komplementär-
bereich
30 KP

Zwei Studienfächer
Fächerkombination
Das ausserfakultäre Studienfach Mathematik wird auf Bachelor- wie Masterstufe in Kombination mit einem zweiten Studienfach aus der der Phil.-Hist. Fakultät (siehe siehe https://philhist.unibas.ch/de/studium/studieninteressierte/) und einem Komplementärbereich oder als Zweitfach zu Sportwissenschaft studiert.
Weiterführende Masterstudien
Weiterführende Links und Downloads
Found the right program?