Study-Details
Biologie - ausserfakultäres Bachelorstudienfach

Degree:

Bachelor
Biologie als die Schlüsselwissenschaft des 21. Jahrhunderts erforscht was Leben ist und wie es funktioniert, auf allen Ebenen, vom Molekül über die Zelle zum Organismus und zu ganzen Ökosystemen. Dabei fällt nicht nur die enorme Bandbreite auf, sondern auch, dass sich die verschiedenen Biologiebereiche immer mehr vernetzen. Molekularbiolog/innen erforschen Gene auch in ganzen Organismen, und Umweltbiolog/innen studieren auch molekulare Grundlagen von Ökosystemen. Im Biologiestudium an der Universität Basel werden die Studierenden im Gegensatz zum Biologieunterricht in der Schule auf die Forschung vorbereitet. Es geht nicht mehr nur um Allgemeinwissen, sondern insbesondere um den Erwerb eines vertieften, aktuellen und konzentrierten Grundstocks des theoretischen und praktischen Wissens über die Organismen und Lebensvorgänge. Ziel ist es, sowohl das bisher Bekannte wie auch neue, bis jetzt unerschlossene Wissensgebiete für die Lösung von biologischen Fragestellungen einsetzen zu können.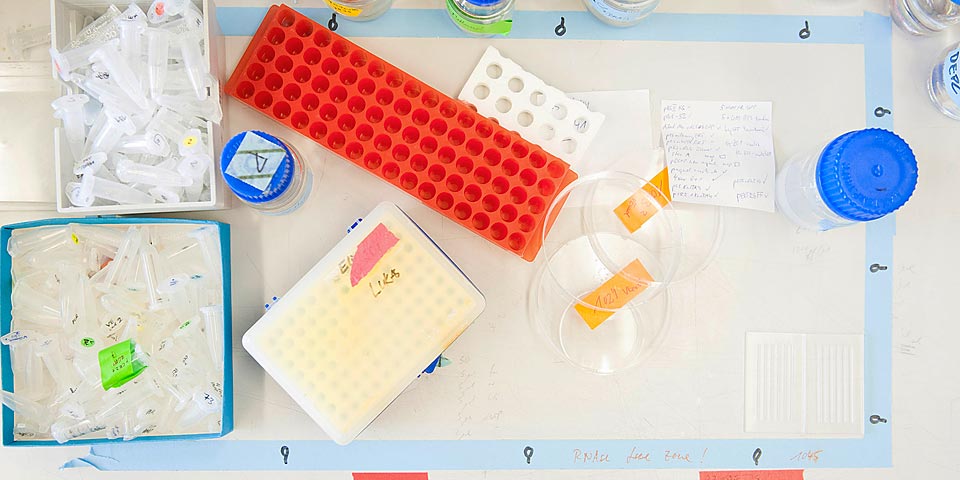 Schwerpunkt der Lehre und Forschung
Neben dem Vollstudiengang an der Phil.-Nat. Fakultät mit dem Abschluss als Bachelor of Science bzw. Master of Science gibt es die Möglichkeit, Biologie als Teilstudium mit einem Studienfach wie Geschichte oder Englisch zu kombinieren und als Bachelor of Arts bzw. Master of Arts oder in Sportwissenschaften abzu­schliessen. Das Bachelorstudienfach Biologie vermittelt den Studierenden in einem ersten Schritt neben den Pflichtfächern in Biologie solide naturwissen­schaftliche Grundlagenkenntnisse in den Fächern Mathematik, Physik und Chemie. Diese entsprechen mit Ausnahme der Mathematik in Umfang und Prüfungsanforderungen denjenigen des Bachelor of Science in Biologie. Ein bestandenes Bachelorstudienfach Biologie berechtigt zur Zulassung zum Masterstudienfach Biologie. In diesem zweiten Schritt liegt der Schwerpunkt der Ausbildung einerseits bei der organismischen Biologie und andererseits bei der praktischen Arbeit in Labor und Feld.
Wie ist das Studium aufgebaut?
Der Bachelor ist der erste Studienabschluss vor dem Master. Er umfasst insgesamt 180 Kreditpunkte (KP). Das ausserfakultäre Studienfach Biologie (75 KP) wird mit einem zweiten Phil.-Hist. Studienfach zu ebenfalls 75 KP und einem freien Wahlbereich (Wahlbereich; 30 KP) oder als Zweitfach zu Sportwissenschaft (105 KP) studiert. Ein Kreditpunkt (KP) ECTS entspricht ungefähr 30 Arbeitsstunden.
Bachelor of Arts (180 KP)

Fach aus Phil.-Hist. Fakultät
75 KP

Biologie (ausserfakultär)
75 KP
frier Wahl-bereich
30 KP
Zwei Studienfächer
Weiterführende Masterstudiengänge
Weiterführende Links und Downloads
Found the right program?