Articel Content
Research for the benefit of the patient.
Text: Irène Dietschi
With the apparent ease of a concert soloist, Viviane Hess has advanced up the ranks to become an exceptional oncologist. Professor of Medicine, Hess holds several senior positions including Head of Clinical Cancer Research at University Hospital Basel. She is not afraid to criticize the system in which she has pursued her career.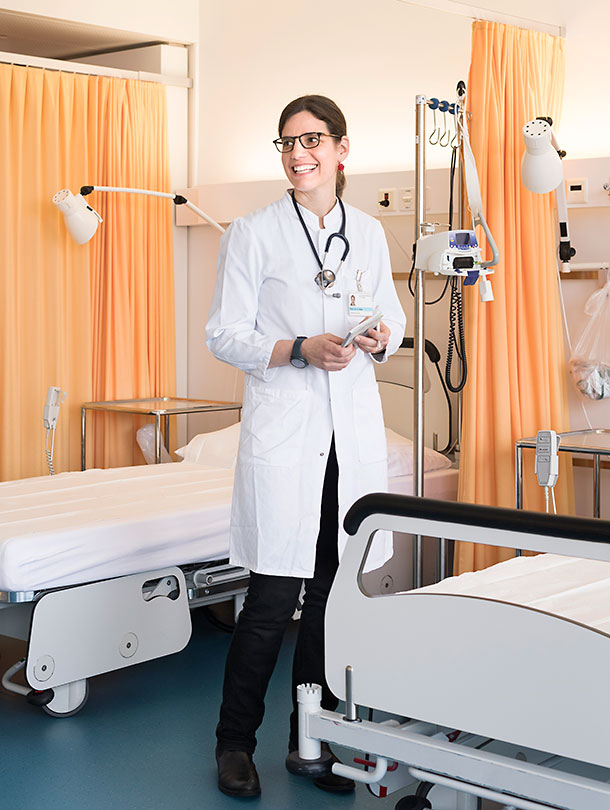 Following her talk at the conference on the impact of immunotherapies on clinical cancer research, Professor Hess gave a quick interview during which, it would be fair to say, she certainly did not mince her words. According to Hess, the study designs to test these new active agents are very heavily geared toward industry. Too little consideration is given to the opinions of physicians and patients. Hess continues: "For us as doctors, it is becoming increasingly difficult to treat all patients according to the same standards and to make drugs universally available. The system is often arbitrary and unfair." An audible murmur rippled through the audience. They had certainly not anticipated such frankness.
Insurmountable problems every day
"That's just my way," says Hess later with a laugh: "I don't always find it productive to adapt to the norm." We interviewed Professor Hess in the modest office she shares with her colleagues on the 8th floor of the Oncology Clinic at University Hospital Basel. Hess is Head of Clinical Cancer Research and her work focuses primarily on gastrointestinal tract cancers. She emphasizes that research is a key component of oncology: "Every day we are faced with problems that we simply cannot solve."
Professor Hess is dressed elegantly and wears a small string instrument pendant around her neck. "It's a cello," she explains in her broad Zürich accent, "my second passion after medicine." All her children also play instruments, not the cello, but at least one of her daughters plays the viola – and that's close enough, says Hess with a smile.
In our day-to-day clinical work in oncology, says Hess folding her hands together, we face all manner of difficult situations quite unrelated to standards and guidelines: "For the patient, it is about finding a path that is right for them, one that takes their individual situation into consideration." As well as applying her clinical expertise, being able to listen attentively and take account of the individual patient is what makes her job so fascinating, Professor Hess explains. What about the idea that oncologists could be replaced by computers making diagnoses and suggesting the optimal form of therapy? Hess shakes her head and laughs. Until now, a computer certainly hasn't managed to do that.
Early ambition: Pediatrics
Professor Hess had not originally planned to go into oncology. Now a mother of four, she had actually wanted to be a pediatrician. She spent the first two years of her studies in Lausanne rather than Zürich. She discovered only later that she would have to sit oral exams in French but it all went smoothly. She met her future husband while studying medicine in Zürich —they connected through music, both being cellists. Together, they then moved to Basel as a medical "dual-career couple".
For a number of months, Hess worked in the pediatric emergency department. She had her eye on a residency at the pediatric hospital, she tells us. However, she realized through her work in the emergency department that "in acute care, doctors frequently have to poke needles into children or 'torment' them in other ways. And the time spent with the children tends to be brief—I just didn't find that fulfilling." She had actually only intended to try her hand at oncology but then the discipline drew her in completely.
What Professor Hess finds particularly appealing about oncology is that it is evidence-based. In fact, it was one of the first branches of medicine to introduce this principle: "Some of the drugs we administer are so toxic that you have to be certain whether new active agents compared with controls are really going to make a difference." The meticulous way of thinking, the exact measurements, the need to use studies to generate knowledge that is as precise as possible—all of this appealed to her nature: "Admittedly, the human organism is very complex and we can't control for all conditions in one trial, but," says Hess, and pauses, "just because something is complex does not mean we should not examine it as carefully as possible. The more accurate the results, the better we can apply these findings to individual patients."
Lack of "fine-tuning"
Yet it is precisely these types of application that can and in fact should go beyond the evidence. This becomes crystal clear when we look at new active agents such as immunotherapy: "These drugs work in a completely different way to chemotherapies—at the moment we really can't predict with any confidence who will benefit from them and who will not." The biggest problems are the side effects. Ideally, the stimulated immune system will destroy the tumor cells but sometimes it then starts to attack the healthy tissue. "We still need a great deal of research in this area," says Hess. And that's exactly where today's system falls short: "Until the drugs are launched on the market, the pharmaceutical companies test the active agents on cancer patients who are otherwise healthy." However, the possible effects of a drug on someone with multiple health issues or on older patients, for instance, or the response of other subgroups—this "fine-tuning" is something the market pays far too little attention to.
As well research collaboration with companies, Hess has her own projects. Her focus is on using non-pharmaceutical interventions to improve the effect of drugs. She has, for example, developed a web-based program to help cancer patients better manage stress. She currently leads a large multi-center study looking into whether patients with colorectal cancer tolerate chemotherapy better if they undergo physiotherapy at the same time.
Research also enabled Hess to combine her family life and her career. "Thanks to a research professorship, I had quite a lot of freedom," she explains "and I also shared my clinical posts with colleagues." However, Hess still rejects the notion that she is a role model for women balancing a career with family. She is also critical of how the medical career path is structured. She claims the system is often not very progressive or flexible, and this applies to both women and men: "At university, you have to learn by rote until you can't take anymore; during your residency, you have to dedicate yourself to clinical work until you collapse, then you need to research and publish as much as you can. Then, once you reach the top and become a professor, you are required, first and foremost, to have management and political skills." As a result, the system causes many talented people – of both genders – to leave, says Hess. Here too she speaks with her characteristic frankness.
Born in 1971, Viviane Hess is an honorary professor at the University of Basel, senior physician in oncology, and Head of Clinical Cancer Research at University Hospital Basel. She completed her professional training at various institutions of higher education including Harvard Medical School in Boston and The Royal Marsden Hospital in London. Alongside her clinical work and research activities, she is also dedicated to supporting the development of young doctors. Professor Hess is married to Professor Christoph Hess, Head of Outpatient Internal Medicine at University Hospital Basel. The couple have four children: two girls and two boys, aged from 8 to 15 years.
More articles in the current issue of UNI NOVA.