Articel Content
Cancer. (01/2023)
Supporting an urban oasis.
Interview: Eva Rösch
Martin Kolb studied at the University of Basel and the University of Münster. Even as a student, he valued the peace and quiet of the Botanical Garden in Basel. Donating to the construction of a new tropical greenhouse was therefore very important to him.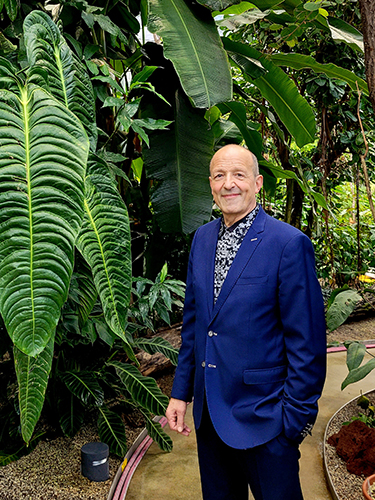 ALUMNIBASEL: You earned your doctorate in sociology. After that, you were an urban designer and head of the Department of Planning and Development in the Canton of Basel-Landschaft for over ten years. How did that happen?
MARTIN KOLB: My career has been full of all kinds of twists and turns. After finishing high school, I initially trained as a freight forwarder. While working in that field, I was also at university, majoring in sociology with minors in philosophy and constitutional law. After finishing my degree, I decided to pursue postgraduate studies in spatial planning, and I was working in planning in the canton of Uri while completing my doctoral dissertation in sociology at the University of Basel – that was in 1999.
AB: So, after that you decided to focus exclusively on spatial planning?
MK: Yes, that's right. I remained in the field until I retired two years ago, and in the different positions I've held, I got to be involved in many exciting projects. The knowledge I gained as part of my degree in sociology was incredibly helpful in my day-to-day work. To make intelligent decisions, you need a solid understanding of the basic conditions, processes and impacts that arise when humans live together. That might mean considering how much infrastructure is required or how much green and recreational space a particular district needs to ensure that all residents – including industry – have the space they need and the entire region can thrive.
AB: You made a very generous donation toward the construction of the new tropical greenhouse. What motivated you to do that?
MK: In places where natural green spaces are few and far between, it's important to create places where people can rest and relax. The Botanical Garden, which is located virtually in the center of Basel's old town, is very valuable in that respect. There were also discussions about relocating the Botanical Garden altogether, but this new building represents a commitment to this location for decades to come. I'm very happy about that. One of the reasons I made the donation was to protect this urban oasis.
I also have a personal connection: My father was a professor of English studies at the Nadelberg campus, so I always felt close to the university. I still remember how – back when I was a student – I used to stroll through the wonderful old Victorian greenhouses at the Botanical Garden to clear my mind during study breaks. The Botanical Garden was always an important place for me.
AB: Both of your brothers and your mother also donated to the project. Is a love of botany something you all share?
MK: We all inherited green fingers and a love of plants from our mother. Now, at the age of 95, she still looks after her own large garden. As for me, back when I was a teenager, I dug an enormous trench to serve as a habitat where I could observe frogs and newts. So, when I heard that there was a call for donations to reconstruct the tropical greenhouse, I urged my family to contribute.
AB: Do you make donations on a regular basis?
MK: Yes, I donate to organizations that work to protect human rights and animal welfare. However, a donation like the one for the tropical greenhouse was new to me. Aside from speaking to my family, I've also brought up the subject with friends and acquaintances. Naturally, in the end, everyone has to decide for themselves whether or not to donate. I think personal contributions are very valuable, and I'm extremely pleased that there's a strong philanthropic tradition here in Basel that goes hand in hand with state aid to help make so many projects possible.
---
More articles in this issue of UNI NOVA (May 2023).