Articel Content
Bureaucracy, our constant companion.
Text: Jonas Bischoff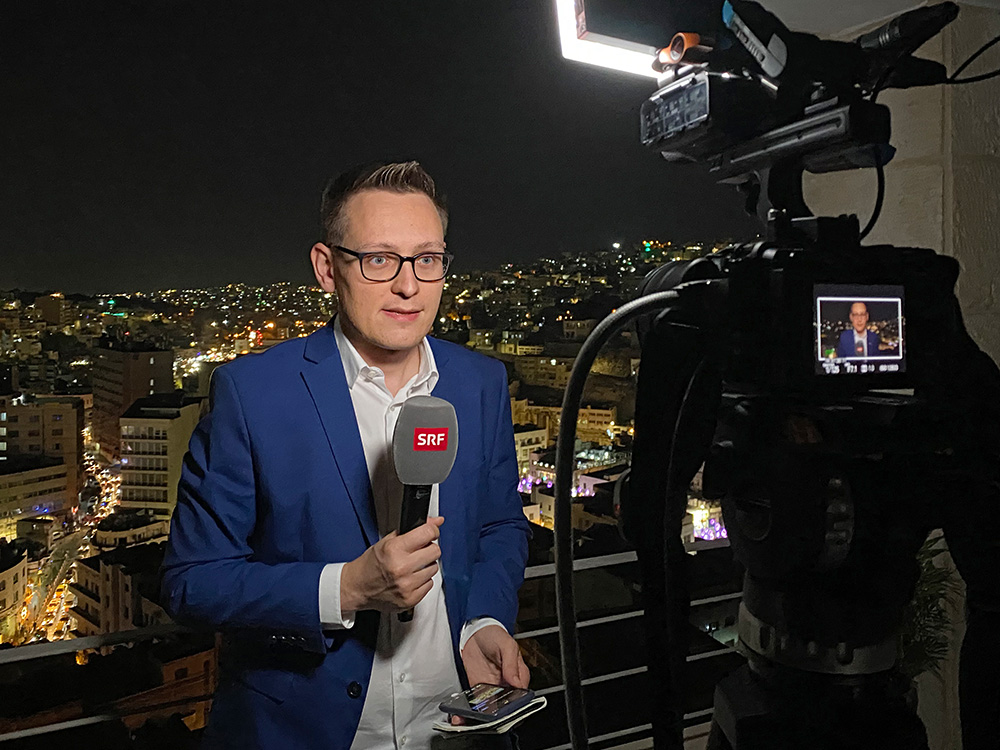 It is virtually impossible for a journalist to cover 14 countries ranging from Egypt to Qatar, Iran to Afghanistan. For a good year now, my partner Anita Bünter and I have travelled the Middle East as correspondents for the Swiss broadcaster SRF. During this year, we have witnessed the vast spectrum of humanity. From people in Lebanon who have lost everything due to the economic crisis, to the super-rich in Qatar who run a hospital just for falcons.
The Middle East is a tricky region for us journalists. In the World Press Freedom Index compiled by Reporters without Borders, it is almost entirely dark red or black. Limited freedom of the press doesn't mean that you can't report at all, but it does make it much more challenging. One of the main obstacles is excessive bureaucracy.
Unlike in Western Europe, we can't simply set up our camera and start rolling. We need permits – pages and pages of them – in almost every place we wish to film. Sometimes, weeks before shooting begins, we have to fill out applications, declare the subject of our reports, clarify who is responsible for handing out permits and then muster up all our patience. Persistence is often necessary to get all the permits we need. Preparing for filming trips takes just as long as the trips themselves. This part of our work rarely features in news programs.
But there are many exciting aspects to working as Middle East correspondents – first and foremost our numerous encounters with a vast array of people. We gain insights into real life that remain hidden from tourists.
In the past year, we have visited and reported from (among others) Iran, Iraq, Qatar, the United Arab Emirates and Lebanon. It is a privilege to see these places for ourselves and experience local life with all of our senses. We were recently in Afghanistan and were met with great hospitality, despite the enormous poverty. SRF grants us great freedom in our work and allows us to choose the subjects of our reports based on journalistic criteria.
We live in Amman, the capital of Jordan. When we're not travelling, we're here editing our segments, planning new trips and commenting on topical issues. We broadcast live from a balcony with a view of Amman's citadel. This spot, right above Amman's old town, really captures its vibrant ambience. It can also lead to tricky situations, for example when the nearby bar starts playing loud 80s hits just before a live broadcast on a serious topic and we have to switch positions in a matter of minutes. Or when the muezzin calls people to evening prayer just as the news program is beginning.
So far, the only constant in our lives as Middle East correspondents is that there is no constant. Each day is different. We often wake up in the morning with no idea of what the day will bring – great annoyance (because a permit hasn't been granted), great joy (because, for once, things have proved much easier than expected) or a current event that requires our analysis. Working as a Middle East correspondent may be virtually impossible, but it's also wonderful.
---
More articles in the current issue of UNI NOVA.