Articel Content
Remembering and forgetting.
Standing the test.
Text: Irène Dietschi
Immunologist Georg Holländer is a researcher through and through; he is considered a visionary and an inspiration. Professor Holländer is Director of the Botnar Research Centre for Child Health in Basel. It was not always certain that he would be able to take on this role.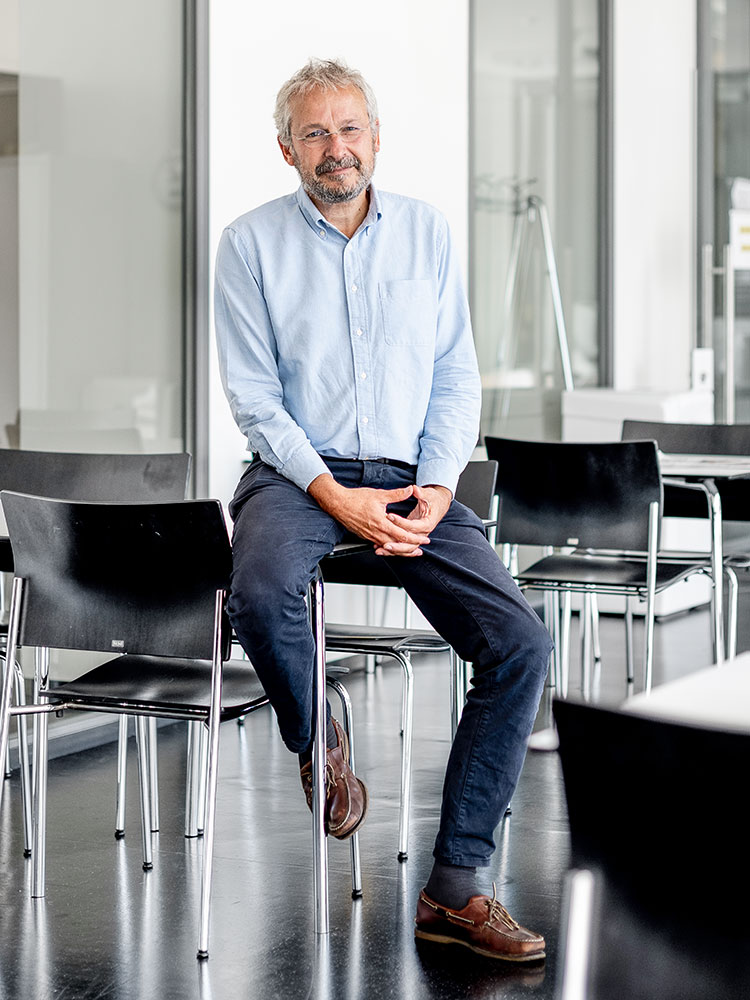 When Georg Holländer was diagnosed with a lymphoma ten years ago, it was not clear whether or not he would survive the cancer. Statistically speaking, his chances of recovery stood at around 15 percent. Specialists in Oxford were able to diagnosis this relatively rare lymphoma within a period of just two days. Holländer studied the MRI results together with his doctors, commenting that the images were "very interesting". The only troubling thing was seeing his own name on the scans.
He shared the story of this formative period in his life near the end of a lengthy Zoom call. The meeting was originally scheduled to take place in Basel, but Holländer is currently stuck in Oxford due to the new B1.1.7 coronavirus variant.
Between Basel and Oxford
Oxford is his primary port of call and the city his family calls home. Normally, the immunologist spends half of his time working in Basel – when he is not in lockdown, that is. "Sometimes I get the feeling that I'm constantly in the wrong country," Holländer quips. His subtle sense of humor is palpable, even over a computer screen.
Professor Holländer serves as Director of the Botnar Research Centre for Child Health (BRCCH), which, since its founding in early 2019, has spearheaded research projects that focus on child and adolescent health, particularly in low- and middle-income countries. To hear him speak about the BRCCH is to know how passionate he is about his work. Foundation Botnar has allocated CHF 115 million to the center for its first ten years of operation.
"That's a lot of money," says Holländer, "and it needs to be distributed properly." The BRCCH has begun to generate results. Funded researchers have developed an elegant molecular-genetic process for localizing pathogenic bacteria in the digestive tract. This represents the
first step toward helping malnourished children to establish a healthy gut microbiome. Another project aims to provide support for children born with a cleft lip or cleft palate; the idea is to perform a simplified surgical procedure to treat the condition. This would save time and money for families in low-income countries – and spare children affected by the condition a great deal of pain.
An eye for the big picture
Holländer first learned of the plans to establish a children's research center in Basel late in 2017. The Centre would be jointly founded by the University of Basel and ETH Zurich. The project needed a director, and Holländer, with his "global perspective" and considerable experience in the field, was the perfect candidate. Primo Schär, Dean of the Medical Faculty at the University of Basel and long-time colleague, describes Holländer as: "a firstrate thinker with a great eye for detail in immunological research who is able to keep the big picture in mind at all times; always on the brink of a new discovery, he is inspiring and visionary."
But when Holländer was invited to accept the post, he initially turned it down. Oxford was exciting enough as it was, and his daughters and wife, an English citizen and general practitioner, were not keen on pulling up roots in the UK. So, when the new research center proposed a 50-50 arrangement, Holländer happily accepted.
Even as a student, Holländer was – in Schär's words – "a researcher, through and through." While others gravitated toward pediatrics because of their love of children, he chose the specialty for its sheer complexity. The lungs and all other organs, the metabolism, the nervous system – in pediatrics, all of these areas are "far more closely integrated and holistic" than in other medical specialties. He was also interested in developmental biology, in the "enormous plasticity in developing children's systems that can no longer be found in adults." Early on, it was clear that as a physician, he was less interested in phenotypes than he was in fundamental biological questions – his true passion was for the fine print, so to speak.
So, Holländer placed his studies on hold to spend a year working at the Basel Institute for Immunology. The focus of his research was the thymus, a small organ located behind the sternum, in which immune cells known as T cells first learn to detect and attack foreign bodies.
Following his final examinations, the researcher took a three-month trip to Southeast Asia, the home of his great-great-grandmother, only to spend weeks in the hospital recovering from a tropical disease. "The experience triggered something inside of me," he explains. "I was driven to answer the question of how the body defends itself from pathogens and how it learns to differentiate between itself and foreign bodies."
Immune defenses at zero
Then, in the prime of his life, Holländer was diagnosed with a malignant lymphoma – of all things, a type of cancer related directly to his main academic interest of the past ten years. He would need a bone marrow transplant and to undergo a period of isolation, and he would have to accept that the chemotherapy would practically obliterate his immune defenses. Holländer asked his doctors when his body would be back to producing sufficient T lymphocytes. "An attending physician looked at me in dismay, saying: 'You must know I'm not in the least bit qualified to answer that question."
The therapy lasted for a year. Over the course of that year, he took little time off work; he continued to hold laboratory meetings and even composed emails from his isolation room. "I had to compartmentalize my illness so that I'd be able to handle what was happening to me on an emotional level. My academic perspective helped me in that regard." But even this consummate scientist reached a point where he preferred to leave the decisions to the doctors and simply slip into the role of the patient.
Holländer's experience on the "other side" was fundamental for him, complete with all the pain – and all the possibilities. Aside from sustaining a few infections, Holländer met with little complication during his bout with cancer. Now he describes his health as excellent. And the whole odyssey set off a spark in him: "The recognition that we have to do the work that is asked of us, the work that we think will really have an impact. Because we know we might not always have the chance."
Georg Holländer, was born in 1957 and raised in Basel. He is Director of the new Botnar Research Centre for Child Health in Basel. As the Centre's academic head, he is responsible for strategic orientation and initiatives. As an expert in molecular developmental immunology, he has held professorships at the University of Basel, ETH Zurich and the University of Oxford since 1997. After graduating in medicine from the University of Basel, he worked here at the Basel Institute for Immunology, then as an assistant professor at Harvard Medical School's Children's Hospital and later as head of research at the Children's Hospital in Basel. Holländer splits his time between Basel and Oxford. He is married to a doctor and is father to two daughters.
More articles in the current issue of UNI NOVA.