Articel Content
How we make decisions.
"A supercomputer is like a family."
Text: Iris Mickein
High-performance computers have revolutionized science and industry. Computer scientist Professor Florina Ciorba looks at ways of optimizing the interactions between machines. In her work, she also encounters numerous parallels with the real world.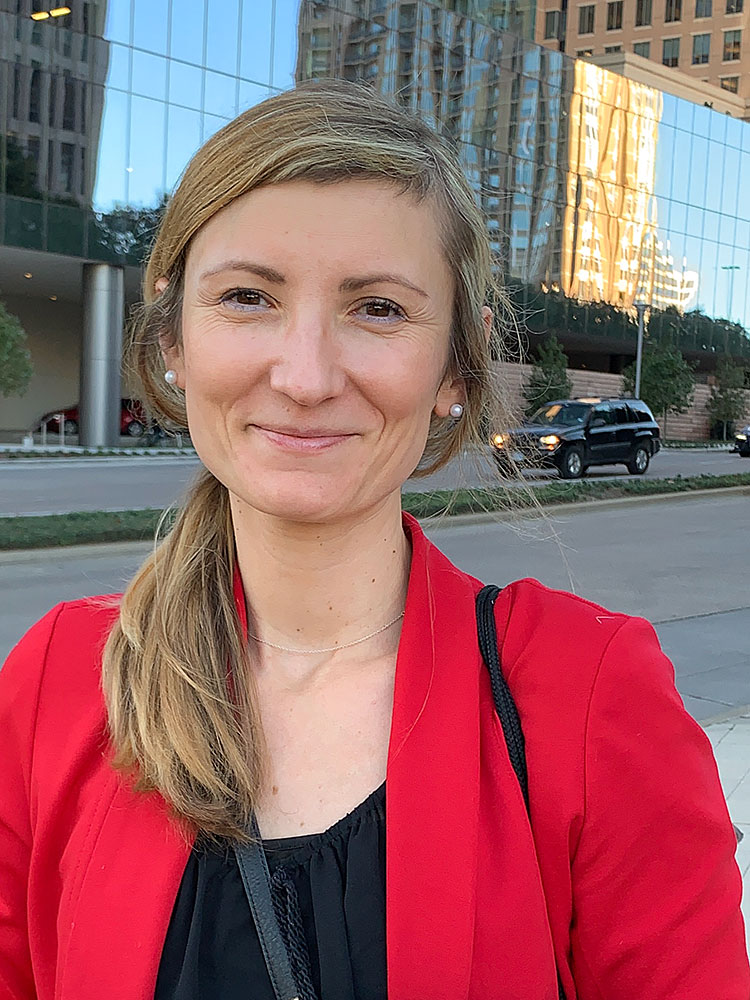 High up in the building at Spiegelgasse 1 in Basel is the office of Florina Ciorba, Professor of High-Performance Computing at the Department of Mathematics and Computer Science. It's a far cry from the gloomy basements usually associated with computer programmers. Indeed, with an extensive view over the rooftops of the old town and a child's drawings hanging on the wall, it makes a cheerful overall impression – as does the scientist herself. She's just come from a ladies' lunch that she regularly organizes with her colleagues at the department. "We need more female role models in our field," she says.
Computer science as a key technology
The 42-year-old computer scientist, who speaks five languages, is a sought-after speaker at technology conferences and presented a video highlight at the latest International Supercomputing Conference, in Frankfurt am Main. Ciorba laughs as she recalls that she was visibly nervous during her appearance. Nevertheless, she believes that communication formats of this kind are vital and sees them as part of her mission as an educator. As well as scientific excellence, she also wants to achieve greater visibility for the University of Basel in the area of supercomputing.
Also known as high-performance computing, supercomputing is a subsection of computer science and plays an increasingly significant role in science and industry. It deals with the processing of large and highly complex volumes of operations and data that are so demanding that they can no longer be processed on standard computers. The systems often consist of thousands of computers working on colossal tasks in parallel. Perhaps the most popular application of these "supercomputers" is in weather and climate forecasting, but the gigantic machines have also become indispensable in many other fields – with uses ranging from research into the human genome to crash simulations in automotive engineering and the search for renewable sources of energy.
Ciorba uses high-performance computing to simulate processes in science, especially in the areas of physics and cosmology. "This enables us to investigate questions that we couldn't otherwise tackle – or that we could only explore through laborious real-life experiments. In addition to the hardware, the limits of simulation lie in the huge amount of effort involved in parallel programming." This is precisely what Ciorba's work focuses on: Together with her research group, she is developing methods that allow the efficient control of workflows within computer clusters and the dynamic reallocation of tasks in the event of "traffic jams". For instance, bottlenecks of this kind can occur whenever a cluster is tasked with particularly large or complex calculations and becomes overloaded as a result. Even extremely small errors can have a huge impact in a complex system, and so adaptive algorithms are essential.
Synchronization at night
When she talks about her work, the analogies just keep on flowing: "Actually, every family is like a supercomputer – because every member has a mind and thoughts of their own, like in a distributed system. But it's also a parallel system – because they all live in the same house and fan out into society every day to perform their various tasks before coming home at night and synchronizing with one another. At the same time, it's important to be able to send messages as required: 'Hey, I've finished work,' or 'I'm running a bit late.' The computers do exactly the same thing."
Ciorba is originally from Romania and remembers the early days of the World Wide Web, when she was still at school. She excelled at math and physics from an early age – as well as anything to do with logic – and spent a lot of time in computer labs in the 1990s. Fascinated with the idea of networks, she spent her time working with newsletters and maintaining contacts as pen pals – which is also how she learned English, having spoken only Romanian until the age of 18.
While studying computer science at university, Ciorba spent her Erasmus semester in Greece. "That wasn't actually a particularly rational decision – I just wanted to live somewhere sunny," she smiles. However, she became enamored with the culture and people of Athens. She learned Greek, discovered the world of parallel computing, and decided to do a doctorate. The Greek capital became her second home for six years, followed by research stays in the USA and Germany prior to her appointment in Basel in 2015.
Women in leadership roles
So, what is it about high-performance computing that still excites the scientist after all these years? "The world of parallel systems has so many parallels in the real world – whether it's how we organize our everyday lives or how we manage our families and teams. Of course, computer science is more straightforward than real life, because computers don't have any feelings and don't get ill. But both computers and humans must constantly adapt and optimize themselves to reflect changing circumstances. I find these ideas really fascinating."
The first major challenge the scientist faced in her work in Basel was that of leading a research group, which was a completely new undertaking for her. Once again, she found herself on a quest for the optimum solution – and stumbled across the coaching provided by the University of Basel, which really helped her grow into her new role. Does she think management styles differ between the sexes? "I don't think it matters whether you lead as a woman or a man. To me, it seems to be more about your character and willingness to reflect critically on your own management style."
That being said, the professor is certain of one thing: Greater support should be made available to young women in her field. For the last four years, she has therefore been involved in a women's initiative at the department that meets several times a semester. Their aim is to create a forum of exchange and empowerment for female researchers at an early stage of their career. Indeed, Ciorba says she, too, lacked female role models for a long time, adding that her dogged determination may be partly to thank for the fact that she still ended up working with high-performance computers. "I think it's important that we raise our children with a firm conviction that there's no scientific subject or problem that women can't also tackle."
Florina M. Ciorba was born in 1978 and grew up in Romania. She is Professor of High-Performance Computing at the University of Basel. After a degree in computer science at the University of Oradea (Romania), she completed her doctorate on parallelization and optimization techniques at the National Technical University of Athens in 2008 before spending two years as a postdoctoral researcher at Mississippi State University. From 2010 to 2015, she was first a postdoc and then a senior scientist at TU Dresden. Ciorba's research focuses on the use of high-performance computers in basic research, and she is currently working on a project investigating the formation of planets and black holes. She lives in Saint-Louis (France) and has a young daughter.
More articles in the current issue of UNI NOVA.