Articel Content
People on the Move – Dossier on Migration (02/2016)
«The university and the Kunstmuseum are both products of this city's open-mindedness.»
Interview: Matthias Geering
Josef Helfenstein, who became director of the Kunstmuseum Basel in September, hopes to develop links with the university. He is working closely with researchers from numerous disciplines to prepare a major Chagall exhibition, which will open in fall 2017.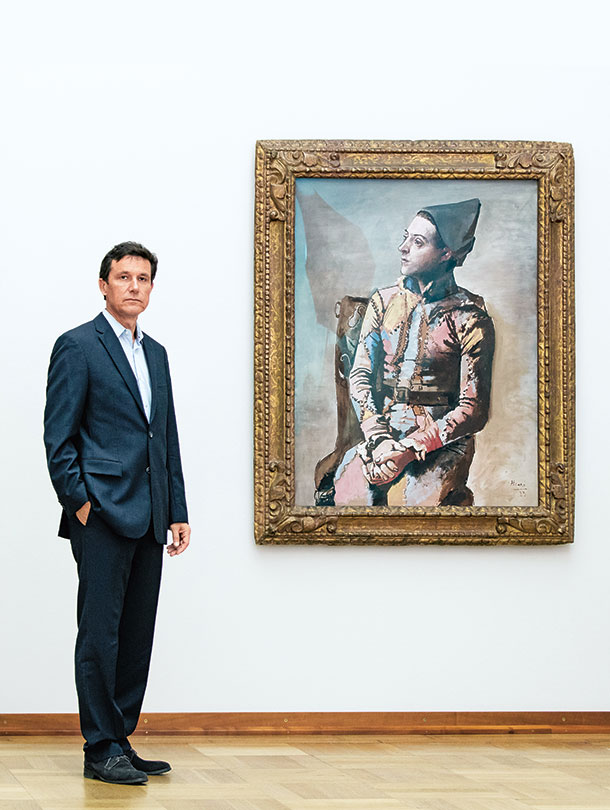 Josef Helfenstein has arrived. Although he has only been in office for just a few weeks when I interviewed him in late September, he spoke as if he had long been at home here in Basel. The art historian, who hails from Lucerne and who earned his doctorate in Bern, has spent a great deal of time getting to know the city, its residents, and the university. He spent eight months as a guest at «Eikones», the National Center of Competence in Research (NCCR) Iconic Criticism, and clearly enjoyed his time there.
UNI NOVA: Mr. Helfenstein, you officially took office as director of the Kunstmuseum Basel on September 1 – but you've been in Basel since the start of the year and spent some time at «Eikones» to prepare for your new position. You seem to like working closely with the university.
JOSEF HELFENSTEIN: I was very privileged to be able to start my time here in Basel with eight months at «Eikones». It was very moving to work in the university's oldest building, at this special place in the heart of the city on Rheinsprung where Friedrich Nietzsche once taught. I was in contact with both young and well-established researchers. We'd often spontaneously meet for a coffee or a meal and spend the time discussing joint projects. I made a conscious decision to approach my new role as a Basel museum director via the university because I want to bring the scientific and scholarly expertise of the university and of the Kunstmuseum closer together. I believe that there is enormous potential for synergies there.
UNI NOVA: You once said that your previous institution – the Menil Collection in Houston – had a humanist dimension. Now you have moved to a city that also claims a humanist tradition. How do you see Basel and the Kunstmuseum?
HELFENSTEIN: I see the city of Basel and the Kunstmuseum as being very much in a similar situation as Houston and the Menil Collection – and that's ultimately one of the main reasons why I decided to come here. Interestingly, the founders of the Menil Collection were our «neighbors» in a way: Dominique de Menil was born in Alsace into the Schlumberger family, which ranked among France's intellectual elite at the time. When the Second World War broke out, Dominique and her husband, impoverished aristocrat Jean de Menil, fled to Houston. What they created there is not just a museum – it's a kind of utopia. The de Menils created a utopian neighborhood, complete with public parks with old trees, spiritual places like the Rothko Chapel, and incredible architecture such as the museum designed by Renzo Piano – and all in a modest area that's home to students, artists, and people on low and middle incomes. It's a place of vibrant diversity and tolerance. It has a very special quality of life and a humanist ethos that greatly impressed me from the outset. The de Menils also campaigned against segregation and for education and social justice – often through discrete projects in disadvantaged and primarily non-white neighborhoods.
Basel's humanism is built on a history that begins with Erasmus, moves on through Beuys, and continues into the present. Basel is a city of openness and foresight. It's a Swiss city, but also very much a European city. It is no coincidence that Switzerland's first university was founded here. Important peace talks have been held here, as well as major congresses and councils. For centuries, people in this city have been seeking solutions to complex problems. The university and the Kunstmuseum are both products of this open-mindedness. For me, this incredible history is a kind of compass that I can always check as I manage the museum.
UNI NOVA: The eight months at «Eikones» seem to have inspired you. Did they result in any specific projects?
HELFENSTEIN: Yes. We quickly realized that the exhibition of Chagall's early work, which we'll be showing in fall 2017, would be a good opportunity for working closely with the university. With guidance from Professor Ralph Ubl, we quickly put together an interdisciplinary working group consisting of researchers from art history, history, Jewish studies, Eastern European studies and linguistics. We now meet regularly to think about the exhibition and discuss new approaches. We keep the members of the group up to date so that they know, for instance, which loan items will be coming to Basel. We discuss the content of the exhibition, as well as the corresponding publication and the program. It's amazing how many ideas can flow into a project in this way.
UNI NOVA: You're focusing the exhibition on the years 1911 to 1919, and are describing this period as Chagall's «breakthrough years».
HELFENSTEIN: Yes. I believe these were Chagall's defining years. First, there was his arrival in Paris in 1911 as a newcomer who had no knowledge of the language, had never been to the West before, and was dreadfully homesick for his Russian- Jewish roots. This was followed by three incredibly productive years in Paris, during which – without realizing it himself – Chagall became one of the most distinctive artists of the avant-garde. In summer 1914, when he was on his way to Russia, he opened a key exhibition of his work in Berlin that would make him famous in Germany and Russia. He then continued on to Russia to marry his fiancée and then return with her to Paris – at least, that was the plan. But then the First World War broke out and Chagall was forced to stay in Russia. He began focusing his work on the roots from which he had already distanced himself. He painted the poverty of the aniconic Jewish Shtetl world – all from the perspective of an avant-garde artist painting with a new vocabulary. Thanks to Olga Osadtschy, an «Eikones» doctoral student who is writing her thesis on ethnographic photography in Russia during the First World War, we will be able to supplement Chagall's paintings with photographs taken by a Jewish artist who was unknown in the West but who Chagall himself knew.
UNI NOVA: You completed your doctoral studies in Bern, worked at a university museum in Illinois, and want to foster exchange with the university here. Were you also in contact with universities in Houston?
HELFENSTEIN: When I started at the Menil Collection, collaborations with universities were almost non-existent. Then we set up a fellowship program with Rice University in Houston. Fellowships were awarded to one graduate student at a time, and allowed the researcher to spend a year working at the museum and on different projects. We also ran a joint lecture series with Rice. And with the University of Houston, we organized a position for talented students, as well as various joint events. But our closest ties were to the University of Texas in Austin, which has an outstanding art history department. We worked with the head of the department, Professor Richard Shiff, to develop a program for doctoral students. I was responsible for fundraising, and we were able to offer twoyear fellowships. As part of these postgraduate fellowships, young researchers used the Menil Collection holdings and then organized a symposium at the end of the two years. It was an incredibly stimulating experience for both the researchers and us as an institution. I believe that, as a museum, we have an obligation to help young, talented researchers launch their careers. When I arrived in Basel, I was delighted to find that «Eikones» functions on a similar principle.
UNI NOVA: At the Harvard Art Museum in Boston, some of the exhibition rooms are curated by young researchers from Harvard University. Could you imagine arranging a similar collaboration between the Kunstmuseum Basel and the art history subject area at the University of Basel?
HELFENSTEIN: I think it would make good sense – and setting up that kind of thing isn't rocket science! However, it's important not to underestimate the work involved. The young researchers need close supervision since they will lack practical experience in things like handling the objects properly and dealing with the logistics and transport of loan items based outside of Switzerland. However, this is precisely this kind of experience – seeing how a museum works – that leads to very valuable insights for young researchers. It could encourage them to choose a path that takes them into the world of museums, or they might develop an entirely new relationship to art or research.
HELFENSTEIN: I'm glad you mention that, because we set up something in Houston that we're very proud of. In collaboration with the Museum of Fine Arts in Houston, we created an assistant professorship in materials science in the chemistry department at Rice University. An outstanding postdoctoral restorer now holds that position and is doing research in the field. If we were to transfer this to Basel, it could mean that Schaulager, the Kunstmuseum Basel, and the University of Basel would join forces to find a sponsor that would allow us to establish materials science firmly as a subject at the university. I'm sure we could do that in Basel.
UNI NOVA: Would the research then also be visible in the museum?
HELFENSTEIN: That would depend on how we incorporated a position like that into our museum work. In Houston, we organized lectures and symposiums that presented the findings. During one of the symposiums, for instance, the assistant professor and a researcher from the natural sciences proved how Magritte cut up some of his canvases and that the various parts are now spread across the world as individual works. We'd never have known that if the works hadn't been scientifically analyzed.
UNI NOVA: The Harvard Museum in Boston regularly focuses on restoration projects. This was the case with Mark Rothko's Harvard Murals (2014/15), a research project that used projection to restore the original colors to Rothko's murals. The Digital Humanities Lab at the University of Basel was involved in the project. Will there be more of these types of collaboration in future?
HELFENSTEIN: I'm in very close contact with the Harvard Art Museums, the Whitney Museum of American Art, and the Menil Collection. For around 15 years now, these three partners have been running the Artists Documentation Program, which asks prominent artists about their working techniques and materials. These interviews are then transcribed, archived, and made available to art historians as oral history. The Kunstmuseum Basel will become part of this network in the future, and I can well imagine that we will incorporate the University of Basel into that.
Dr. Josef Helfenstein has been director of the Kunstmuseum Basel since September 2016. In 1991, he earned a doctorate from the University of Bern with a thesis on Meret Oppenheim and Surrealism. From 2004 until 2015, he was head of the Menil Collection and Foundation in Houston (USA).
More articles in the current issue of UNI NOVA.