Articel Content
People on the Move – Dossier on Migration (02/2016)
Derya Tokay-Sahin, criminal court judge
Text: Bettina Huber
This summer, aged just 27, the Basel University alumna Derya Tokay-Sahin overcame fierce competition to be re-elected as a judge on Basel's criminal court. Doggedness, discipline and determination have been her hallmarks ever since she was a child.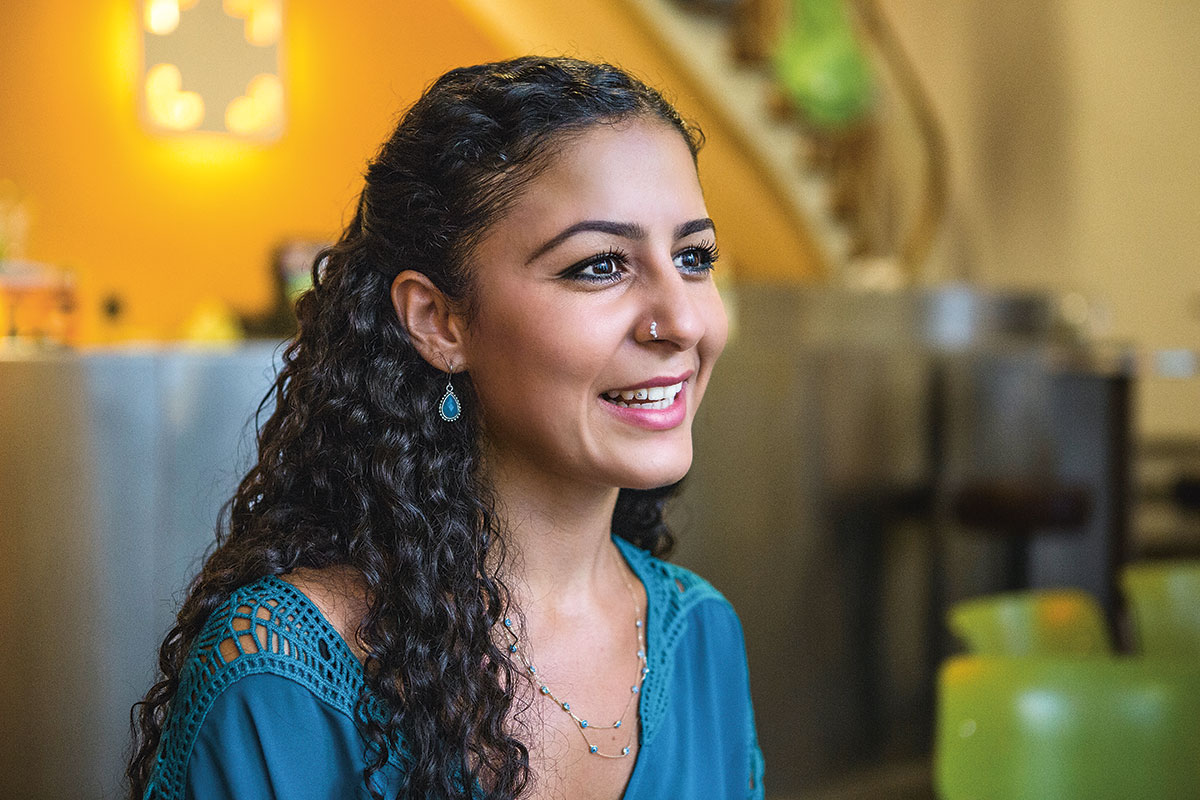 Derya Tokay-Sahin was born to Turkish parents in Basel. She spent the first five years of her life in Turkey, but returned to Basel for her schooling. At the same time, she had to learn German, as her main home language was Turkish. The sport of karate plays an important role within her family. Her father runs five karate clubs, and her older brother is a world and European champion. As a child, Derya Tokay-Sahin also became fascinated by karate, which she has been doing since she was seven years old. She attributes some of her determination to her training in this martial art.
While studying law at Basel university, Derya Tokay-Sahin served as a student representative on several university committees and – as you would expect – worked to promote her favorite sport, karate. After finishing her degree – in record time and with top marks – she trained as a private detective and did a number of internships to gain experience. One was at the forensics department of Basel University Psychiatric Hospital, as she wanted to understand how reports on murderers and rapists are put together. She now finds that this helps her with her decision-making as a public prosecutor.
Derya Tokay-Sahin has already achieved a great deal. How does she do it? Well, she always dreamt of working as a judge. She loves going through trial documents, which read to her like a detective novel – except that everything in them is real. She does not mind working into the evening for the court, as she gets enjoyment from learning while she works. The key point for her, as someone interested in politics and a member of the Social Democrats, is that criminal law is about social issues. The focus is on people, not money.
As a Swiss person with Turkish roots, she is used to criticism. She sees her migrant background as helpful when assessing the credibility of offenders from a similar environment. She has already been criticized for that, but it does not bother her. She observes, «I don't base my decisions on the nationality of the accused. Swiss judges also pass judgment on Swiss offenders, don't they?» This committed young woman still has plenty of goals to achieve. She will sit her Bar exam in the spring; then she would like to get stuck into her doctorate.
More articles in the current issue of UNI NOVA.