Articel Content
People on the Move – Dossier on Migration (02/2016)
Between the tides
Text: Thomas Jermann, Christoph Dieffenbacher
Since the middle of the 1980s zoology students have been examinating the same coastal section every year in the northern Brittany.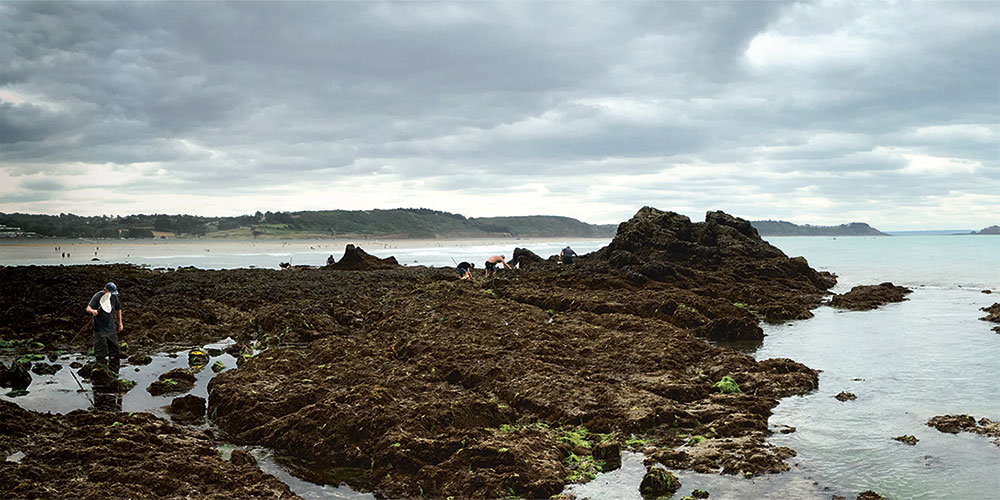 No comfort is spared for these budding marine researchers roaming the sandy beach or clambering along densely vegetated cliffs to examine the soil laid bare by the tide. Sporting rubber boots and armed with nets, buckets and magnifying glasses, they manage to remain completely dry. Each year, in late summer, a group of zoology students descends on the intertidal zone of Erquy, on the north coast of Brittany, to conduct applied research in marine biology.
Especially in fall and spring, the tidal range here is enormous. At full and new moon, daily sea level fluctuations can exceed twelve meters, making it a harsh environment for sea creatures to survive in. Dehydration, oxygen deprivation, extreme heat or cold, pounding surf, submersion, downpours and changing acidity levels are all regular hazards for the organisms that live here. Even so, evolution has given rise to a staggering range of plant and animal life: A single kilometer of coastline is home to up to 500 animal species and 600 species of algae.
The students are led by Dr Thomas Jermann, curator of the Basel Zoo aquarium, who took over the course from Professor David Senn. The project is remarkable for its continuity: young researchers have been going over this section of coastline with a fine-toothed comb every year since the mid-1980s. Over the years, the students from Basel have amassed a wealth of findings and research ideas at Erquy, with some choosing to return later on to write their final thesis.
Thomas Jermann works full time as curator of the Vivarium at Basel Zoo and is also a passionate photographer. The zoologist completed his doctorate at the University of Basel, where he has organized events on biology and marine biology for over 20 years – including excursions to the intertidal zones of northern Brittany.
More articles in the current issue of UNI NOVA.