Free Content
19 February 2018
A therapeutic approach inspired by nature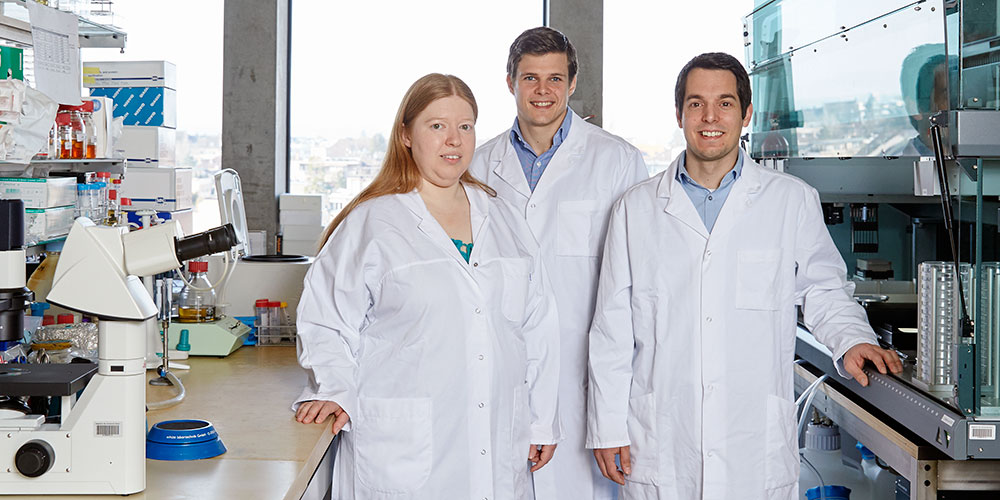 T3 Pharmaceuticals AG – a startup from the University of Basel – genetically modifies bacteria and wants to use this to develop new cancer therapies. The soon to be nine-strong team has already won prizes with its technology and completed a first round of financing.
Taking concepts from nature and adapting them – this is precisely the approach used by the team led by Simon Ittig, Christoph A. Kasper and Marlise Amstutz to find alternatives to chemotherapy. The researchers from startup T3 Pharmaceuticals at the University of Basel's Biozentrum are combining two well-known natural phenomena: that bacteria can colonize tumors, and that certain bacteria can inject self-made protein molecules into human cells. To do this, they use an ultra-fine needle known as a "type III secretion system".
The research team's idea is to reprogram the bacteria so that the desired proteins are transferred directly into the tumor cells, where they attack them. "Our technology makes it possible to introduce therapeutically effective proteins directly into the cancerous cells," says microbiologist Simon Ittig. "At the same time, we also need to ensure that these microbes are not dangerous to humans – without removing their ability to colonize tumors."
Targeting tumors with living bacteria
Experiments on mice have shown that after a few days the "tamed" bacteria are no longer present in the healthy tissue, but can be found in the tumor in their millions. "The cancer is their niche," says Ittig, because the immune system in the area of the tumor is often suppressed. This is precisely where the therapeutic effect of the injected proteins takes hold, by activating the immune system and thus attacking the tumor.
Ittig's research with bacteria and T3SS needles has been a gradual development. In mid-2012, he took over a collection of bacterial strains and developed extensive technical expertise thanks to his then doctoral supervisor and mentor Professor Guy Cornelis. "Back then, I didn't yet know just what these bacteria could be used for." They soon proved to be a godsend, as he can still use the collection for experiments today, which saves many months of work.
In May 2015, Ittig and his colleagues founded T3 Pharmaceuticals in order to develop the project on a commercial level. The company's name is derived from the type III secretion system that is integral to their research.
"We've received an incredible amount of support from the Biozentrum and the University," says Ittig happily. Winning a first prize from startup funding organization Venture.ch in 2016 put T3 on the biotech company map for the first time. In the same year, the company was also certified by the Swiss Federal Commission for Technology and Innovation (CTI) and completed a round of financing with private investors.
Qualified for the BaseLaunch funding program
At the start of 2017, the Gebert Rüf Foundation made a sizable contribution and T3 recently made it into the round of funding from startup organization BaseLaunch, an initiative from BaselArea.swiss. BaseLaunch is supported by Johnson & Johnson Innovation, the Novartis Venture Fund, Pfizer, Roche and Roivant Sciences, so this has opened doors to further contacts and resources. "That was a real motivation boost," says Ittig, "as it led to productive discussions with the big pharma companies." BaseLaunch provides funding of up to CHF 250,000 to life sciences startups.
The team faces considerable challenges ahead. The project is still in the preclinical phase. According to Ittig, it will be another two years until the first testing on humans in clinical trials. With a good team, the right investors and an ideal environment, the young entrepreneurs from T3 Pharma are looking forward to a bright future.
Success for Polyneuron
Polyneuron is another University of Basel spin-off that can benefit from BaseLaunch. Founded in 2014, the company develops drugs to treat serious autoimmune diseases of the nervous system. According to CEO Ruben Herrendorff, their Antibody-Catch technology platform enables the design of injectable glycopolymers that selectively neutralize and eliminate the harmful autoantibodies. Thanks to the startup organization BaseLaunch, Polyneuron is able to rent laboratories and offices worth CHF 120,000 in the Switzerland Innovation Park in Allschwil. The company and its seven employees have also won several awards and completed a round of financing. The first drug is set to go to clinical trial in 2019.