Free Content
In Focus: Adam Hearn wants to make sustainability fair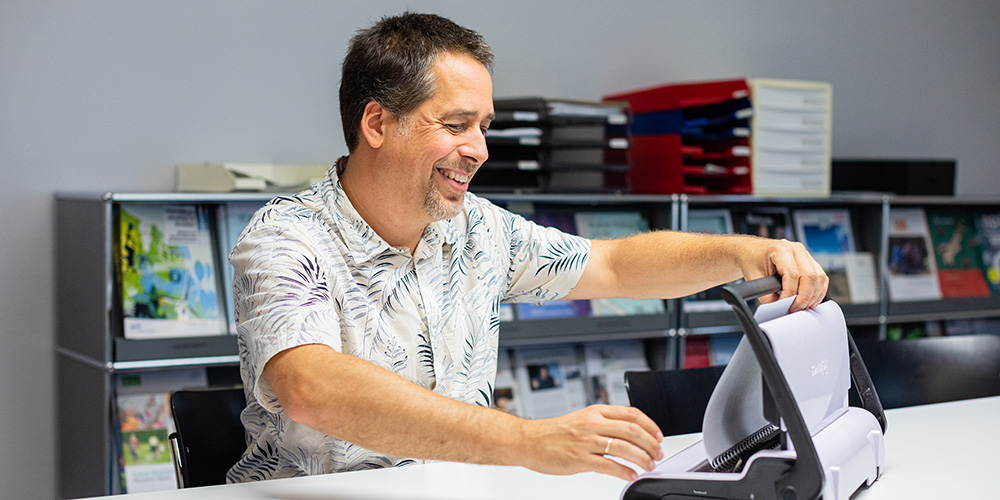 Adam Hearn is holding a copy of his doctoral thesis, though a doctorate wasn't always on his horizon. For a long time, the 45-year-old rejected the idea of an academic career. As an academic, he is making the case for sustainable energy. And – with his personal commitments – demonstrating what each of us can do to reverse climate change.
25 August 2022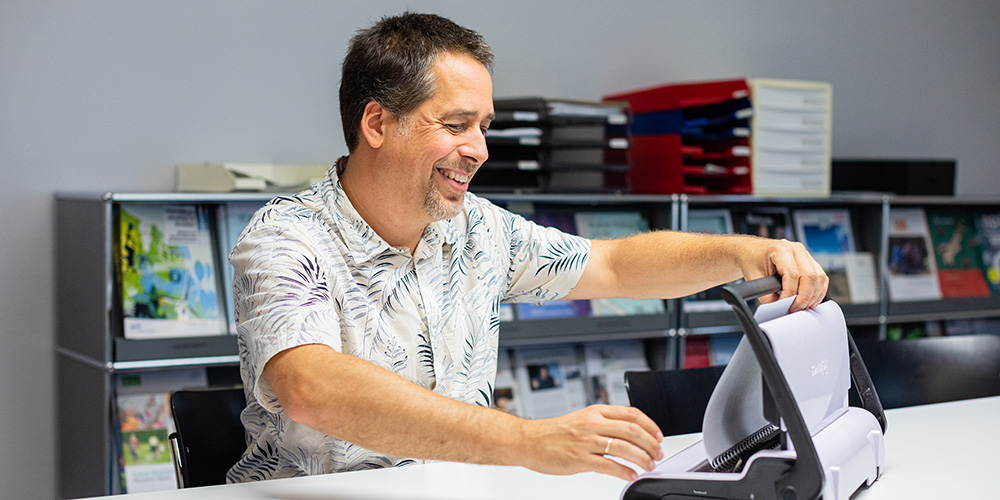 Adam Hearn is standing in front of the printer, watching spellbound as the machine churns out sheet after sheet. The sheets make up his doctoral thesis, which he has just completed. Two and a half years of work, printed on 196 pages. Its title: The potential of Positive Energy Districts as energy governance tools for a Fair Transition.
Hearn is not your typical doctoral student. He turned 45 this year, previously spent over 15 years working as an air cabin crew member and has published a guide to making shamanic drums – something he still does on nights when there's a full moon. He spent two years training in shamanic practice. He is also a keen gardener and keeps bees and domestic ducks.
Hearn explains all this when asked about how he came to write his doctoral thesis. Once he's started talking about sustainability and renewable energies, there's no stopping him. "I want to spread hope," he says repeatedly. Hope that it's not too late to save our planet – through incremental changes that each of us can make.
Producing surplus renewable energy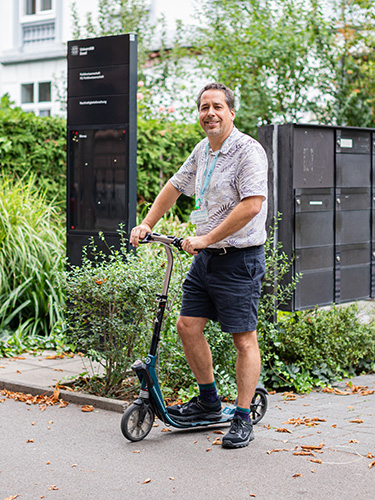 Although Hearn is based in Sustainability Research at the University of Basel, he is actually part of the European "Smart-BEEjS Horizon2020" program. A total of 15 doctoral students, located across Europe, have been researching the possibilities of developing districts that not only produce all of the energy required for their own consumption but are even able to feed energy back into the grid.
The European Union's target is that there will be 100 of these "Positive Energy Districts" throughout Europe by 2025. In 2022 there are 63. Hearn's research is focusing on finding ways of enabling people from all walks of life to live in PEDs like this. "In the Netherlands, for example, there's a PED where people live on houseboats. But they're not available to rent and most of the population aren't able to afford their own houseboat."
To ensure that these districts really are open to everyone, Hearn is looking for models that would make life there more affordable. Because new builds are usually expensive, not everyone can afford to buy property and many people don't have the support network to live in a districts like this.
Studying and flying around the world
Adam Xavier Gabriel Hearn, to use his full name, grew up in Madrid. At 17 he left home and headed to England. "I have a British passport too, so it made sense to go and study there," he explains. His bachelor's in development studies and social studies was followed by several years as a cabin crew member with British Airways.
It was during this period that Hearn began his voluntary work. "I was always a bit of a social activist and I'm quite a spiritual person," he says. Once a month he flew to Kenya for a week, where he worked in an orphanage for children with HIV. It proved to be a formative experience: "I realized I wanted to do more to help the community at large." He cut down his work hours and began a master's in medical anthropology.
He also met his wife, Iljana Schubert, in England. After the birth of their two children, the couple had to make some major decisions about where their future lay: "Once I'd completed the master's, it was clear that my wife was going to resume her academic career," he explains. She was offered a job as a postdoc at the University of Basel, and the family moved to Bad Säckingen. He stayed at home with the children – until the opportunity to write a doctoral thesis arose three years ago.
Replacing extensive travel with online surveys
"This post is a dream come true," says Hearn, enthusiastically. For the interview he traveled to Nottingham, where the 15 doctoral students were selected. "The interview there was a disaster!" he recalls. "My Mac presentation wouldn't display properly on the PC. I assumed my chance was gone. So I relaxed and began to talk. Apparently so well that I got the job, despite the bungled presentation."
He began his research in September 2019. The idea was to travel to different PEDs and investigate how life is organized there, while also examining what sort of chance the population at large has of living in one of these PEDs. A series of visits, each lasting several weeks, was envisaged for the EU program. Then Covid came along and put paid to the plans. "But looking back, that was good," Hearn says. "It meant I had to switch to online interviews and that led to a huge increase in the number of PEDs I was able to investigate."
Lived sustainability
Instead of the planned trips, his research now centered around his office in Basel. Hearn takes the train to Badischer station and then it's scooter and muscle power from there to Petersplatz. His office wall is decorated with a picture that he and a colleague found on the street – he refers to it as "upcycling art". And despite the fact that his time at British Airways entitles him to free business class flights for the whole family once a year, the family prefers to holiday in the Swiss mountains.
Hearn's voluntary commitments underline how important ecological action is to him. In his local area he has joined a food-sharing group: Retailers donate food that has passed its expiration date but is still perfectly good to eat, and volunteers take it to a central collection point. "Anyone who wants to can come and collect food there. In the early days there was always some left over, but since the war in Ukraine started, the shelves are always empty," he comments.
Writing or speaking, the important thing is that it's about sustainability
Hearn has been extremely productive in the past two and a half years: As part of his doctoral thesis, he has published five papers and his work has been cited in various scientific journals. However, he is still skeptical about a career in academia: "At my age, a postdoc isn't the logical next step. I might not stay on in the university environment."
But even if he doesn't end up working at the university, he knows that his commitment and enthusiasm are sought after. Since the start of this year, Hearn has been an EU Climate Pact ambassador. This allows him to continue doing what he is good at: speaking passionately about renewable energies and, hopefully, convincing as many political decision makers as possible to take action. The next time will be in September, when he is due to speak to the UN about the potential of PEDs in Africa.
In Focus: the University of Basel summer series
The In Focus series showcases young researchers who are playing an important role in furthering the university's international reputation. Over the coming weeks, we will profile seven academics from different fields – a small representative sample of the 3,000+ doctoral students and postdocs at the University of Basel.