Free Content
One new appointment and four promotions
The University Council has appointed Professor Murielle Delley as Assistant Professor of Inorganic Chemistry and granted four promotions in the Faculty of Medicine and the Faculty of Science.
30 November 2022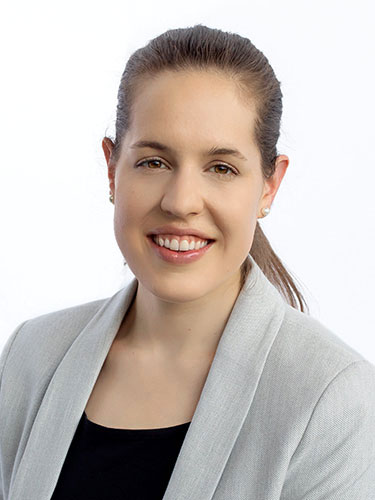 Murielle Delley will begin as an assistant professor with tenure track on February 1, 2023. Delley, who is from Fribourg, has been working as a research group leader at the University of Basel since October 2020 and as an assistant professor of chemistry since April 2021 as part of the SNSF PRIMA funding program.
She obtained her doctorate at ETH Zurich in 2017. Her dissertation examined the mode of action of certain catalysts – like those used in polyethylene production – and was distinguished with the Prix Schläfli in Chemistry from the Academy of Natural Sciences in 2019.
She then completed her three-year postdoc at Yale University. Her research is at the intersection of surface chemistry, inorganic chemistry, materials chemistry and catalysis. The 33-year-old's plans focus on exploring catalysis through earth-abundant transition metal phosphides and chalcogenides, developing interfacial electric fields as an external control element in catalysis, and building molecular-level insights and active catalysts through immobilized complexes.
Four promotions
Professor Sarah Tschudin-Sutter will be promoted to Clinical Professor in the Faculty of Medicine on February 1, 2023. She has been a tenure-track assistant professor for infectious disease epidemiology at the Department of Clinical Research since 2018. Since February 1, 2021, she has also been Deputy Chief of the Clinic for Infectious Diseases & Hospital Hygiene at the University Hospital of Basel. Tschudin-Sutter is a practicing infectiologist with a focus on infection prevention and control and hospital hygiene.
In the Faculty of Science, Professor Sebastian Hiller will also be promoted to full professor on February 1, 2023. He has worked as an associate professor of structural biology in the Biozentrum since August 1, 2015. As a structural biologist, Hiller uses NMR spectroscopy and cryo-electron microscopy to investigate biologically relevant mechanisms at atomic resolution.
At the same time, Biozentrum professor Timm Maier will also be promoted to full professor. Maier, a structural biologist, was appointed assistant professor with tenure track in 2011 and was promoted to associate professor in 2016. Maier's research is dedicated to structures and mechanisms of large macromolecular protein complexes that control important biological processes, using a hybrid structural biology approach that bridges the atomic to the cellular level.
Professor Dominik Zumbühl will be promoted to full professor at the Department of Physics as of the spring semester 2023. Zumbühl was appointed assistant professor with tenure track at the Faculty of Science in 2006 and was promoted to Associate Professor of Experimental Physics in 2012. He is an experimental physicist in condensed matter, and his research focuses on transport experiments and spin physics in semiconductor quantum dots. He has been the director of NCCR SPIN since 2021.