Free Content
07 June 2022
Languages as oxygen for the brain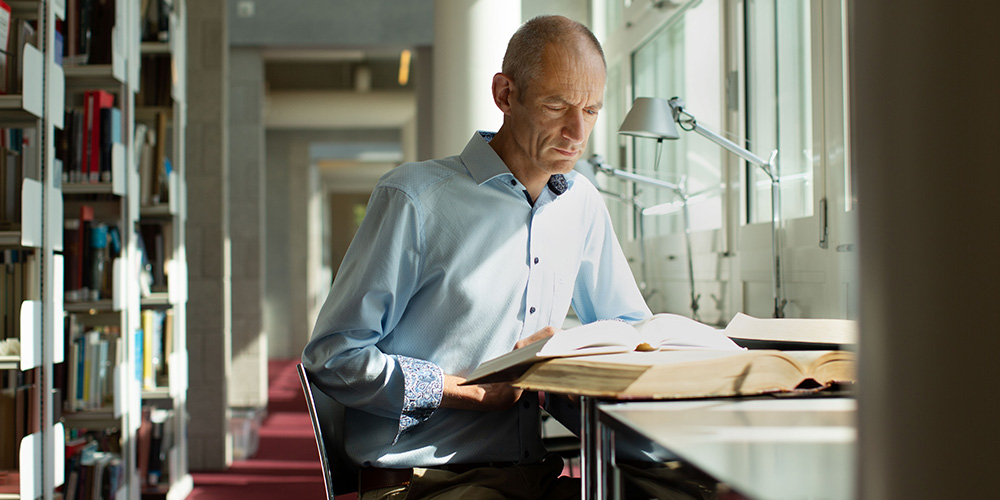 How does a language originate? How does it develop? And how are languages related to each other? The linguist Dr. Michiel de Vaan examines these questions and shares his knowledge and enthusiasm as Lecturer for Historical-Comparative Linguistics at the University of Basel.
Dr. Michiel de Vaan, who is from the Netherlands, has no problem understanding Swiss German, but he refrains from speaking it. "I came to Switzerland too late to acquire convincing Swiss German," the linguist writes on his website. If he is spoken to in the local dialect, he replies in a "continental West Germanic dialect continuum that stretches approximately from Leiden to Vienna," he reveals. He can also provide information in Albanian, English, French, Italian, Lithuanian, Russian and Spanish. Altogether, de Vaan speaks nine languages, plus Latin and Ancient Greek. "I have a very playful approach to language," he says. Speaking different languages represents a welcome change of routine to him, "like putting on a different shirt."
The 49-year-old grew up in the Dutch province of Limburg and moved to Switzerland with his family in 2014. He has held the University Lectureship for Historical-Comparative Linguistics at the University of Basel since August 2021.
He is fascinated by how language works and develops over time. He learned early on that every language has its own characteristics and that there are also similarities between different languages. He grew up in an environment of "diglossia" between Dutch and Limburgish – comparable to the situation in German-speaking Switzerland with Standard German and the dialects. "It means switching back and forth constantly in your head," he says. When traveling abroad, his parents encouraged him to listen to how people spoke and the expressions they used.
Vocabulary as a key to unlock history
In his field of Historical-Comparative Linguistics, de Vaan focuses on the development of the Indo-European languages. Most of the languages spoken in the area between India and the Atlantic belong to this linguistic family. This also includes the languages in de Vaan's linguistic repertoire.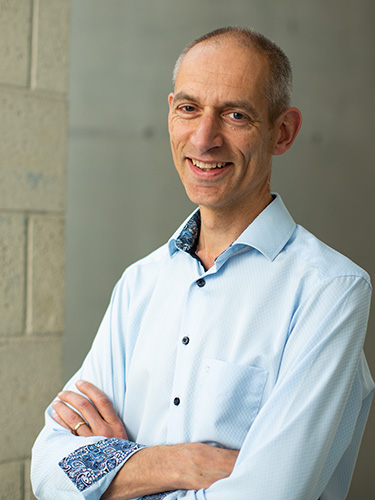 Historical-Comparative Linguistics both examines how a particular language has changed over time and compares different languages that have existed in proximity to one another. "For example, if we study the vocabulary of languages at a particular point in time, we can draw conclusions about the contact that different groups of people had with each other," de Vaan explains.
He makes use of borrowed vocabulary – terms adopted from a different language – in his current research project "The Albanian Language in Antiquity", which is supported by the Swiss National Science Foundation. In it, he focuses on the Albanian language and its development. The oldest surviving texts are from the 16th century. Borrowed vocabulary can help determine what earlier stages of the language looked like. "You can find words in Albanian from Greek, Latin, Slavic and Turkish. It is possible to follow their history back further than the Albanian texts themselves," says de Vaan. This allows for the indirect reconstruction of a language – in this case, Proto-Albanian: "People are interested in their history. This includes their language."
Using research findings in everyday life
Language is constantly changing: the more mobile people are and the more they come into contact with other languages, the faster a language changes. Societal factors also play a role: the more people speak a particular dialect, the more it expands and displaces other dialects. Vocabulary is also constantly changing: Standard German terms are used instead of dialect words and may gradually replace them entirely, terms for new inventions and phenomena become established, young people use familiar words in different ways or create new words, thus differentiating themselves from older generations.
"I am interested in this kind of subtleties and what's behind them," says de Vaan. He is convinced that without such research into language development, we would be giving up part of our own history. And discoveries that are applicable to daily life would be lost: "If we understand better how language works, we can apply this knowledge in various fields, such as the development of translation aids or language programs for people with hearing impairments."
He also emphasizes the watchdog role that linguistics can play: "Language and its history are sometimes used politically; for example, to appeal to a particular constituency. If no one gets to the bottom of things anymore and checks whether they are true, anyone can say anything that serves their purposes and thereby, for example, influence people's understanding of history," de Vaan points out.
The role of logical thinking in understanding language
To increase enthusiasm for Historical-Comparative Linguistics, in particular among young people, de Vaan co-organised the Linguistics Olympiad in the Netherlands until 2014. He has recently introduced the Linguistics Olympiad to Switzerland. The first finals were held in March 2022. The high school students taking part in this competition must think systematically about language, for example they have to conjugate verbs in an unfamiliar language. "You don't have to be a language genius to do this. First and foremost, it requires analytical reasoning skills. Students who are good at physics or maths have these too," says de Vaan.
When you examine language carefully, you discover how it is organized systematically. This prior knowledge helps acquire new languages. "For me personally, a lot of it is about listening," he says. He describes learning languages as "oxygen for the brain". Nonetheless, he does not plan to tackle another language. "I would no longer be able to get it up to
the level where I could speak it really well before forgetting it again. Last in, first out." Although he admits that learning Turkish would certainly be useful for his current research on Albanian ...
Three foundations finance lectureship
The University Lectureship for Historical-Comparative Linguistics is supported by the Vischer-Heussler Foundation, the Isaac Dreyfus-Bernheim Foundation and the Sulger Foundation. This collaboration made it possible to advertise the position (0.5 FTE) and thus to find a successor to Professor Rudolf Wachter following his retirement.

It ensures the continuation of research and teaching in Historical-Comparative Linguistics at the University of Basel until 2026. The Vischer-Heussler Foundation, which was created for this purpose in 1874, has made an annual contribution towards the costs of the lectureship at the University of Basel for more than 140 years.

Dr. Michiel de Vaan's public introductory lecture, "Worthandel und Sprachwandel in der Geschichte Europas" will take place on Wednesday, 8 June 2022, 6:15 pm to 7:00 pm, in the auditorium (Aula) of the Basel Natural History Museum, Augustinerstrasse 2.