Free Content
"Tinguely Entangled" transforms quantum physics into melodies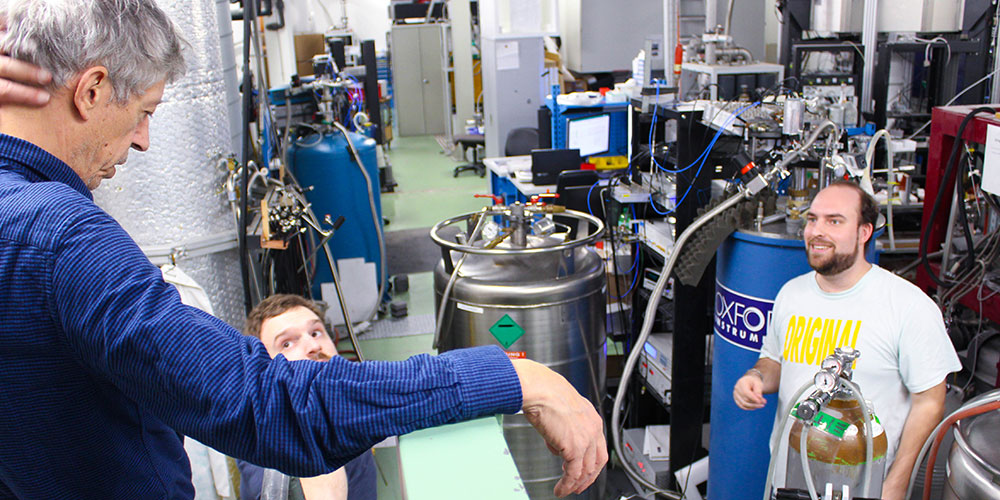 In "Tinguely Entangled," kinetic sculptures of Swiss artist Jean Tinguely become the backdrop for young quantum physicists and musicians to perform a musical interpretation of the genesis of quantum computers. Developed in collaboration with the Department of Physics, the NCCR SPIN and the Basel Infinity Festival, the performance seeks to bring quantum physics to life for a broad audience.
20 March 2023 | Marie Le Dantec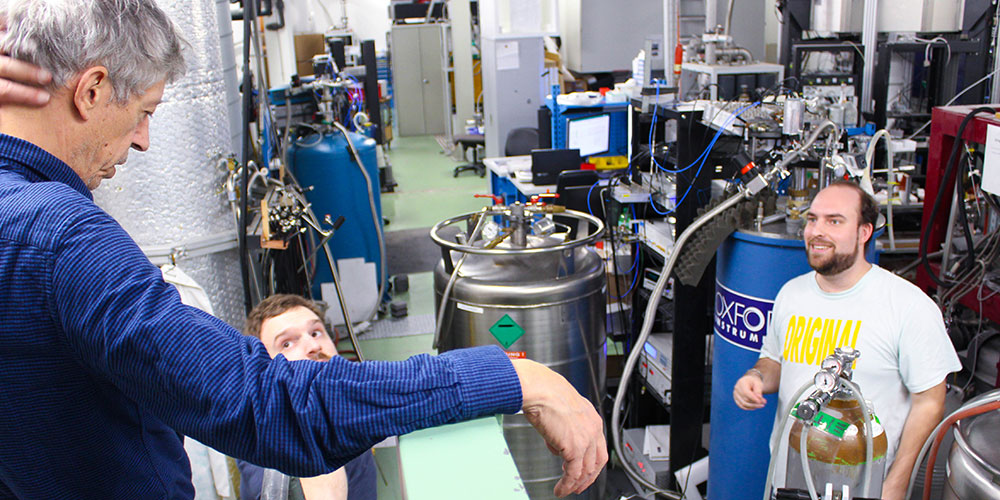 The unconventional pairing of artists and physicists in the highly multidisciplinary project Tinguely Entangled is ambitious. The Latvian composer Linda Leimane creates a bespoke musical arrangement in close consultation with some of the world's leading quantum physicists. Interventions by five NCCR SPIN scientists and visuals developed by artist Luca Scarzella complement the performance.
Designed and coordinated by Lukas Loss, director of the Basel Infinity music festival, the project requires the orchestration of three complementary visions: science, sound, and sight.
Although conveying the complex principles of quantum physics to a lay audience proved to be quite the challenge, physicists Jung-Ching Liu, Dr. Henry Legg, Arianna Nigro, Rafael Eggli and Dr. Valerii Kozin were up to it.
"When talking with colleagues you use a specific language, that only someone in your field will understand. When faced with such a project one must get rid of this day-to-day jargon and really think about the core concept we are trying to explain," says Henry Legg, postdoc in the quantum condensed matter theory and quantum computing group.
Transforming science into music
Close cooperation with leading scientists enabled the artists to understand quantum concepts sufficiently well to make acoustic and visual sense. "Before we started our work, we invested a good amount of time in learning: through conversations with Daniel Loss, professor of theoretical physics at the University of Basel, reading, talking to the SPIN scientists, following online courses and attending four live masterclasses," Linda Leimane explains.
Music turned out to be surprisingly suitable for a subject such as quantum computing: "Entanglement – two musicians playing the same tune, superposition – two musicians playing different tunes at the same time, noise, coherence, etc. These are all subjects that we can easily imagine transforming into music," says Lukas Loss, who acted as a bridge between scientists and musicians.
Visual designer Luca Scarzella also studied the subject in a way that allowed him to develop visual thoughts about it: "I was able to take advantage of the discussions and had the scientists in Basel to fix any conceptual errors in the visual project."
Related disciplines
Science and art both exhibit extremely creative processes and couldn't exist without experimentation. Yet their most obvious common ground is their urge to explore unknown territories and push the boundaries of their discipline. Projects such as Tinguely Entangled become an opportunity to discover each other's practices and develop innovative approaches.
Science can borrow a certain emotionality from art, especially in its communication, as Jung-Ching Liu, PhD candidate at the Nanolino Lab, explains: "Sometimes natural science can be out of touch with our daily life. Art, however, pursues the resonance with its audience. Through collaborating with artists, I hope the audience realizes that science can be interesting and accessible." On the other hand, art can adopt a certain systematicity from science, a frame, or as Linda Leimane puts it: "An accuracy of proportions and mathematical objectivity, and some sense of order."
Tinguely Entangled breaks new ground in music and science communication by playing on the strengths of two different but complementary worlds. "We are making something much bigger than one person can do. The process of creation is all about the team, and the energy exchange is exciting," Linda Leimane highlights. Come see the result for yourself at the Museum Tinguely in Basel on 25 March at 19:30.