Free Content
Course Auditors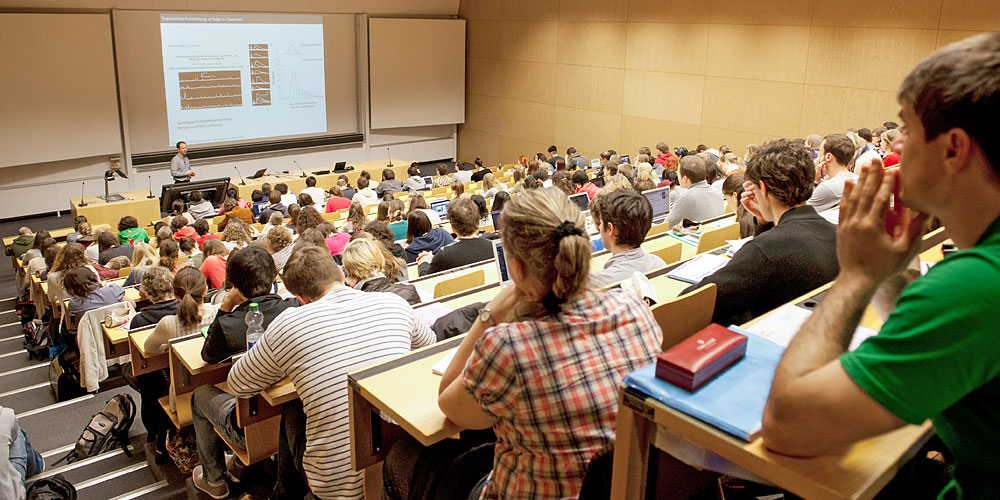 Important notice on course registration for the spring semester 2022
Mit dem Start des Frühjahrsemesters 2022 werden die Lehrveranstaltungen wieder mehrheitlich in Präsenz stattfinden.
Die Hörerinnen und Hörer haben wieder die gleichen Rahmenbedingungen wie die Studierenden. Es besteht die Pflicht, sich über allfällige Massnahmen der Universität Basel in Zusammenhang mit dem Coronavirus zu informieren.
Ein Wechsel der Unterrichtsform während des Semesters von Präsenz zu Online oder umgekehrt begründet keinen Anspruch auf Rückzahlung der Gebühr.
General
The course auditor scheme enables interested individuals to attend specific courses as shown in the course directory. The express permission of the lecturer is required to attend courses not labeled in this way.
Course auditors are not matriculated, do not take part in assessments, and cannot acquire credit points or academic degrees. At most, they receive confirmation of attendance (lecturer's signature on course registration form). Any academic achievements are not credited.
Fees
Course auditors pay a fee of CHF 60 for each credit hour attended within a semester. If the total amount exceeds the regular tuition fee for students, a flat fee will be charged equivalent to the tuition fees.
Registration
Course auditors must register for courses at the latest four weeks after lectures begin. There are currently two registration options:
1. Online
Course auditors can register online using the following website: https://vv.unibas.ch/en. The individual steps are explained in a document.
2. Printed course auditor form
The printed course auditor form is available from the Student Administration Office.
.