Free Content
Childcare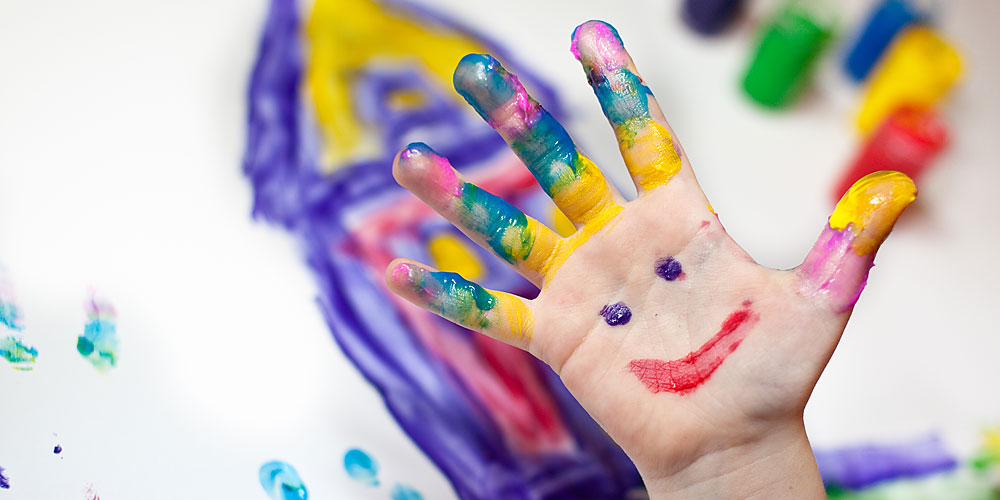 Those who study or are employed full or part-time depend on childcare services to help relieve some of the burden. Due to the high demand for childcare services, we recommend registering children with the nurseries and childcare centers as soon as possible. The costs for external childcare are usually calculated based on income. In other words, those with a lower income bear a lesser financial burden.
Childcare at the University of Basel
The brochure Childcare for students and employees, where do I find what provides information and an overview of offers.
Day care at the University of Basel
The University of Basel day care center is a facility for students and staff of the University of Basel. It is located close to the Kollegienhaus (main building) at Herbergsgasse 1. The university day care center is operated by Verein Familea.
The university day care center is open Monday through Friday from 7:30 am to 6:30 pm (on request, until 8:00 pm for lectures during the semester).
It is open year-round except for three weeks' vacation (two weeks in the summer and one week at Christmas). Children of preschool age and babies older than three months can be accommodated.
The monthly fee for parents is calculated depending on income. These fees are to be paid in full on a monthly basis, regardless of any absences of the child.
Further information you find in the leaflet.
Applications
Gaudenz Henzi, University of Basel, Social Services, +41 61 207 30 20.
---
Further information
Direct dial to the university day care center: +41 61 263 30 50
Reaching by public transportation:
Tram no. 6 / 8 / 14/ 16, Schifflände stop
Tram no. 11, bus 36 / 37 / 38, Predigerkirche stop
Tram no. 3, bus 30, Universität stop
By car: parking at the Kantonsspital, Petersgraben exit
Insurance: In addition to health insurance, Verein Familea insures children against accidents at the day care center.
---
Hourly supervision at the university day care center
Open Monday through Friday, 8:30 am – 12 pm, including full-day and afternoons with early registration (tel. 061 263 30 50). You find further information in the leaflet.
---
Cantonal services
Kanton Basel-Stadt
Im Kanton Basel-Stadt wird zwischen Tagesbetreuung und Tagesstrukturen unterscheidet. Die Tagesbetreuung richtet sich an Kinder ab drei Monaten. Die Angebote umfassen Tagesheime, Tagesfamilien und Spielgruppen.
Die Tagesstrukturen richten sich an Schülerinnen und Schüler des Kindergartens, der Primarschule und der Orientierungsschule. Sie umfassen Betreuungsangebote in Tagesschulen, Mittagstischen, Nachmittagsbetreuung und Tagesferien.
Der Kanton Basel-Stadt ist der einzige Kanton der Schweiz, der ein verfassungsmässiges Recht auf Tagesbetreuung kennt. Die Kantonsverfassung garantiert, dass Eltern innert angemessener Frist zu finanziell tragbaren Bedingungen eine staatliche oder private familienergänzende Tagesbetreuungsmöglichkeit für ihre Kinder angeboten wird.
Grundsätzlich stehen alle Angebote auch Kindern mit Behinderungen offen.
Weitere Informationen zu Tagesbetreuung und Tagesstrukturen des Kantons Basel-Stadt und den verschiedenen Angeboten erhalten Sie unter www.jfs.bs.ch.
Canton of Basel-Landschaft
The canton of Basel-Landschaft does not have a central referral service that provides information on the availability in kindergartens/day care centers or day care families. For information on the local childcare options, contact the relevant local administration authority.
For more information and addresses of officially certified and regulated kindergarten centers, visit the website of the canton of Basel-Landschaft www.baselland.ch.
---
Tax deduction for third-party childcare
Basel-Stadt
In the canton of Basel-Stadt, a tax deduction can be claimed for the costs of third-party childcare. Parents who are unable to care for their children themselves due to work, education or disability are entitled to this deduction. Married couples can claim the deduction only if both spouses are unable to care for the children. The costs for childcare by a third person (e.g. day care center, nanny) can be deducted.
The childcare costs must be documented. A maximum of CHF 10000 in costs can be deducted. The deduction applies only to children receiving third-party care and who are under the age of 15 year at the end of the tax period.
Basel-Landschaft
In the canton of Basel-Landschaft, the following are entitled to the deduction: parents who have to leave their children under the care of a third person because both parents or persons in a registered partnership are working; single parents with parental custody of the child and who must work; disabled parents with custody of the child (federal only: professional training of the parent providing care).
The deduction can be claimed for children who have not exceeded the age of 15 at the cantonal level or 14 at the federal level and who live with a parent or with parents in the same household. The out-of-pocket costs must be documented and verifiable. The maximum deduction is CHF 5500 per child for cantonal tax and CHF 10100 per child for federal tax.
---
Additional services
Childcare platform
KISS Nordwestschweiz provides a constantly updated database listing all private and public day care centers in northwestern Switzerland. The platform also provides information on various types of care.
Referral point for day families
The Day Families Office for Basel-Stadt provides information and referrals on all-day or hourly day care spots for children with day families.
Canton of Basel-Stadt's Swiss Red Cross
Day care for sick children
The Swiss Red Cross (SRC) provides day care services for sick children. SRC staff provide sick children with in-home care so that parents can work. The shift managers are usually able to provide an SRC staff member within four hours. A maximum of 90 hours can be used each year. Requests for services are binding. The service is intended for families residing in Basel-Stadt, Riehen and Bettingen.
Family relief service
SRC staff provide services to support and relieve families with sick or overburdened persons responsible for caring for children.
Babysitting
The babysitting service refers teenage or adult babysitters to members of SRC Basel-Stadt.
Nursing care
SRC staff are deployed to provide relief to family members of elderly persons, disabled children, dementia patients, patients requiring nursing care, etc. These staff accompany persons on walks, doctor visits, hairdresser appointments or help with shopping and provide care simply through their presence, reading aloud or playing games.
NachbarNET Basel (Neighborhood network Basel)
NachbarNET is a referral network for cooperation in the neighborhood and assistance for residents of the City of Basel. The website can be used to list offers or requests. The site also has ad listings for babysitters. In some districts, these offerings are dense enough that it is possible to find a babysitter in the immediate vicinity.
Hausbetreuungsdienst für Stadt und Land (In-home care service for the city and countryside)
This service is a Switzerland-wide, private organization working in the areas of housekeeping/home maintenance, geriatric care and basic care and nursing at home. The nursing care services offered comprise all nursing and medical services required to provide care for patients in their own homes. This can also include care and relief during pregnancy or after giving birth to a child.

Donate?
Donations for the university day care center are graciously accepted:
University of Basel
Petersplatz 1
4003 Basel
PC account: 40-2300-3
Note: Spende ZX5321