Articel Content
Cancer. (01/2023)
Sports therapy that makes sense.
Recorded by: Davina Benkert
Sandro Galli studied sports science in Basel. Today, he runs a company that provides personal training based on scientific evidence.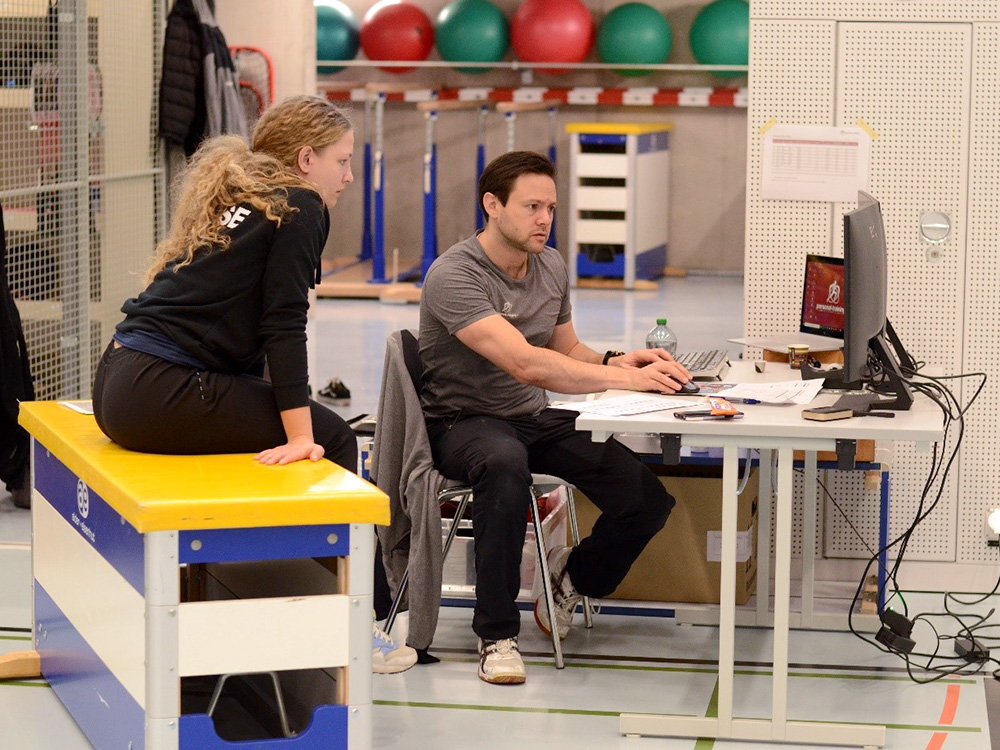 Many people think that because I'm a sports scientist and sports therapist, I must spend all my time working out. But as the CEO of personal-training.ch, I handle a lot of administrative tasks – I only have four or five appointments with clients and patients each week. My staff and I offer personalized training based on sports medicine standards.
At the moment, I actually spend most of my workday sitting down. I have to schedule my own workouts outside of business hours, because I need movement to keep my body and mind in good shape, and I think it's important that I don't expect things of my clients that I'm not willing to do myself. That just wouldn't be honest!
After completing my bachelor's degree in sports in prevention and rehabilitation at the University of Basel, I trained as a sports therapist and sports medicine therapist. Then, following an internship, I was hired at the University Center for Prevention and Sports Medicine at Balgrist University Hospital in Zurich, where I took on numerous responsibilities, including performance diagnostics for heart and lung patients in outpatient rehabilitation. I still do this job on a part-time basis, and I'm now head of cardiac rehabilitation and work as a sports therapist.
Going new ways
I'm interested in scientific research in sports medicine, and I try to integrate the latest findings and training methods into the work I do with clients and patients. When studies showed that interval training on the treadmill produced positive results in cardiac patients, I wanted to try it out.
For years, the established standard was to train at a continuous level of intensity. Ultimately, a suitable patient was found who, following a comprehensive briefing, agreed to dedicate a portion of the sessions to high-intensity interval training. She achieved a performance increase double that of what we would expect with conventional training, and the training required very little time to complete. Her physician was pleased with the results, and they were presented to experts in the field. Today, it is standard practice to employ high-intensity interval training for the majority of cardiac patients following an appropriate preparatory period.
Shape everyday life by your own
At my company, which I founded in 2014, we aren't burdened by the sluggish structures underpinning healthcare and corporate policy. And we don't have any external sponsors who might influence the way we do business. This independence allows us to work flexibly and in line with current findings so that we can prioritize the needs of our clients. At the beginning, I was the company's sole employee, and I met most of my clients through personal contacts. Today, we have a team of ten sports therapists, sports scientists and sports physiotherapists, and lots of referrals come from physiotherapists and specialist physicians. My main goal is to raise the bar for fitness training in Switzerland and to change public perceptions of personal training.
The title of "personal trainer" is not protected by law. That means that anyone can offer personal training – from fitness instructors who only have 40 hours of training under their belt all the way to sports scientists with university degrees in the field. Many people in the fitness industry are not university educated. Salaries are relatively low since few people are willing to pay more than CHF 1,000 for a fitness plan. It's not an attractive prospect for someone who has spent three to five years studying sports science. We might have the highest level of training at universities, but there are almost no well-paid jobs apart from teaching. When it comes to public perception, people don't have a sense of the differences in the quality and duration of training programs for personal trainers.
In therapeutic practice, the work done by sports therapists often complements and overlaps with that of physiotherapists. However, healthcare providers don't cover the cost of sports therapy, as it's still a new field, and the job description is not protected by law. Consequently, sports therapists aren't allowed to offer any kind of medical treatment, unlike midwives, physiotherapists or chiropractors. I realized that I'd need to take my future into my own hands, and as a result, I can now provide career opportunities for my fellow students, too. I've always been willing to dedicate myself on a personal level to improving unfavorable working conditions.
Between rehab and national team
Good working conditions are very important to me. My staff can decide for themselves when, how much and with whom they want to work. In return, I expect them to have a solid understanding of interdisciplinary work and an ability to accurately assess their own limitations and expertise. This is essential for me. Everyone on our team can understand a medical report and design a training program based on a client's individual medical history.
We consult with various interest groups and are just as happy advising the Swiss national karate team as we are working with a breast cancer patient on a gentle rehabilitation and strength training program. We want to share information and improve our clients' athletic skills and knowledge of nutrition so that they can train more efficiently and with more attention to detail instead of simply going through the motions. Developing an understanding of the relationship between your training and nutrition increases your own personal knowledge about health and plays a role in helping to quell the rising cost of healthcare.
---
More articles in this issue of UNI NOVA (May 2023).