Articel Content
Follow me! (02/2022)
Literature as a school of feeling.
Text: Alfred Bodenheimer
My book: During the Corona pandemic, Alfred Bodenheimer read the novel "Nemesis," which is set at the time of a polio epidemic. He thus followed twice how people behave in such an exceptional situation.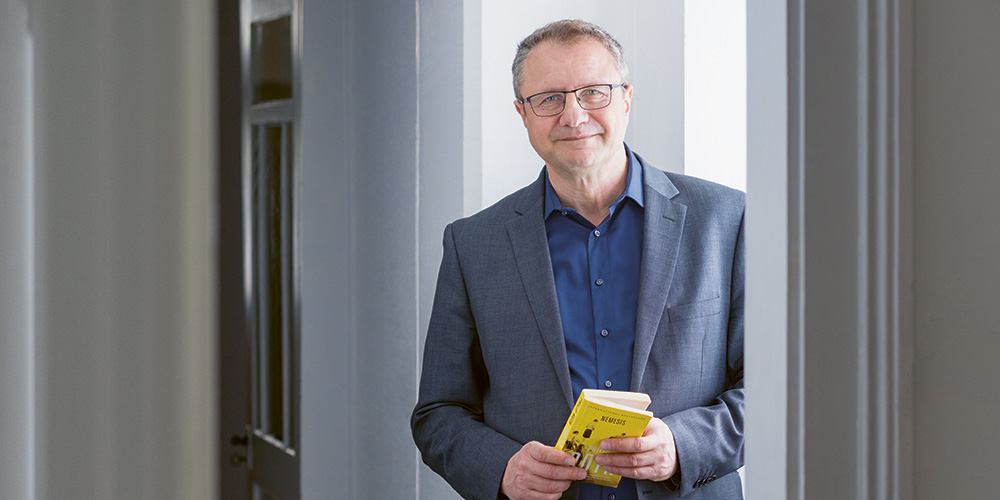 Twice in the 20th century, in 1916 and 1952, parts of the USA, including the city of Newark in New Jersey, were struck by a polio epidemic. In Nemesis (2010), the author Philip Roth (1933-2018), one of the city's most famous sons, wrote about a polio wave in and around Newark. However, he sets the outbreak in 1944, while US soldiers are mainly away fighting in Europe and Asia.
I had already read a number of books by Roth when, in the first year of the pandemic, a colleague drew my attention to Nemesis. Was this particular novel the right thing to be reading during lockdown? But for me, at least, it proved captivating. The story is told in a simple and compelling way, with empathy but without pathos.
The unspectacular main character is the young gym teacher Bucky Cantor, who is unhappy that he cannot serve in the military due to his poor eyesight. During the summer vacation, it is Bucky's job to supervise the boys who meet up at his school's sportsground every day to play, and in this capacity he does all that he can to protect them from being infected with polio. Until, despite his best efforts, the first one falls sick.
In many of his earlier novels, Roth writes in a tone of biting sarcasm, sometimes punctuated by absurd scenarios and over-the-top male phantasies. In this book, his last, he not only sketches the portrait of a man, in the figure of Bucky Cantor, who becomes his own worst enemy because of his uncompromising sense of responsibility and devotion to duty, but depicts a society shaken to its core by a sinister threat against which – many years before the discovery of a vaccine – it is virtually defenseless.
I learned more about the psychology of people in epidemic situations in this novel than from my own experiences in real time. It brought me closer to the victims, their relatives and the whole context than any of the statistics, reports or shocking pictures that the media were churning out for us in huge numbers. This is literature as a school of feeling, a hand that strikes the deepest chords within us, a voice that awakens our basic sense of humanity – what more could you ask for?
Alfred Bodenheimer has been Professor of Jewish Religious History and Literature at the University of Basel since 2003 and lives in Basel and Jerusalem. Since 2014, he has published six crime novels featuring the Zurich rabbi Gabriel Klein. His first crime novel set in Jerusalem, Murder on 29 November Street, appeared in 2022.
---
More articles in the current issue of UNI NOVA.