Articel Content
"Probing" cells for more efficient cancer diagnostics.
Text: Samuel Schlaefli
The stiffness of tumor cells gives an indication of how a patient's cancer will develop. A start-up company called ARTIDIS takes advantage of this fact by using an atomic force microscope to probe tissue collected from breast cancer patients. A clinical study involving more than 500 patients is being conducted at University Hospital Basel.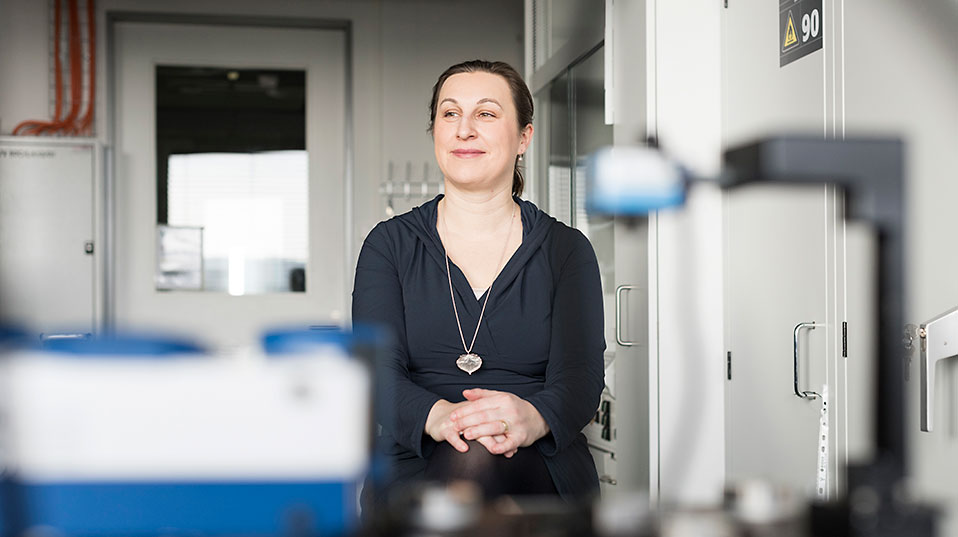 Breast cancer is the most common form of cancer in women. A new case is diagnosed every two minutes, and more than half a million women worldwide die from breast cancer every year. If cancer is suspected, a patient will usually undergo a breast biopsy. Histological analysis is, however, labor-intensive and time-consuming. The tissue samples must first be sliced into millimeter-thin sections and then stained before being qualitatively assessed under a microscope. Up to five specialists are involved and results can take two weeks.
"This period of uncertainty is very stressful for patients," says Marija Plodinec, who until recently was a research associate in Professor Roderick Lim's group at the University of Basel's Biozentrum Center for Molecular Life Sciences. "Which is why we wanted to get results to patients faster." After years of research to this end, the group around Lim devised a method for nanomechanical analysis of cellular tissue. "This allows us to largely automate tumor analysis and to determine in as little as three hours whether a tumor is benign or malignant," she says. The method is being trialed at University Hospital Basel and may soon find its way into hospitals all over the world.
Atomic force microscopy for biology
In a small laboratory at the Biozentrum, Plodinec provides an insight into the potential future of cancer diagnostics: At the core of the technology is a hinged white case the size of a moving box – an atomic force microscope. This instrument makes it possible to analyze the surface texture of materials at the nanometer scale. Such microscopes are commonly found in chemical or physical laboratories, whereas they are more than unusual in a biology context. Next to the machine, a researcher prepares a 2 mm by 1 cm specimen for analysis: a tissue sample freshly collected at the University Hospital from a patient with suspected breast lesion.
As soon as the researcher initiates the examination, a so-called cantilever, a tiny arm which is housed inside the case with a metal tip just 20 nanometers across, starts to mechanically probe the breast tissue. The tip has a constant force of 1.8 nanonewtons acting on it. A laser beam measures how much the cantilever bends as it passes over the sample. After 10,000 measurements along a predefined raster scan pattern, the results are displayed on four screens beside the analysis device, taking the form of various colored lines on a histogram. Normal tissue and benign tumors are relatively stiff, which translates into a steep curve with a characteristic single peak. By contrast, malignant tumor tissue is heterogeneous and less stiff; the resulting curve is noticeably shallower.
Today, we know that the softer cancer cells are, the easier it is for them to spread through other tissue, form metastases, and attack the body. "That's why the stiffness of breast tissue is an indicator of how likely a cancer is to metastasize," Plodinec explains. She adds that this is crucial because more than 90 percent of cancer-related deaths are caused not by primary tumors, but by metastases. "However, only a small proportion of cancer cells actually form metastases, so we want to identify them."
Exploiting the clinical potential
In 2012, Marija Plodinec and colleagues first presented their breast cancer diagnostics platform in the specialist journal Nature Nanotechnology. The innovation consists of an adapted atomic force microscope (AFM), a specifically designed analysis methodology, and data analysis software. She immediately recognized the clinical potential of the system. "AFM technology is actually quite complex and demands specialist expertise. Also, scans would sometimes take over nine hours, which wouldn't have been practicable for hospitals." Much has happened since then. Today, Marija Plodinec is CEO of ARTIDIS, a University of Basel spin-off which is currently developing the technology to make it market-ready. The company already has ten employees, who work in a laboratory and three offices housed in the technology park at the Stücki site. ARTIDIS has maintained its close collaboration with the University of Basel's Biozentrum.
Clinical implementation of the first prototype is already taking place: Hospitals in the USA, Germany, Britain, Croatia and Switzerland are testing the diagnostics platform for research purposes. In parallel, a clinical trial involving 508 patients is currently underway at University Hospital Basel and scheduled to conclude at the end of 2018. "It's actually a world first," says a visibly proud Plodinec. As part of the study, the same biopsy samples are analyzed both histologically and using the ARTIDIS atomic force microscope. The two sets of results are then compared. No additional biopsy material is needed because nanomechanical probing leaves tissue intact. Plodinec regards the close collaboration with the University Hospital and Dr. Burian, a principal investigator on the clinical study, as a boon: "We had the great advantage of being able to carry out experiments in a real-life setting at a very early stage. The feedback we received from doctors was invaluable in improving the technology."
Breast cancer diagnostics is only the beginning
In the long run, ARTIDIS aims to establish new uses for nanomechanical analysis also in areas other than breast cancer diagnostics. Most recently, in collaboration with Roche, the atomic force microscope was employed in a study unravelling the new mechanism in age-related macular degeneration, the leading cause of visual impairment in old age. In addition, the technology will eventually be used not only to diagnose cancer but also to monitor its treatment. Marija Plodinec is convinced that meaningful quantitative analysis can significantly optimize and improve the success rates of treatment, as well as help cut oncology costs. "It's still common for patients to be either overtreated or undertreated," she says. "Chemotherapy is being used needlessly, causing catastrophic side effects in patients; or it is initiated too late, with equally disastrous consequences."
Whether mechanical probing of cancer cells will become common practice in hospitals depends on many factors: Whether the statutory health insurance organizations approve and agree to fund the method, as well as on the acceptance by clinicians. The launch of the next generation of ARTIDIS devices for the biomedical research market is planned for spring 2019. At the same time, multinational trials will be launched in Europe and the US that will hopefully bring this exciting technology to everyday clinical practice.
---
More articles in the current issue of UNI NOVA.