Articel Content
People on the Move – Dossier on Migration (02/2016)
The economy benefits from immigration
Text: Christoph Dieffenbacher
Immigration from the European Union is especially beneficial to highly qualified Swiss nationals, while low-skilled foreigners are among those hardest hit. Economist Ensar Can from Basel has investigated the relationship between immigration and job security.
Ensar Can, 30-year-old, has experienced migration first-hand: His grandfather came to Switzerland from Turkey in the sixties as a migrant worker, his mother grew up here, and his father first came to the country when he married. Can, now a Turkish-Swiss dual national, was born in Basel and grew up in the «Längi» neighborhood of the suburb of Pratteln, inhabited almost exclusively by foreign families: «There were times when my brother and I had no Swiss classmates at school», he tells me. Later, while studying at university, he gave tuition to schoolchildren with foreign parents.
Can's story is a common one. Foreign workers have become an inseparable part of the economy: almost one in three employees in Switzerland holds a foreign passport. At the same time, the country boasts one of the most innovative economies in the world. Even so, the agreement on free movement of persons entered into with the EU in 2002 was met with widespread suspicion and apprehension among the population, triggering talk of «mass immigration» – culminating in the hugely popular initiative of the same name launched by the Swiss People's Party (SVP) – and fears of an excessive drain on state coffers fueled by the assumption that immigrants would cost more in public services than they contributed. The job security of Swiss nationals was also under threat, it was claimed, with increased competition in the labor market driving down wages.
Jobs at risk?
Can immigration from the EU since 2002 really be blamed for forcing native Swiss workers out of their jobs? An answer to this common complaint can be found in Ensar Can's recently completed dissertation, submitted to the University of Basel's Faculty of Business and Economics.
In an interview, Can pointed out that the terms «immigration» and «net migration» (immigration minus remigration) are often confused in the debate. For instance, net migration from the EU has risen to an average of over 40,000 people per year since 2002 – but far from being a consequence of surging immigration numbers, the increase is due mainly to lower remigration rates: «Fewer and fewer immigrants from the EU are returning to their home country, choosing instead to stay in Switzerland for longer.» A contributing factor here is the agreement on the free movement of persons, which increased the time EU nationals are entitled to remain in Switzerland from one to five years.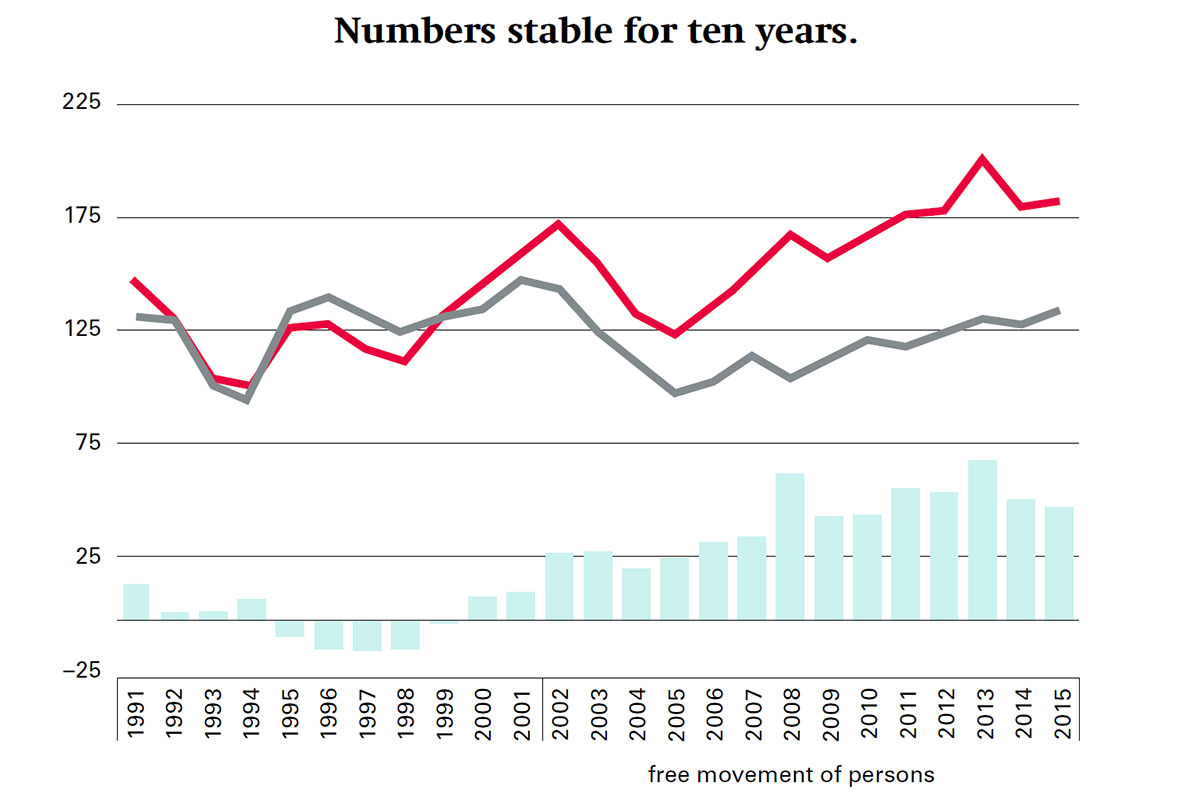 Meanwhile, «very few significant links» can be observed between immigration from the EU since 2002 and job security in Switzerland, says Can. He has charted the relationship between the risk of being made redundant and the proportion of EU immigrants in particular segments of the economy using statistical models. What he found was that highly qualified Swiss workers are actually less likely to lose their job if a large number of immigrants from the EU are employed in their segment of the labor market, while for low skilled foreigners the risk is higher.
Winners and losers
In Switzerland – as in other Western countries – there is a shortage of skilled labor in certain sectors of the economy. As a result, specialists in various fields have to be recruited from abroad, e.g. the EU or overseas. Among other reasons, Can attributes Switzerland's lack of skilled professionals in technical and scientific professions to a slow-down in the number of university graduates and the relatively low proportion of women in these areas. Meanwhile, technical progress in fields requiring high levels of education has caused an explosion in demand for skilled professionals. «Highly qualified immigrants can help address this imbalance in the labor market», says Can. This relieves the pressure on companies, enabling them to continue operating and, in many cases, create new jobs – a good thing for the economy as a whole, Can explains.
By contrast, the opposite effect can be observed among less qualified workers. What is more, demand for unskilled labor is in decline, with technical knowledge becoming an essential prerequisite in many professions, says Can: «Jobs which consist simply of pressing a button on a machine are on the way out.» Accordingly, when additional low skilled workers immigrate, they are in competition with those already in the country, causing the latter to lose their jobs – or forcing them out of the labor market altogether – sooner than would otherwise have been the case. Nonetheless, the relatively low number of unqualified immigrants means that this effect is not very pronounced.
Highly qualified workers from abroad tend to stay in Switzerland for shorter periods, Can writes in a study on the effects of the free movement of persons within the EU co-authored with Professor George Sheldon and Dr. Nathalie Ramel. Skilled professionals can often choose from positions all over Europe, affording them greater flexibility in their choice of where to work. This is not the case for low skilled workers, whose options are limited not least by a lack of language skills. The authors conclude that labor market conditions for native workers are barely affected by immigration in terms of either wages or employability.
Windfall for state coffers
Another of the study's findings is that besides the economy, the Swiss state also has a great deal to gain from immigration from EU countries. It currently receives an estimated 15,000 Swiss francs for each immigrant household originating from the EU, as migrant workers tend to pay more in taxes and social security contributions than they cost in benefits. However, the economists in Basel warn that this will not always be the case. If conditions remain unchanged, the net contribution of these households will gradually sink to zero over the next 40 years as immigrant workers grow older and choose to remain in the country. Even so, during that period their contributions to the state treasury will have added up to a healthy 300,000 Swiss francs per family.
Ensar Can is an assistant at the Research Unit for Labor Economics and Industrial Organization at the University of Basel and a research associate at economiesuisse.
More articles in the current issue of UNI NOVA.