Articel Content
Eastern Europe – On costumes, conflicts, and cultural spaces (02/2015)
From Biozentrum to Silicon Valley
Matthias Geering
Nico Ghilhardi's career has rocketed over the past 16 years – thanks to hard work and academic excellence.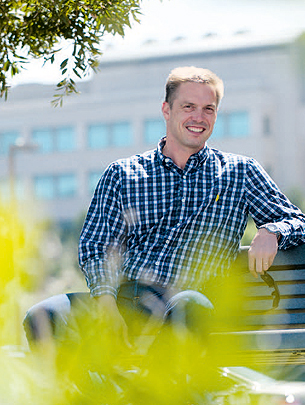 Point San Bruno Park is an exposed location, buffeted by the strong winds blowing from San Francisco Bay onto the mainland. A few miles to the south, aircraft take off from the international airport, headed for all four corners of the world. A curved road leads to the park, a scenic outpost with walking trails and benches. The name of the road, DNA Way, is not a complete coincidence, as this part of South San Francisco is home to the headquarters of Genentech, a subsidiary of Hoffmann-La Roche. And Genentech Building #12 at 1 DNA Way is where Nico Ghilardi has his office.
It's a small space that contains a desk with a computer and various scientifi c dossiers. Books on immunology line the shelves, and a bicycle helmet and water bottle sit beside them. Pictures on the walls show Ghilardi doing sports in the mountains. The view over the high railing through the rather small window is not especially attractive: evergreen bushes, parking spaces, the driveway. On the other side of the corridor, the rooms with views of San Francisco Bay are home to the laboratories. That, as far as Ghilardi is concerned, is "totally fine". He has long since adopted the same mentality as most other people here in Silicon Valley: He is not employed to enjoy the view from the window, but rather to work hard and be focused on achieving a clear goal.
Ghilardi grew up in Leimental in the canton of Basel-Landschaft and attended high school in Oberwil. He went on to study molecular biology at the University of Basel's Biozentrum and, through his professors Werner Arber, Walter Gehring and Gottfried Schatz, developed a passion for his discipline. In 1994, Ghilardi met the man who would have a defining impact on his career. "I wanted to do my PhD in molecular and cellular biology," he recalls, "and in Radek Skoda, I found a supervisor who was much more than just a doctoral advisor." Professor Radek Skoda, who today heads the Department of Biomedicine at the University of Basel, was doing research at the Biozentrum at the time. When Ghilardi looks back on those years, he becomes almost sentimental: "Radek gave me an incredible amount of support and encouragement. Whenever I got stuck, I could call him, even at night, and he would come to the laboratory and help me out." Before he had even finished his PhD, he and Skoda published five papers together in major journals.
It was Skoda who helped this smart, ambitious student to secure a post-doc position at Genentech in South San Francisco. In 1999, Ghilardi flew to California and began making his dream of a career in Silicon Valley a reality. Things weren't easy at first. "When you arrive here with two suitcases and no money in your pocket, then you have to start by proving everything: that you are a careful driver, and that you can pay your bills." Nevertheless, he soon felt at home here, as the "can-do" mentality fitted well with his disposition. He knew that it would not be an easy ride.
"You don't get anything for free here, but if you're willing to start right at the bottom and work hard, you can achieve a good standard of living and earn the respect of your colleagues." Outstanding researchers from all over the world want to carve out a career in Silicon Valley, and three local, worldrenowned universities (Stanford, UCSF and UC Berkeley) increase the competition even further. This means you have to fight all the harder to make it here. For Ghilardi, things are working out. His temporary contract was exchanged for a permanent one in 2003, and today he is an associate director and senior scientist at the Department of Immunology.
In April 2015, Ghilardi shared the experiences he has gathered over 16 years at Genentech with a few dozen young post-docs from Switzerland who had traveled to San Francisco. He told them about his career pathway and let them in on the principles that guide him: "Only get into science if it is your passion – there's no easy money to be earned here." "Make sure you have a high enough tolerance for disappointment. The road to the top isn't easy, so you have to be able to stomach defeat." "Work as hard as you possibly can, go to the best laboratory, and work with the best people. You'll learn the most from them." When Ghilardi finishes talking, the Swiss postdocs are silent for a while, then they introduce themselves and swap business cards. They clearly admire him a great deal. "If you have 'scientist' on your business card here in Silicon Valley," says one of the young researchers reverently, "then you've really made it."
As a senior scientist at Genentech, Ghilardi has the privilege of being allowed to spend 20 percent of his working hours on basic research. He is currently focusing on microbiota, the some 100 billion bacteria that inhabit the human body, that together weigh more than a kilogram and, astonishingly, are ignored by our immune system. He has published 23 papers on this and other research fields in the past five years. "In this job, I get to work with the smartest and best people from all disciplines and make a contribution to basic research," says Ghilardi. "I'm also involved in developing medicines that could massively improve patient health and quality of life." This last endeavor is an enormous challenge because "the low-hanging fruit was picked long ago. Today, for a variety of reasons, it has become very difficult to develop radically new active substances. If, over the course of my entire career, I manage to get a single active substance out of my laboratory and ready for market, it would be a fantastic achievement."
As evening approaches and the wind over San Francisco Bay slackens off , Ghilardi puts on his bike helmet, hops on his bike and rides out to the hills of Silicon Valley and home. The fact that Genentech pays him US$12 per day for going without a car is incidental. The real motivation behind his pedaling is his next challenge. He and five colleagues are training for a swim relay in Lake Tahoe, so of course he wants to be in good shape for that. After all, the same thing applies to sport as to science: nothing is for free, and performance counts more than anything else.
Nico Ghilardi attended school in Oberwil/BL, studied at the University of Basel's Biozentrum, and then moved to Genentech in San Franciso: His career has rocketed over the past 16 years, thanks to hard work and academic excellence.