Free Content
In Focus: Nadine Felber searches for the truth in nursing care and on social media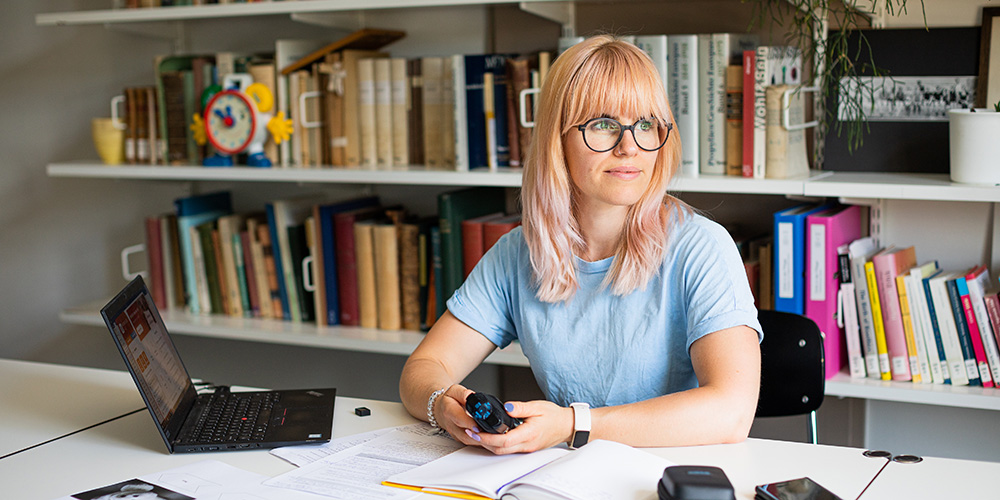 Initially, Nadine Felber couldn't imagine doing a doctoral thesis. But the coronavirus pandemic and its effect on her private life made her change her mind. She's now looking at the level of acceptance for new technologies in nursing care for the elderly. The question she's trying to answer: "What is truth"?
03 August 2022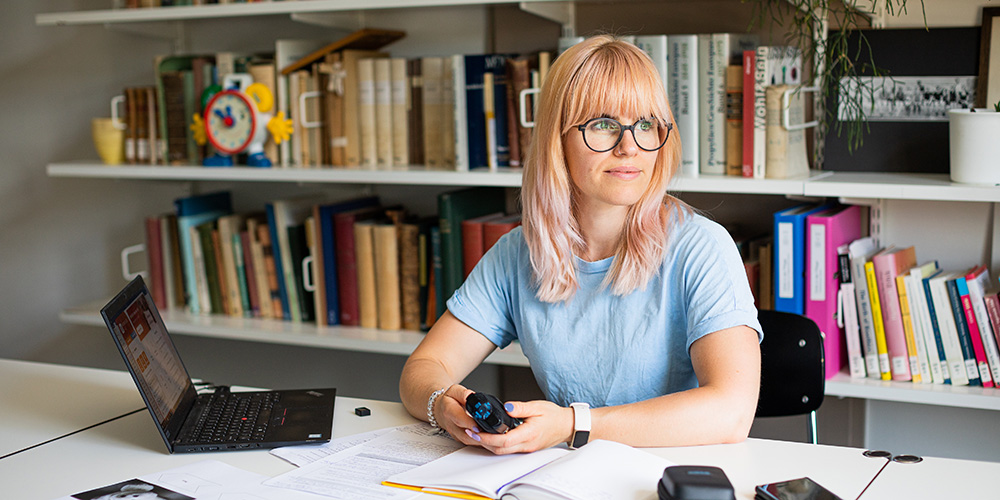 Wearing sports leggings and a short T-shirt, Nadine Felber is sitting in the library at the Institute for Biomedical Ethics (IBMB). She puts on yoga sessions for her colleagues in the lunch break. "Movement is important to me," the 30-year-old explains. "It provides a counterweight to all of the brain work involved in my doctorate, and it also gives me a feeling of discipline and control. As long as I still have time to train, I feel like I've got everything in hand."
Her Fitbit is a constant companion on her wrist, and tells her how many steps she's taken, how high her heart rate is and even how well she's been sleeping. There's a certain element of control here too. The data helps her to plan. Would it be a good idea to go for an evening walk or would it be better to get an early night? "But it's also a bit addictive. I look at it a lot," she admits.
When Felber isn't training, she's busy conducting interviews. For her doctoral thesis, she is investigating the advantages and disadvantages of smart homes in the nursing care sector. Her interest in the health aspect of new technologies goes back many years: her master's thesis in practical philosophy looked at whether a good citizen is a healthy citizen, and the influence that self-tracking devices have on the individual (original title: Is the good citizen a healthy citizen? – A philosophical assessment of digital self-tracking devices on the individual). The findings weren't completely clear-cut. "It's always a case of 'both X and Y apply.' That's the frustrating thing about philosophy, but also what makes it so fascinating," says Felber with a shrewd smile.
Swapping life in Madrid for a doctorate
After completing her master's thesis, the lively Felber, who grew up in Rheinfelden in Aargau, decided that she was "done with university." She'd had enough of writing academic papers, so taking on a doctoral thesis would never have occurred to her in her wildest dreams.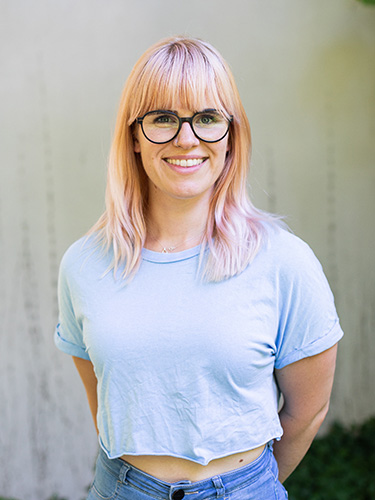 Instead, she wanted to get away and to spend some time abroad. This drew her to Madrid, where she completed a year-long internship at the Swiss Embassy. She got into a relationship and was planning to stay in Spain and look for a job, but then along came COVID and turned everything on its head.
The pandemic and the very strict measures that were put in place in the Spanish capital made her job hunt difficult. Felber needed an alternative. She came across the call for applications for a doctoral position at IBMB and decided to apply. "The subject of my master's thesis seemed a good foundation for collaborating on the IBMB project," she says. The working conditions would also be a good fit for a long-distance relationship with her partner in Spain.
Dealing with data
The doctoral thesis is part of a project funded by the Swiss National Science Foundation, looking into the significance of smart-home technologies in the healthcare system and the nursing care sector. For example, apartments fitted with sensors could provide support for elderly people by triggering an alarm when they fall or reminding them to drink enough water. Felber is primarily interested in ethical considerations, such as whether technological monitoring is compatible with human dignity and autonomy, or how much humanity is needed in nursing care – including in the physical sense. Is a friendly robot better than an unfriendly carer, for example?
Sociable Felber appreciates the fact that the project already had funding and enjoys being part of a research team rather than working alone like she did on her master's thesis: "That provides me with structure, and I'm in regular dialog with other people." She has learned to collect and analyze data. She will publish a total of at least three papers as the lead author, which will constitute a cumulative doctoral thesis.
To determine what those potentially affected think about smart homes and where they see opportunities and risks, Felber surveyed three different interest groups: senior citizens, employees at nursing care institutions and in-home care organizations, and relatives of elderly people. By the end of her research, she will have carried out a total of 60 interviews, i.e. 20 per category. She is currently recruiting the third stakeholder group – the relatives. "But it's not easy to find people who are willing to talk to us about this topic," she explains.
Felber has also reported difficult situations when dealing directly with the interview partners. "Elderly people in particular tell me a lot of personal things and I can see that this does them good. On the other hand, I do also need them to answer my specific research questions." Interrupting people and bringing them back on track poses a conflict for the scientist. "After the interview, I also have to weigh up which information is actually relevant to my research and what people have told me in confidence. Some stories are also very 'heavy' and really get to me."
The fight against fake news and conspiracy theories
The issue of where information comes from and how it is used also interests Felber outside of her academic research. "The information that we receive and the conclusions that we draw from it have a considerable impact on our lives," she says, referring to her own experience: her partner in Madrid became increasingly drawn in by conspiracy theories about COVID-19.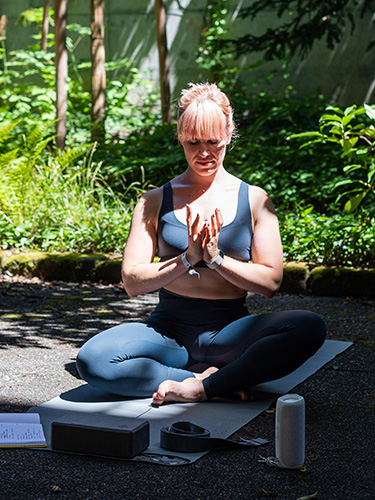 Despite being infected with the coronavirus right at the start of the pandemic, he didn't believe in it. For Felber, that was hard to understand. "The only way I could get through to him at all was to ask where he got his information from and how reliable the source was." But their different ideas about the pandemic ultimately led the couple to go their separate ways.
The situation made her aware of how important it is to understand where information is coming from and to be able to trace it right back to its source in order to make a better assessment of how true it is. This drove her to set up the "Source Engine – The social solution against misinformation" project with a friend a year and a half ago. The aim of this online tool is to create a network of experts who can add sources to information in media texts or on social media, or verify the sources. Felber wants to integrate science and create a network of trust. She hopes that "people will be able to trust the sources and draw better conclusions for themselves thanks to access to additional information".
"It'll all work out in the end"
With a heightened awareness of this issue thanks to this project and her doctoral dissertation, Felber always asks herself: am I a reliable source? People she knows from her outdoor training sessions would ask her thoughts on the COVID vaccination "because my work has something to do with health". But she draws a clear boundary here, as she's by no means a qualified physician. It's important not to get carried away and end up offering unreliable information. "As soon as you open your mouth, you're responsible for what comes out," she emphasizes.
However, Felber remains very forthcoming and open about her own life, even when it comes to more personal information. The death of her father is just one example: "Following his cancer diagnosis, he opted to end his own life." In light of this experience, she held a tutorial on assisted suicide with medical students. "For me, it was really exciting to be able to talk to other people about this formative experience," Felber says, describing what she sees as one of the highlights of the event.
Even though practical considerations were what ultimately prompted Felber to pursue the doctorate, "It'll all work out in the end. For me, biomedicine is a broad field and one that can be hugely enriching." She hopes to complete her doctoral thesis by the end of 2023, and will then focus fully on Source Engine. And even if there's no financial pressure, she really wants to stick to this deadline: "My mother will be pleased that I've finally finished studying," she says with a twinkle in her eye.
In Focus: the University of Basel summer series
The In Focus series showcases young researchers who are playing an important role in furthering the university's international reputation. Over the coming weeks, we will profile seven academics from different fields – a small representative sample of the 3,000+ doctoral students and postdocs at the University of Basel.