Free Content
01 December 2020
Camilo Perez is a new "EMBO Young Investigator"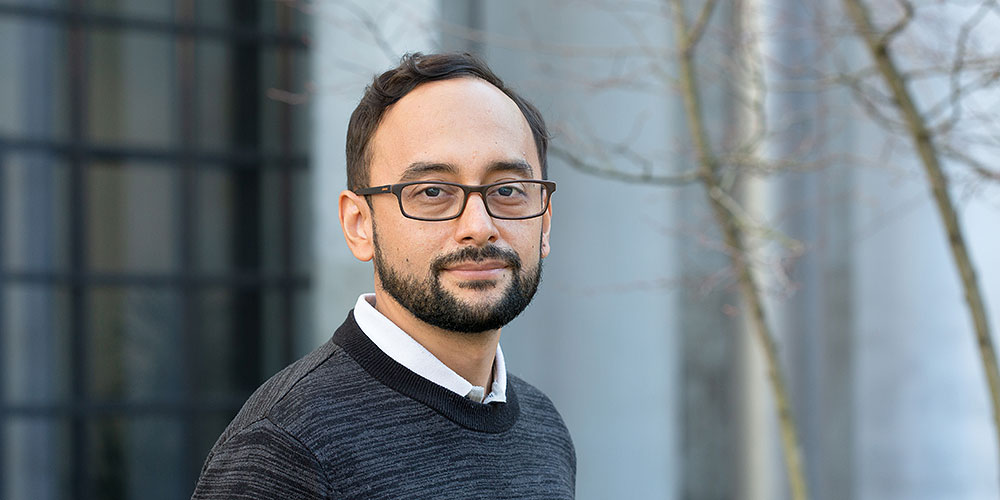 Prof. Camilo Perez from the Biozentrum of the University of Basel has been selected to be an "EMBO Young Investigator" by the European Molecular Biology Organization EMBO. The structural biologist is one of 30 junior researchers to receive the distinction this year. With this program EMBO supports the career of outstanding young scientists.
With his nomination, Prof. Camilo Perez joins a high-ranking network of 73 current and 384 former EMBO Young Investigators, who represent some of the best young scientists in Europe and beyond. Established in 2000, the EMBO program supports excellent molecular biologists in the early stages of their career as research group leaders.
"We are delighted to welcome the new Young Investigators to the EMBO community and look forward to support them in leading and further developing their independent laboratories," says EMBO Director Maria Leptin. "These 30 life scientists have demonstrated scientific excellence and are among the next generation of leading life scientists. Their participation in the EMBO Young Investigator Programme will help them in this critical phase of their careers."
Investigating the cell wall of pathogens
Camilo Perez came with a SNSF Professorship to the Biozentrum at the University of Basel in summer 2017. The structural biologist studies proteins that assemble the cell wall of bacteria. His team focuses on investigating how membrane proteins contribute to cell wall dynamics and adaptation in Gram-positive pathogens. This includes, among others, the much feared methicillin-resistant bacterium Staphylococcus aureus (MRSA), which causes severe infections that are often difficult to manage even with antibiotics.
The cell wall is an outer envelope that completely surrounds the bacterium. It gives shape and stability to the cell and protects against the immune defense and antibiotics. Individual components of the cell wall, so-called virulence factors, play an important role in bacterial pathogenicity. The research group led by Perez investigates how membrane proteins produce specific cell wall components and facilitate the transport of precursor molecules to their destination. His work may provide new answers to questions surrounding antibiotic resistance and bacteria survival under stress conditions.
Promoting junior scientists in molecular biology
With Camilo Perez, five scientists from the Biozentrum have now been distinguished as EMBO Young Investigators. This year, the EMBO program received 216 eligible applications and the success rate was 14 percent.
The Young Investigator Programme supports the career of excellent junior researchers, who have established their first research group in the past four years. In addition to a funding of 15,000 Euros annually over three years, they also have the opportunity to participate in mentoring programs, advanced training courses and conferences and to access the core facilities at the European Molecular Biology Laboratory in Heidelberg.