Free Content
Collaboration & Dialogue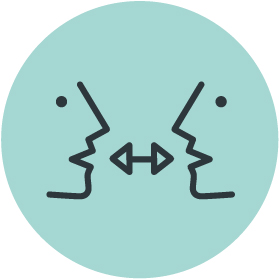 Leadership & Development promotes the development of the organization and its employees in such a way that they are aware of their responsibility as role models, foster a culture of dialogue and live the values of integrity, respect, openness, equality, inclusion, appreciation and trust in working together.
The working environment of a learning organization enables exploring creative thinking and scope to initiate learning and develop forward-looking approaches. Leadership & Development focuses on a culture of collaboration and dialogue that allows for open exchange and a positive culture of error. The goal is to anchor and promote dialogue as a form of conversation that takes place between two interest groups. Following the intention of getting to know and understand each other's points of view, people create a common ground for respectful cooperation.
Services
Training and Support for Collaboration and Dialog
Leadership & Development is committed to supporting respect and inclusivity at the University and in all communication in a variety of formats:
Internal training for all employees on communication, dialogue and personal integrity.
Individual consultations and coaching for employees in conflict situations, with questions of cooperation or in change processes
Team workshops on communication, conflict management, work organization, change
Conversation toolbox as a guide and support for dialogic and official conversations
Toolbox for constructive conversations between team leaders and team members
To complement further training, individual coaching and counseling, Leadership & Development offers a series of instruments in a "Toolbox for constructive conversations between team leaders and team members" that strengthen a culture of leadership and constructive collaboration at the University of Basel: Instructions on peer coaching, productive conversation, feedbacks, regular staff reviews (Staff Review with Agreement on Objectives) and corrective talks are available to employees. If required, an expert will support you introducing the tool in your team or inform you about the best handling of the individual instruments.
Contact