Articel Content
3D models for medicine.
Text: Reto Caluori
The rapid adoption of 3D printing in the world of medicine is leading to a steady stream of new applications in hospitals. At Basel University Hospital, the technique is used to manufacture implants and to plan complex operations in advance.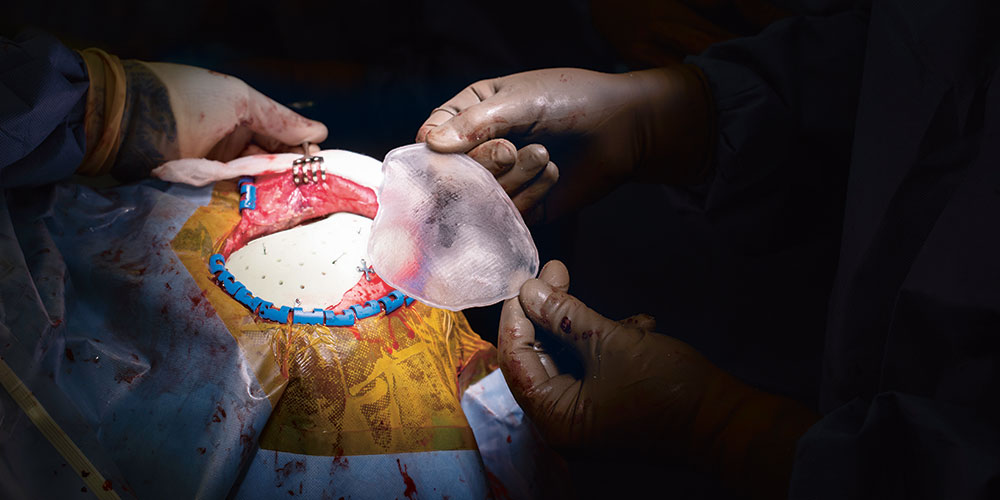 3D printers facilitate the production of precisely fitting implants. The models are created using data from imaging techniques such as computed tomography (CT) and magnetic resonance imaging (MRI). Based on these cross-sectional images, the University Hospital can use its own 3D printers to create a full-scale model that precisely replicates an individual patient's anatomy.
Interpreting CT scans on a screen is a challenging task – even with the help of 3D simulations. By contrast, the printed models allow physicians to intuitively grasp anatomical relationships, the course of different tissues, and the overall dimensions. As a result, physicians can gain a precise idea of the situation they will encounter during operations, such as when dealing with skull and facial fractures, kidney tumors or complex heart surgery.
The models have also proven to be a useful visual aid in teaching and training when explaining planned operations to patients. Moreover, 3D printers allow implants to be designed with high precision so that surgeons can operate faster, more accurately and with greater success. Patients therefore benefit from shorter sedation times, and the hospital saves on expensive minutes spent in the operating room.
---
More articles in the current issue of UNI NOVA.