Free Content
06 September 2021
T3 Pharma wins Swiss Economic Award 2021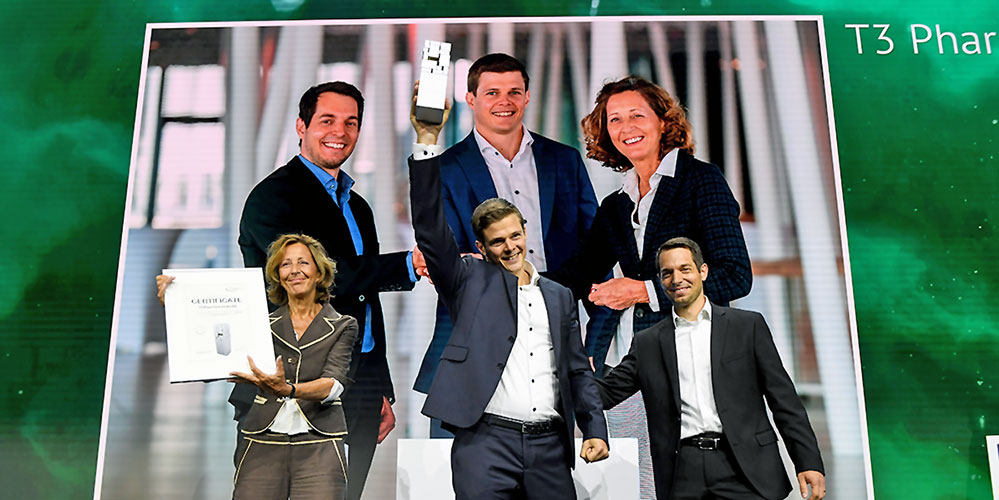 The biotech company T3 Pharmaceuticals, a spin-off of the University of Basel, has been awarded the Swiss Economic Award 2021 in the hightech/biotech category. The start-up working in the field of immuno-oncology is developing a cancer therapy based on living bacteria.
The Swiss Economic Award is the most important young entrepreneur prize in Switzerland. In a multi-stage selection process, T3 Pharma has succeeded from among the 107 applicants and has been awarded the prize in the hightech/biotech category for its innovative approach to fighting cancer and its outstanding entrepreneurial achievements. The award comes with prize money of 25,000 Swiss francs and the winners receive access to the unique SEF.Founder network along with other benefits.
"We are honored to receive such a prestigious prize from the Swiss Economic Forum," says Simon Ittig, CEO of T3 Pharma. "We would like to thank the jury for recognizing the potential of our bacteria-based cancer therapy and our work. On this day of celebration our thanks go to everyone who accepted challenges and risks together with us along the journey, which we are thrilled to continue."
Novel technology
Improving the lives of cancer patients with the most innovative treatments - that is the vision of T3 Pharma. The biotech company's approach is based on the Type-3 secretion system, an injection apparatus that enables bacteria to deliver proteins directly into their target cells. Based on this mechanism, the spin-off has developed a novel technology: They have optimized the bacteria to accumulate selectively in solid tumors and efficiently release therapeutic proteins that directly or indirectly through the action of the immune system inhibit cancer growth. T3 Pharmaceuticals has thus managed to hold its own in the highly competitive cancer therapy industry. Within this year, the lead candidate starts its clinical trials.
T3 Pharmaceuticals was founded in May 2015 as a spin-off from the Biozentrum, University of Basel, Switzerland. The company focuses on bacteria-based immuno-oncology therapies for the treatment of solid tumors. T3 Pharma was also selected as "Science Startup of the Year 2018" at Falling Walls Venture, was among the first BaseLaunch companies and was winner of the Venture.ch business plan competition in 2016. In 2019, T3Pharma received the sponsorship prize awarded by W.A. de Vigier Foundation. Since its founding, the company has already secured investments totaling 40 million Swiss francs.
Switzerland's leading economic conference
The Swiss Economic Forum (SEF) is Switzerland's leading economic conference, where important leaders from business, science, politics and the media meet for an exchange of ideas and networking. The prize for young entrepreneurs, the Swiss Economic Award, is presented annually at the SEF. The much coveted award honors outstanding entrepreneurial achievements in three categories. The finalists, who are selected in a multi-stage judging process, then present their company at the SEF in front of representatives of Swiss business, scientific and political communities.