Free Content
President Andrea Schenker-Wicki resoundingly reelected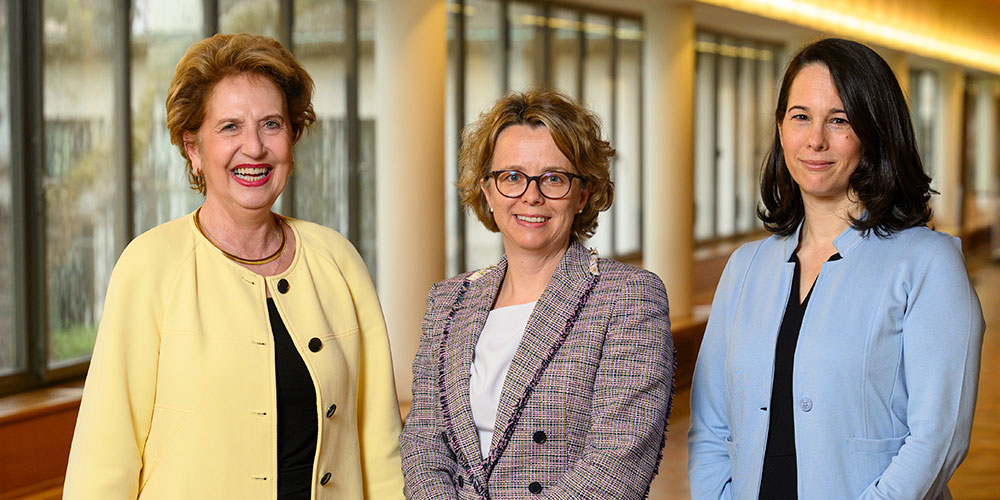 The University of Basel Senate confirmed Professor Andrea Schenker-Wicki to a third term as President yesterday with an overwhelming majority.
24 March 2023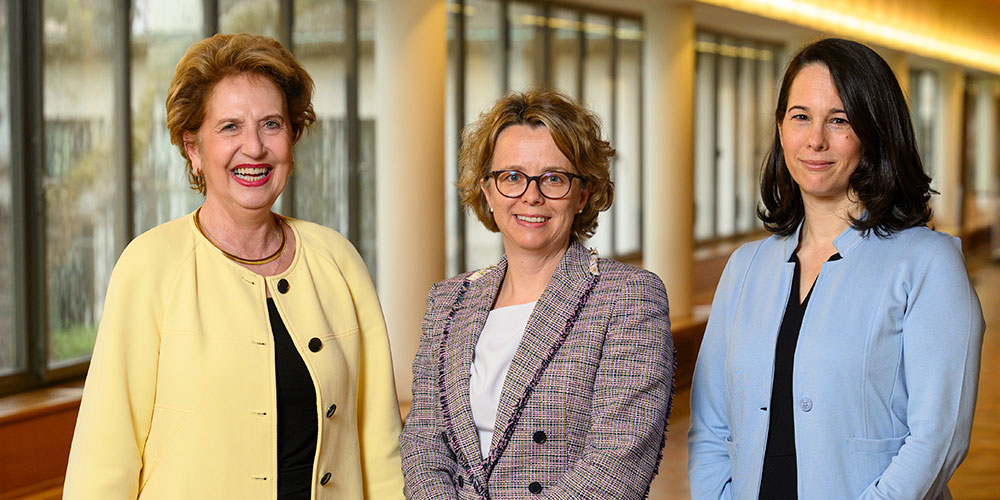 "It would be a good sign if our president is reelected with a strong majority," Professor Daniela Thurnherr Keller suggested in her closing speech before the committee members cast their votes yesterday afternoon. And the members of the Senate did not disappoint: Andrea Schenker-Wicki was elected to a third term with overwhelming approval and received sustained and enthusiastic applause from the committee.
Even before votes were cast, there were indicators that the election would be no more than a formality for Andrea Schenker-Wicki. Many members of the University of Basel community expressed their hopes for her reelection and are pleased that Andrea Schenker-Wicki will continue to serve for a third term.
Prior to the election, Schenker-Wicki outlined the challenges she managed in her previous terms at the University of Basel and provided an overview of her future priorities. Her first term of service (2015–2019) was characterized by consolidation: cantonal disagreements about university financing had to be arbitrated and important projects such as Strategy 2030 were tackled.
Her second term (2019–2023) started with the approval of two National Centers of Competence in Research (NCCRs), but this period was nevertheless dominated by crises: for over two years, management of the Covid-19 pandemic was the main focus, followed by the war in Ukraine, and finally the energy crisis. Despite all this, the university was able to complete its accreditation and received excellent evaluations from the accreditors.
Schenker-Wicki now looks to her third term (2023–2027) as a period of awakening: "Now we will demonstrate that we can achieve great things in Basel," she emphasizes. She sees cooperation beyond borders, especially with Europe, as a source of great potential that both Switzerland and Europe should now jointly take advantage of.
New Vice President for People & Culture
Professor Nadja Braun Binder was newly elected to the President's Board. The Professor of Public Law will lead the Vice President's Office for People & Culture beginning 1 August 2023.
Venia docendi
The Senate also awarded the Dr. habil. and the Venia docendi to the following individuals.
Faculty of Medicine
Dr. med. Patrick Badertscher for Cardiology
Dr. med. Lucas Boeck for Pneumology
Dr. med. Ricardo Donners for Radiology
Dr. med. Marko Kraljević for Visceral Surgery
Dr. med. Markus Michael Obmann for Radiology
Dr. med. Alberto Posabella for Visceral Surgery
Dr. med. Eleonora Seelig for Endocrinology, Diabetology and Metabolism
Dr. med. Bettina Felicitas Winzeler for Endocrinology, Diabetology and Metabolism
Dr. med. Dipl.-Psych. Johannes Wrege for Adult Psychiatry
Faculty of Science
Dr. phil. Philipp Emanuel Hirsch for Environmental Sciences
Faculty of Psychology
Dr. phil. Helen Koechlin for Psychology
Dr. med. habil. Robert Mechera of the Faculty of Medicine also received the Venia docendi for oncological breast surgery.