Free Content
Niklaus Labhardt to become professor of clinical epidemiology
The University Council has appointed Professor Niklaus Labhardt as professor of clinical epidemiology. In addition, two individuals were promoted to full professors and two professorships were approved at the Faculty of Medicine.
24 May 2022
Niklaus Labhardt will take on the professorship from 1 August 2022. He has been working as a senior physician in infectious diseases and hospital hygiene at the University Hospital of Basel since 2019 as part of an SNSF Eccellenza Professorial Fellowship. He also heads the International HIV and Chronic Disease Care research group at the Swiss Tropical and Public Health Institute. Labhardt will also become head of the department of clinical epidemiology and senior physician of infectiology at the University Hospital Basel.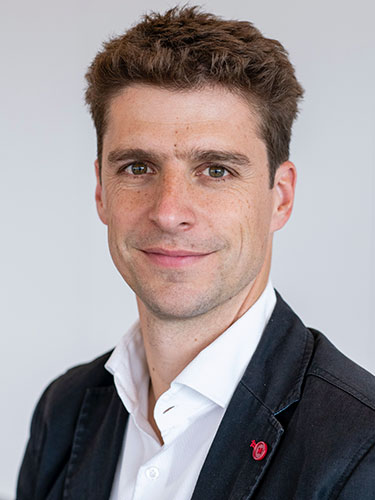 The 43-year-old father of three earned a doctorate at the University of Basel in 2005. In 2010, he obtained a Master of Advanced Studies in International Health and subsequently qualified as a specialist in general internal medicine, tropical and travel medicine, and infectious diseases.
He is an expert who serves as a member of various international boards and working groups in the field of global health, and he has been president of SolidarMed, a non-profit organization that supports the provision of healthcare in seven African countries, since 2017.
In addition to his specialist training at various hospitals in Switzerland, Labhardt worked as a physician, project manager and lead researcher in Cameroon and Lesotho for several years. His research focuses on epidemiological and pragmatic randomized clinical trials in healthcare for chronic diseases in developing countries, particularly for HIV, tuberculosis, hypertension, diabetes and mental illness. He has also conducted research in Switzerland on migration medicine, COVID-19 and HIV.
Two promotions
Professor Malte Helmert will be promoted to full professor at the Faculty of Science for the fall semester 2022. At the Department of Mathematics and Computer Science, Helmert has been assistant professor of computer science since 2011 and associate professor of computer science since 2016.
Professor Georg von Schnurbein will also be promoted to full professor at the Faculty of Business and Economics for the fall semester 2022. He was appointed assistant professor of foundation management in 2008 and associate professor of foundation management in 2014, and also heads the Center for Philanthropy Studies.
Two adjunct professors
The University Council has approved the decision made by the Senate to appoint two adjunct professors at the Faculty of Theology and the Faculty of Science:
Professor Michael Bangert for theology
Professor Manuel Hetzel for epidemiology
Two approvals
A professorship in biomedical optics has been approved at the Faculty of Medicine. The professorship has been made permanent as part of the MIRACLE project (Minimally Invasive Robot-Assisted Computer-guided LaserosteotomE). Together with the professorship for surgical robotics, which was appointed to Professor Georg Reuter in February, it aims to further develop the area of lasers and robotics at the Department of Biomedical Engineering.
A professorship in neuropediatrics has also been approved at the Faculty of Medicine. The clinical professorship at the University Children's Hospital Basel is essential for clinical service and interdisciplinary consultation hours, as well as research and teaching in neurology.