Free Content
12 June 2019
Ulysses on the Rhine: Basel Celebrates Switzerland's most lavish Bloomsday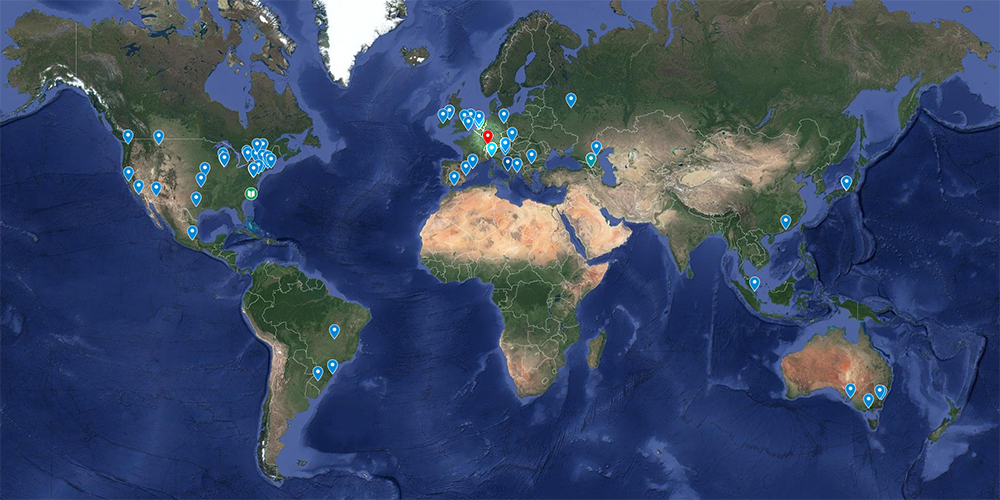 Celebrations in honor of literature are rare, but on June 16, Bloomsday – a day that honors the works of James Joyce – will be celebrated all over the world. In keeping with this, the English Seminar of the University of Basel once again invites you to a literary-inspired festival with music, theatre, and culinary surprises. The tradition has been cultivated at Nadelberg 6 for seven years now. Attracting upwards of 200 guests, Bloomsday in Basel has now established itself as the largest Bloomsday in Switzerland.
The Bloomsday world map from 2018 leaves no doubt: the day commemorating James Joyce's novel Ulysses (1922) is a global phenomenon. This is all the more remarkable because Joyce's texts have the reputation of being some of the most difficult in the English language and in world literature more generally. And yet, June 16 is celebrated far and wide, with academic lectures as well as carnivalesque street parades, readings, performances, and pub crawls. Basel has also been on the Bloomsday world map since 2013. What began as part of a student seminar has developed over the years into a public festival with its own unique character.
Sensory Adventure
"Bloomsday in Basel is a truly sensory experience and an opportunity for everyone to participate in aspects of Joyce's works," says Dr. Michelle Witen from the English Department at the University of Basel. "The goal," she states, "is to create a vibrant and playful approach to Joyce's text that shows how literature can bring an entire community together." Witen is a postdoc and has been involved with Joyce's oeuvre for over fifteen years. Understanding the complexity, but also the topicality, of his texts, she sees the Bloomsday tradition as an opportunity to resurrect Joyce's Ulysses again and again, each time renewing its dialogue with the present.
Accordingly, Witen has come up with a fascinating supplement to the annual event: In addition to the traditional musical and theatrical interludes, Bloomsday in Basel also contains an aptly named "culinary odyssey". This is a large buffet inspired by quotations from Ulysses. Every year, the Joyce expert carefully selects the theme and complementary quotations from Ulysses, which serve as the basis for a wide variety of dishes. Once again, around 30 passionate chefs and bakers have registered for this Bloomsday to meet the culinary challenge of creating a dish to match the quotation. The quotes then become part of the buffet, where they can be consumed alongside the food, so to speak.
Highlights 2019
Preparations for this year's Bloomsday have already been underway for the past six months. In the past week, rehearsals have been underway and the department's abovestairs treasure troves have been plundered for historical costumes. Guests of Bloomsday can expect a vivid program in the courtyard of the English Seminar next Sunday, June 16, starting at 5 pm, including a new edition of the "culinary odyssey", short sketches, and musical interludes by Scéalta, Nimmermeer, Joyce Division and Stephanie Zundel.
Admission is free, more information can be found on Facebook or the Department's webpage.
---
Further information
Dr. Michelle Witen, University of Basel, English Department, email: michelle.witen@unibas.ch
Bloomsday
In 1922, the Irish writer James Joyce published his major work Ulysses. The novel is set in Dublin and describes the events of a single day — 16 June 1904. The day takes its name from the novel's main character, Leopold Bloom. The tradition of celebrating this literary day began in Dublin, where today the whole city celebrates Bloomsday with public readings and theatre performances on relevant street corners or pubs. Since 2013, the Bloomsday in Basel honours this tradition with its own twists.