Free Content
Teaching Excellence Awards 2023: recognizing outstanding teachers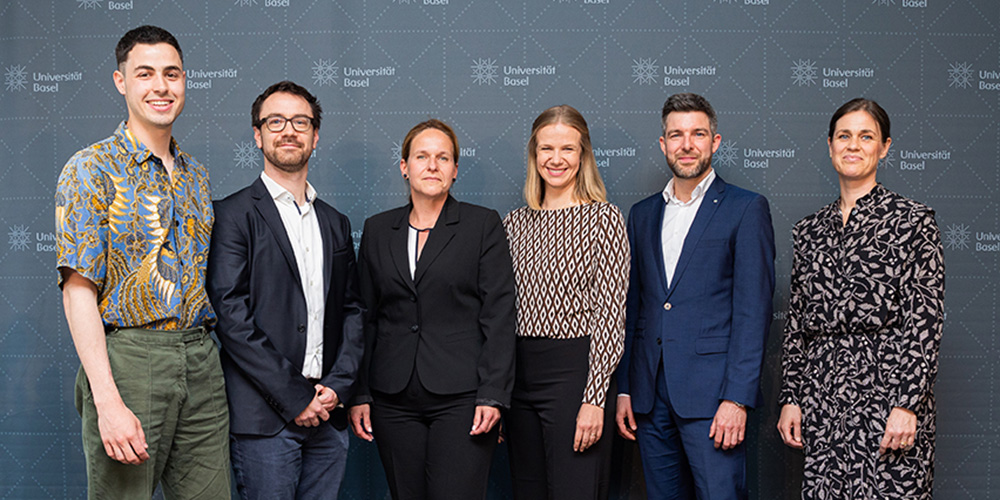 For the fifth time, the University of Basel has recognized outstanding achievements in the field of teaching with the Teaching Excellence Awards. Participation was strong: altogether, a total of 549 nominations of 213 lecturers were submitted in the five categories.
26 May 2023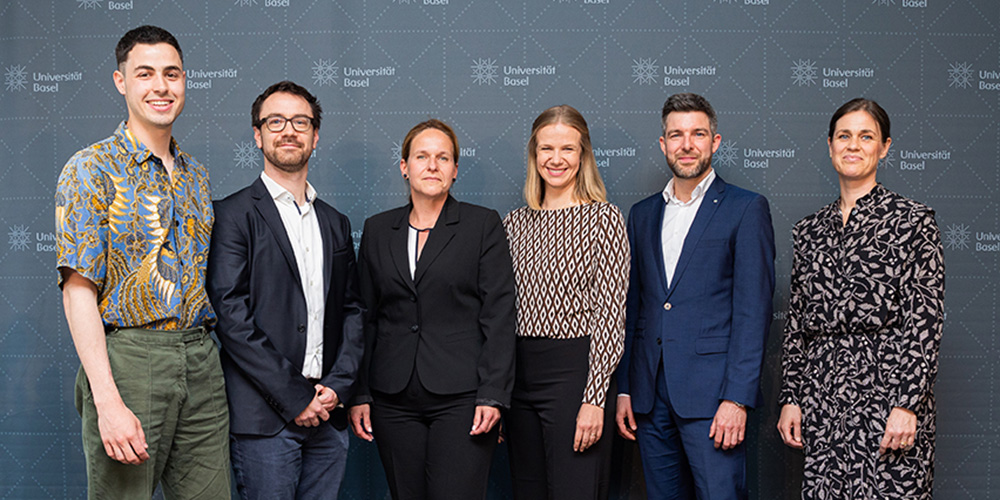 Vice President Professor Thomas Grob presented the Teaching Excellence Awards in a ceremony on 25 May in the Kollegienhaus.
The Faculty of Humanities and Social Sciences, the Faculty of Science, and the Faculty of Medicine received the greatest numbers of nominations for this year's teaching awards. This year, for the first time, students who are involved in teaching were also eligible to be nominated.
Modern Scholarship (Credit Suisse Award for Best Teaching)
The finalists included a number of lecturers who provide especially engaging learning opportunities for their students. This year's winner is Professor Samuel Allemann from the Department of Pharmaceutical Sciences.
The jury, composed of previous Teaching Excellence Award winners and finalists, particularly highlighted the winner's diverse instructional methods such as interactive surveys, his assignment of portfolio-based tasks, and a journal club as a format for assessment. He integrates artificial intelligence into his teaching and offers students the opportunity to reflect on its potential and limits. Students also benefit from livestreams into the classroom from the model pharmacy, where patient conversations are simulated in role plays.
Shortlist Modern Scholarship:
Dr. Julia Barth, Research Associate, Department of Environmental Sciences
Dr. Maria Thürk, Assistant/Postdoc, Political Science/Department of Social Sciences
Strong Foundations
The jury, consisting of teaching staff with a Certificate of Teaching in Higher Education from the University of Basel, chose Dr. Caroline Ballebye Sørensen, lecturer in Scandinavian Studies in the Department of Languages and Literatures and Professor Michael Nash from the Department of Chemistry.
They particularly highlighted Sørensen's use of media in her teaching and the creation of final projects in poster or podcast form that were presented/made available to the entire Nordic Studies community at the University of Basel. Nominators also praised the motivational atmosphere in Sørensen's classes and her encouraging approach, as well as her constructive criticism and positive feedback.
The jury placed particular value on the interactive methods used in Nash's courses, which are very well-attended. His patience and open, relaxed manner allow students to approach him on equal footing and give them the opportunity to share their own thought processes with other students, which helps them connect with the material more quickly. Students also appreciate his use of lively examples in lectures and his interactive surveys, which allow for immediate application of newly-learned materials to real-world questions and make it easier to quickly identify comprehension problems.
Strong Foundations shortlist:
Breaking new ground – student teaching
For the first time this year, the focus of this category was on students who play an active role in teaching and support their fellow students' learning. The jury was composed of members of departmental student groups. The price goes to Tobias Oswald. Oswald is a Master's student in History.
Nominations particularly emphasized Oswald's expertise and the creative and inspiring approach to leading tutorials. Tobias Oswald is regarded as a role model by fellow students due to the high level of engagement and independent initiative.
Breaking new ground – student teaching shortlist:
Future Talents (Credit Suisse Award for Best Teaching)
The finalists included doctoral students and early career researchers whose teaching students find particularly motivating. The award goes to Dr. Maria Thürk, Assistant/Postdoc in the field of Political Science.
The skuba board, which served as jury, was particularly impressed by Thürk's flipped classroom format, her up-to-date references to digital sources, and her use of interactive tools. Nominations also emphasized her open and motivating approach that makes students feel their contributions are valued and taken seriously, helping them to develop self-confidence. They also mention her significance as a role model as a first-generation academic, woman and mother.
Shortlist Future Talents:
Service to Teaching
Numerous nominations were submitted this year for those members of the University of Basel who ensure that study programs operate smoothly and pleasantly for students. The winner is Dr. Anja Car, Program Coordinator at the Swiss Nanoscience Institute.
The Deans of Studies from all faculties made up the jury. Nominations particularly emphasized Car's proactive approach, her openness to hearing about problems, and her willingness to listen to student feedback and engagement on issues that concerned them. They also praised her friendly manner, her quick responses to requests, and her constant efforts to optimize procedures.
Service to Teaching shortlist:
---
Further information:
Further information about the award categories and an overview of past years' teaching awards can be found on the Teaching Excellence Awards website.