Free Content
Women in science: When female physicists network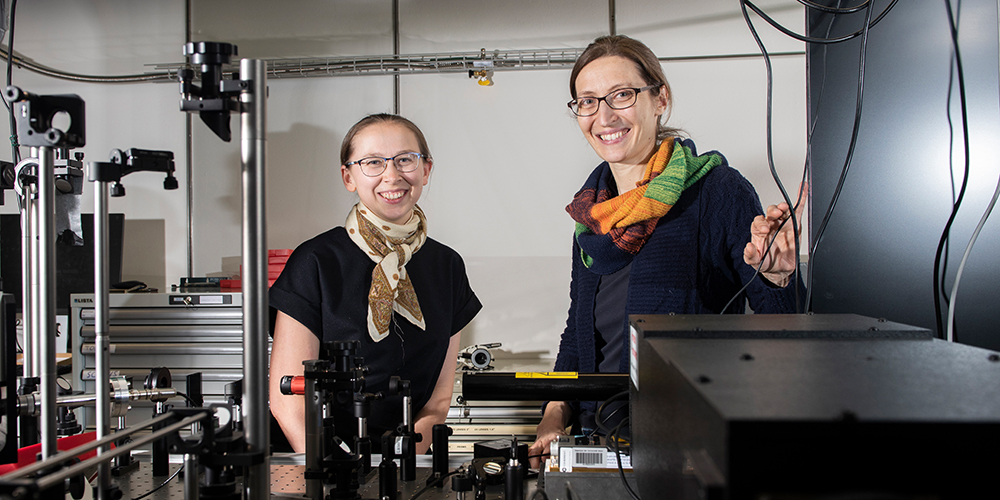 The International Day of Women and Girls in Science will take place on 11 February. To mark this day, physicists from the University of Basel are hosting a public panel discussion with guests from industry and research. The aim is to discuss strategies for increasing gender balance in science. The program also features an exhibition on famous female scientists and demonstration experiments aimed at capturing the interest of schoolgirls in particular. In the run-up to the event, UniNews spoke to the two women behind it.
06 February 2020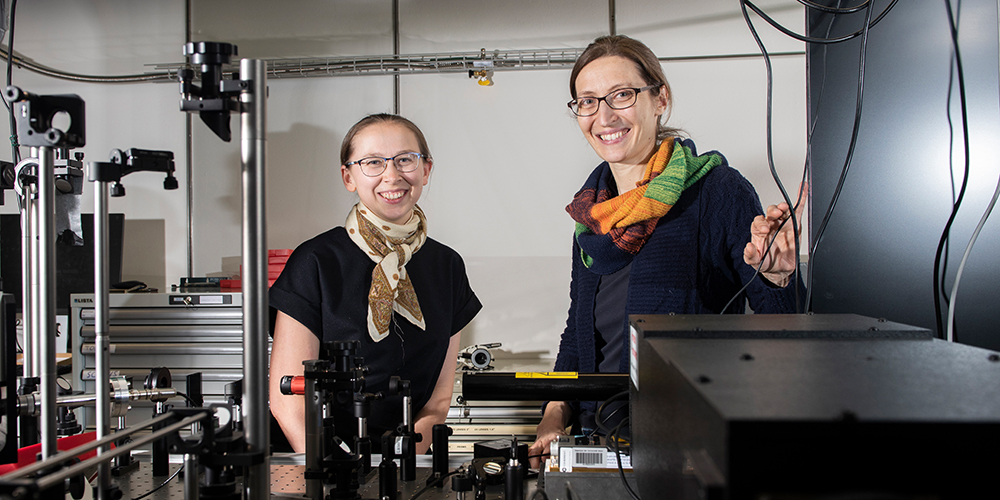 It all started over a cup of coffee. Professor Ilaria Zardo and Professor Jelena Klinovaja are the only female professors in the Department of Physics and meet regularly to share their experiences. The idea soon arose to include the department's female students and researchers, and the Women's Network in the Department of Physics was born. The network has been active for about two years now, hosting lunch talks and offering social activities.
This gender initiative was also included in the application submitted for the National Center of Competence in Research (NCCR) SPIN. The Centre for Quantum Computing, which is currently being established, has set itself an ambitious program for equal opportunities, which is intended to support and promote women at various stages of their academic careers.
Women make up less than 30%
The two female professors developed the activities surrounding International Women's Day together with the female researchers at the Physics Department. "We want to stimulate interdisciplinary discussion and draw attention to the fact that women are still a minority in academia – less than 30% of researchers worldwide are women," says Zardo. "This problem will only get worse in the future, particularly in the natural sciences and technical subjects, if we do not make a concerted effort to counter it."
Zardo discussed how important it was for her to be able to work with a female doctoral supervisor. She has a photo of her husband and two children on her desk. For her, having a family was a matter of course, but she knows that many young women have doubts about combining a career and children. When a female student asked her how it was possible to be a professor and mother at the same time, it both shocked and motivated her: "I don't think anyone would ask a man whether it's possible to be a professor and father at the same time."
The need for more role models
Klinovaja also believes that there are still too few role models. At the age of 32, she is the youngest female associate professor at the University of Basel and knows from experience how unnerving it can be to be young and in a minority. This is why she has such a personal interest in the lunch talks: "I got to know this form of informal exchange during my postdoctoral period at Harvard," says Klinovaja. "In Basel, too, we make a special point to invite women from a range of fields – not just research but also from business and industry. It's inspiring to see how each individual person talks about their successes and challenges. It also draws attention to the fact that we all have our own story and personality."
Both women say that they have never experienced direct, active discrimination and that the collaboration at the Department of Physics is very collegial. Nevertheless, they note that breaking into the world of science is not always easy, and both women are familiar with comments such as: "A man would have behaved differently here." Zardo says: "In a male-dominated field, you have to be ready for these kinds of situations." Nevertheless, adapting to a male culture was never an option for her: "You can quickly get used to it and adopt these leadership patterns. But I deliberately resisted this and think it's extremely important that we serve as role models to promote a culture of female leadership."
Taking home both prizes
Klinovaja also asserted herself early on. During her school days, she participated regularly in math and physics competitions, where separate prizes were typically awarded: one for the best result and one for the best girl. "And then I won both prizes, which was strange somehow," she says, grinning. "The organizers apparently hadn't planned for that."
Panel discussion, exhibition and demonstration experiments
The public panel discussion on "Gender Equality in Science" will take place on 11 February 2020 at 6 pm at the Kollegienhaus. Discussion facilitators: Dr. Heike Riel (IBM), Shivanthi Sadacharan (Novartis), Fleur Weibel (Center for Gender Studies), Dr. Monika Mommertz (History of Science). Afterwards, there will be an opportunity to exchange ideas and network with the scientists and guests over an aperitif.
In the morning and afternoon of 11 February, the women's network of the Department of Physics will also present a poster exhibition of famous women in science and conduct several demonstration experiments. Tours of the exhibition can be booked on request. E-mail: femalenetwork-physics@unibas.ch, phone +41 612073734. The event is open to the general public and school classes in particular are invited to attend.