Free Content
27 November 2018
Four new assistant professorships at the University of Basel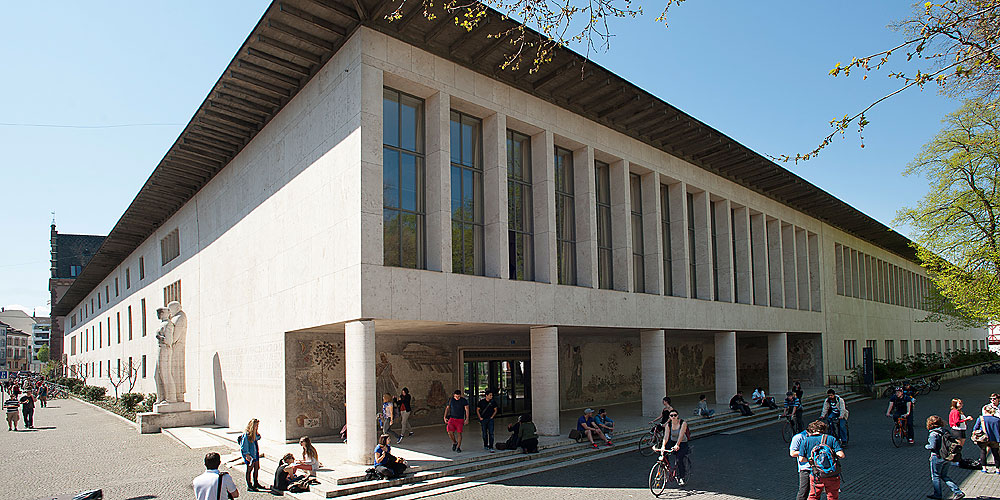 The Swiss National Science Foundation (SNSF) has approved the financing of four new assistant professorships at the University of Basel as part of the newly announced Eccellenza fellowships. At the same time, two Eccellenza Grants have also been approved, bringing a total of around CHF 9.5 million in third-party funding to Basel.
In place of the previous professorships, the SNSF has this year launched the two-part Eccellenza funding program, which is directed at highly skilled young researchers who aspire to a professorship or who recently took up an assistant professorship with tenure track. With the new funding instrument, the SNSF is seeking to enable outstanding young scientists to lead a generously funded research project with a team of their own.
Two female and two male scientists
The SNSF Eccellenza Professorial Fellowships offer early career researchers considerable financial and scientific independence: in addition to the salary, they receive up to CHF 1 million to fund a research project of their choosing for five years – one year longer than the previous professorships.
The fellowships are connected with an appointment to the position of assistant professor at the higher education institution chosen by the researchers for their project. Four scientists successfully applied for a fellowship at the University of Basel and will receive CHF 1.6 million on average in support from the SNSF.
Dr. Niklaus Labhardt received his doctorate in medicine from the University of Basel in 2005. He did his internship in various clinics in Switzerland and Africa and currently works as an attending physician at the Infectious Diseases Clinic of the University Hospital of Basel. As project manager at the Swiss Tropical and Public Health Institute (Swiss TPH) he has built up a research group in Lesotho, southern Africa. His project consists of several randomized clinical trials that address current challenges in HIV care in Southeast Africa.
PD Dr. Dr. Sara Meyer obtained her MD and PhD from University of Bern in 2009 and completed her hematology residency at Cantonal Hospital Baden and University Hospital Basel. She performed postdoctoral research at Memorial Sloan Kettering Cancer Center in New York in the field of myeloid leukemias. Since 2015 she is a clinician and researcher in the Division of Hematology and the Department of Biomedicine at the University of Basel and the University Hospital Basel. She is leading a research group since 2016 and was habilitated in 2018. Her research focuses on the signaling processes in leukemia which evoke resistance to therapy, as a basis for novel therapeutic approaches.
Dr. Fabrizio Nichele received his doctorate in solid state physics from ETH Zurich in 2014. Since then he has been doing research at the University of Copenhagen and working as a consultant for Microsoft Research. Currently he is working at IBM Research Zurich. In 2018, the European Research Council awarded him an ERC Starting Grant. His project at the Department of Physics deals with fundamental physical questions and novel approaches to topological quantum states in lateral Josephson geometries.
Dr. Chiara Saffirio obtained her PhD in Mathematics in 2012 at the University of Rome (La Sapienza) and did postdoctoral research at the Institute of Mathematics at the University of Zurich and at the Hausdorff Center for Mathematics at the University of Bonn. She has been an Ambizione Fellow of the SNF at the University of Zurich since 2016. Her project at the Department of Mathematics and Computer Sciences addresses questions in kinetic theory and many-body interactions in both classical and quantum systems evolving around the theory of the Boltzmann equation.
Funding for research into biblical violence and breath analysis
At the same time as the fellowships, the SNSF also announced lucrative project funding for the first time through the Eccellenza Grants, which were open to applications from newly appointed assistant professors with the prospect of a tenure-track position. The grants will enable them to set up a research team and to lead an ambitious scientific project of their own. Two researchers from the University of Basel each successfully applied for around CHF 1.5 million in funding for their five-year projects.
Prof. Dr. Sonja Ammann has been an assistant professor for Hebrew Bible at the University of Basel since 2017. In her research, she analyzes narratives of violence in Old Testament texts. More specifically, her project will investigate how the experiences of collective violence and the use of violence are reflected in biblical texts and their cultural functions in ancient Israel.
Prof. Dr. Pablo Sinués has been Botnar Research Professor at the University Children's Hospital Basel and the Department of Biomedical Engineering of the University of Basel since 2017. His project aims to personalize the therapy of pediatric patients by breath analysis.
Within the new Eccellenza funding scheme, the SNSF is awarding a total of 51 Eccellenza grants to young researchers at eight Swiss universities and at the two Federal Institutes of Technology.
---
Further information
Anita Soltermann, University of Basel, Vice President's Office for Research, Grants Office, tel. +41 61 207 29 39, email: anita.soltermann@unibas.ch