Free Content
New Professorship for Gender Studies
The University of Basel is strengthening its expertise in Gender Studies with a new professorship: the University Council has appointed Bianca Prietl as Professor with a focus on digitalization.
26 October 2022
Professor Bianca Prietl will take up her position on 1 January 2023. She is currently an assistant professor in the social impact of digitalization at Johannes Kepler University Linz.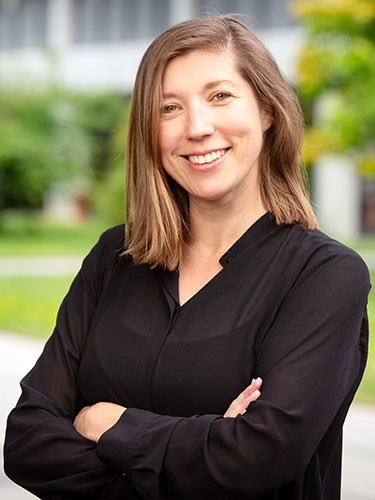 Prietl studied business administration and sociology at the University of Graz. Having specialized in gender studies and science and technology studies, she laid the foundation for her work at the intersection of these two interdisciplinary fields of research. In 2017, she was awarded her doctorate with a dissertation in the field of social and economic sciences entitled "Energy transition = gender transition? A gender-sociological subject analysis of the engineer in the field of renewable energies." In addition to her work as a research assistant at the sociology departments at the University of Graz, RWTH Aachen and TU Darmstadt, Professor Prietl, who is originally from Austria, completed research stays in Norway and the US.
Her publications on critical-feminist technology research make her an expert on matters of digitalization and datafication. Professor Prietl's research focuses on the relationship between technology and gender as a relationship of power and domination. In Basel, she will continue to examine the question of how processes of technologization both shape and are shaped by the social gender order. This concerns not least the issue of making the insights of feminist technology research available to benefit the development of digital technologies.
Gender studies has been increasing in popularity as a subject for years now. The professorship, with its social and sociological focus, is a newly created position that supplements the existing assistant professorship in gender research and cultural anthropology with Professor Marion Schulze and Professor Alain Müller. This move sees the university take the rising number of students into account, and will also allow it to make a significant contribution to the development of the faculty's interdisciplinary area of digitalization.
Six adjunct professorships
The University Council has approved the decision by the Senate to appoint the following adjunct professors:
Faculty of Medicine
Professor Katrin Esther Hostettler Haack for pneumology
Professor Andrej Maria Nowakowski for orthopedic surgery and traumatology of the musculoskeletal system
Professor Sacha Rothschild for medical oncology
Professor Savas Deniz Soysal for surgery
Faculty of Science
Professor Martin Smieško for molecular modeling and computational toxicology
Professor Patrick Tschopp for zoology and developmental biology