Study-Details
Deutsche Philologie

Degree:

Bachelor
Deutsche Philologie ist die wissenschaftliche Beschäftigung mit der deutschen Sprache und Literatur. Sie verbindet die Arbeit an Texten und an anderen Erscheinungsformen der Sprache mit ihrer Situierung im kulturellen Prozess und mit den unterschiedlichen sprachlichen, bildlichen oder akustischen Medien in ihren jeweiligen Kontexten. Die grundlegende philologische und textwissenschaftliche Ausrichtung des Faches wird durch eine kulturwissenschaftliche Orientierung ergänzt, in der die Wechselbeziehungen zwischen Literaturen, Alltags- oder Fachsprachen, Ökonomie, Ökologie, Psychologie, Gender oder Gesellschaft sowie anderen Wissensgebieten in den Blick treten.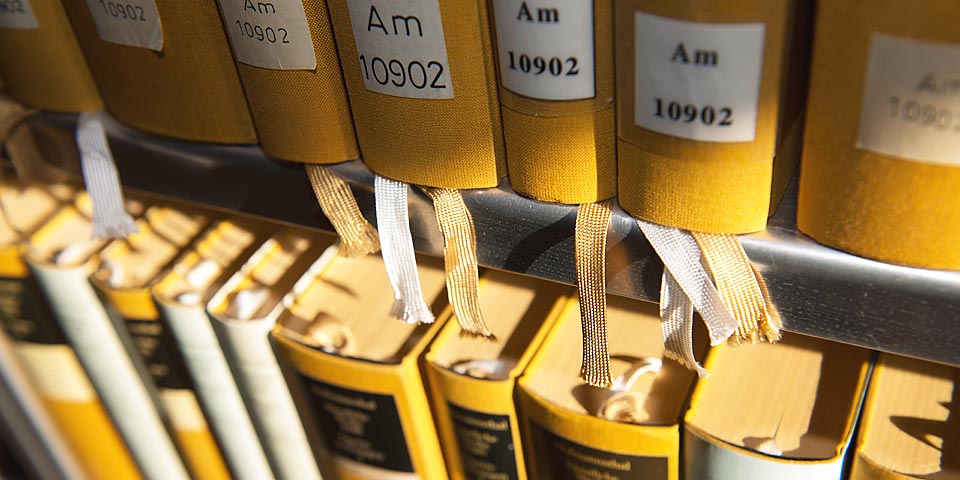 Schwerpunkt der Lehre und Forschung
Das Fach Deutsche Philologie an der Universität Basel erhebt den Anspruch, die gesamte Breite des Fachs in historischer wie systematischer Hinsicht zu repräsentieren. Das Lehrangebot ermöglicht es, im Laufe des Studiums sämtliche Epochen, Theoriefelder und sonstigen Gegenstandsbereiche des Fachs kennenzulernen. Die Lehre ist dabei eng an Stand und Fragen der fachwissenschaftlichen Forschung gebunden, Tagungen und Gastvorträge ergänzen das Curriculum.
Studienaufbau
Der Bachelor ist der erste Studienabschluss vor dem Master. Er umfasst insgesamt 180 Kreditpunkte (KP). Das Studienfach Deutsche Philologie wird als eines von zwei Studienfächern zu je 75 Kreditpunkte studiert. Hinzu kommt der komplementäre Bereich (30 KP). Ein Kreditpunkt ECTS entspricht ungefähr 30 Arbeitsstunden.
Bachelor of Arts (180 KP)

Deutsche Philologie
75 KP

Fach aus Phil.-Hist. Fakultät oder ausserfakultär
75 KP

Komplemen-
tärbereich
30 KP

Zwei Studienfächer
Fächerkombination
Deutsche Philologie wird auf Bachelor- wie Masterstufe in Kombination mit einem zweiten Studienfach und einem komplementären Bereich studiert.
Als zweites Bachelor- bzw. Masterstudienfach kommt neben Fächern der Phil.-Hist. Fakultät (wie z.B. Englisch, Philosophie, Medienwissenschaften, Geschichte u.v.a.m.) auch ein ausserfakultäres Studienfach in Frage (wie z. B. Geographie, Informatik, Rechtswissenschaft oder Theologie), nicht aber Deutsche Literaturwissenschaft, siehe www.philhist.unibas.ch/studium.
Im Bachelorstudium werden in beiden Studienfächer je 75 KP, im Komplemen­tärbereich 30 KP erworben.
Der Komplementärbereich besteht aus wählbaren Lehrveranstaltungen, die zur Vertiefung in den Studienfächern, zum Einblick in andere von der Universität Basel angebotene Studienfächer oder zum Erwerb von Sprachkompetenzen einsetzbar sind.
Deutsche Philologie kann ausserdem als Zweitfach zu Sportwissenschaft studiert werden.
Weiterführende Masterstudien
Weiterführende Links und Downloads
Found the right program?