Free Content
Toolbox for constructive conversations between team leaders and team members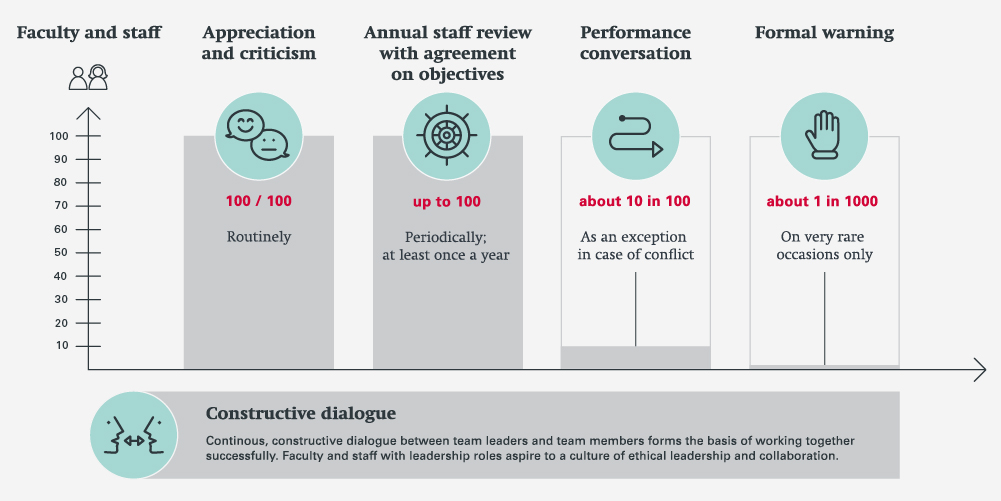 Welcome. On this website, Leadership & Development offers a variety of tools to support team leaders in conducting fair and transparent conversations with their team members so as to fulfill their management and leadership duties. Team leaders are responsible for the success of their respective team and team members and for using the university's resources productively and sustainably.
In this toolbox, you will find a number of guidelines used by team leaders at the University of Basel for conducting conversations with and evaluations of team members on equal terms.
Information, guidelines, and forms for conversations in different situations are available on this website. The materials can be used in different ways – as an online reference, as printed documents, or as interactive PDFs – depending on the depth of detail and information needed for you to lead successfully.
Forms and guidelines for constructive dialogue in everyday work situations or for resolving conflicts are provided to complement the annual staff review with an agreement on objectives.
If you have follow-up questions on how to use the materials or forms on constructive dialogues or if you want general information on leadership tools and methods, do not hesitate to contact the Leadership & Development coaches.
Any looming or lingering conflict with or among team members is best addressed in a timely fashion. Feel free to ask for coaching and support in negotiating complex leadership issues. Leadership & Development also offers a variety of trainings on communication, collaboration, and leadership in English for the university's international faculty and staff.
---
Guiding principles
University of Basel faculty and staff communicate in a reasonable, transparent fashion and work together with a cooperative and appreciative mindset.
Faculty and staff with leadership duties are responsible for the smooth operation of their team or unit and are encouraged to challenge and support their team members.
Teams leaders practice an appreciative leadership style and engage in dialogue with their team members on equal footing to guarantee success for the team members, the team, and the university.