Free Content
Swiss - African Research Cooperation (SARECO)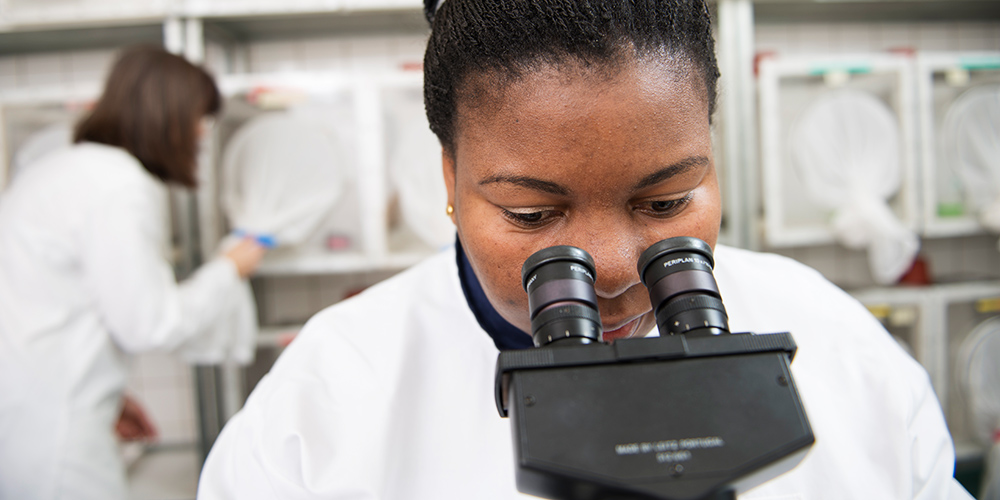 Developping out of the Swiss - South African Joint Research Programme (SSAJRP), the Swiss - African research cooperation (SARECO), in place since 2013, enlarges the field of actors and countries. This web entry informs about background elements of this programme and about the calls launched in the cooperation period 2013 - 2016. Among these, the very recently (August 2016) launched call for advanced PHD candidates and early Postdoctoral researchers in the field of Global and Environmental Health as well as in Nanosciences mentioned at the end of his page.
For information about Swiss - African research cooperation and fundings going beyond this page readers are invited to consult the newly launched database at www.sareco.org or to follow the most recent developments on twitter.com/SwissAfrica.

Mapping Africa
The State Secretariat for Education, Research and Innovation (SERI) within the framework of its international strategy 2010 has mandated the Leading House Basel (University + Swiss TPH) to map the research potential of countries in Africa and to identify promising African countries for scientific collaboration.
In 2013, LH Basel has interviewed Swiss Higher Education Institutions both about their long term scientific engagements and their short term relations or plans to establish connections in Africa. Further actors in Switzerland like the Swiss Agency for Development and Cooperation (SDC), the Commission for Research Partnerships with Developing countries (KFPE) , the State Secretariat for Economic Affairs (SECO), the Swiss National Science Foundation (SNSF), associated research institutes of universities as well as partners from the private sector have contributed with their views to complete the Swiss activities' landscape.
At the same time, LH Basel has tried, wherever possible, to include opinion leaders from the South and in the South in order to develop a fully bilateral view of the picture like the African Network for Internationalization of Education (ANIE), the African Academy of Sciences (AAS), representatives from the African Union (AU) and the European Union in Africa. All inputs went into the mapping of results that were presented at the information day on 19 February 2014.
---
Outcomes of the Mapping Process
Based on the results of the mapping process and the feedback from participants of an Information Day on 19 February 2014 the Leading House Basel has further developed its outlines for 2013 – 16 entailing
to give preference to a regional approach and to include by that the following geographical areas:
French Speaking countries in Western Africa with Senegal and Cameroon and linking to the RESCIF engineering network
Ghana and its developed higher education system
Eastern Africa with Kenya and Uganda
South Eastern African region with Zambia and Mozambique
To focus on institutional hotspots in the designated partner countries
---
Call for Kick-Starting Projects – re-opened
The funding line to finance kick-start activities with partners in Africa intends to incentivize and further collaboration between Swiss and African researchers by focusing on the following kick-starting instruments
Exchange visits
Joint seminars
Joint Workshops
Financial volume
For the period of 2013 – 16, a total of CHF 480'000 is available for kick-start projects.
Individual applications shall not exceed the amount of CHF 10'000.
Swiss researchers can apply for travel grants (flight costs up to CHF 1'500) as well as for daily allowances for incoming researchers on the basis of current SNSF rates.
The Swiss – African kick-start funding is complimentary to all other funding sources in Switzerland.
Timeline
Researchers are invited to submit project ideas by using the application form Applications can be handed in on a rolling basis until the available funding line has been reached. (Please send your application in electronic form to erich.thaler-at-unibas.ch). Please see budget and financial guidelines for further information.
Project proposals will be evaluated by external experts, selection based on scientific merit. When sending your project ideas please share with us your institutional contacts in the region of your choice.
Call for Kick-Starting Projects
Grants
Grants are available for the following countries:
Cameroon
Ghana
Senegal
Kenya
Uganda
Mozambique
Zambia
Funding Instruments
Kick-starting exchange visits
Kick-starting joint seminars
Kick-starting joint workshops
Application
The call has been re-opened. To apply, please send a completed application form together with an outline of the proposed collaborative research to Erich Thaler.
Call for Visiting Fellowship Proposals
The Leading House Basel (University of Basel and Swiss Tropical and Public Health Institute) together with the African Academy of Sciences (AAS) call for research proposals in the area of Global and Environmental Health and Nanosciences. Advanced PHD students and Early Postdoctoral researchers are invited to submit their proposals. In Switzerland, applicants write to the programme coordinator: Erich.Thaler@unibas.ch. In Africa, applicants submit their documents to applications@aasciences.ac.ke
Deadline: 30 September 2016
Max. amount granted per project: 70'000 CHF
Period of stay: 3 - max. 12 months
Decisions will be communicated by end of December.
Research work can start earliest on 1st of January 2017.
For information, please consult the call text made available here.
For applying, please use the application form made available here.
Please submit only electronically. Hard copies will not be acknowledged.