Free Content
BOOST your imp!act 2016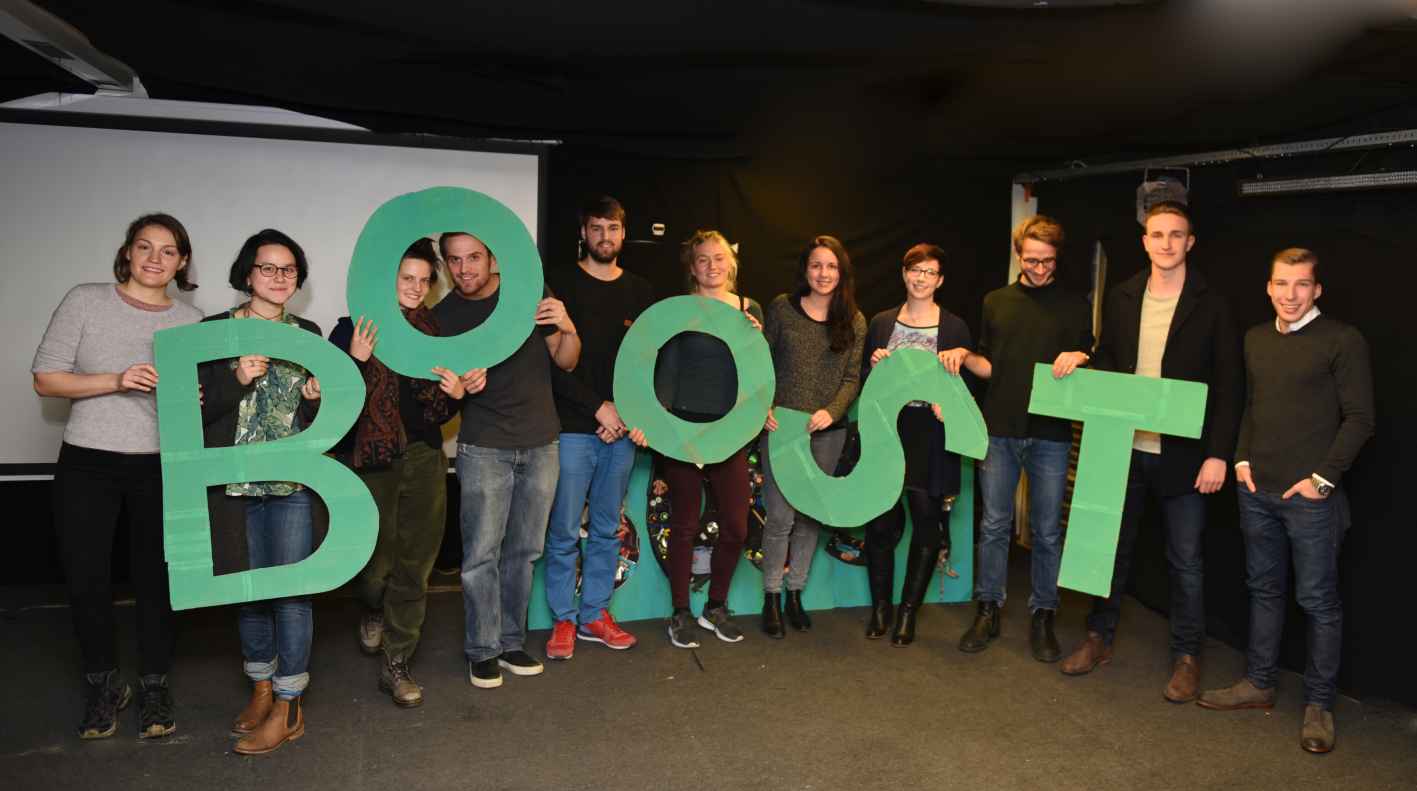 Six student projects in the field of sustainability awarded
Reducing waste, supporting sustainable consumption, improve interaction between generations: six student projects in the field of sustainability have been awarded in 2016 within the BOOST-contest.
Out of the nine applications these six groups of students could convince the team of BOOST about their project ideas. They were awarded by Prof. Maarten Hoenen, Vicerector for Teaching and Development, in the evening of the 7th december 2016. To support the implementation of the projecs the teams will receive 500 francs and can participate in a workshop for project management, communication and fundraising.
In the Download Box on the right side of this page you can find the conclusional posters of the five finalized BOOST projects.
Swapooks
Reuse. Reduce. Recycle. Thats the principle behing Swapooks. On this online plattform sutdents can buy and sell the literature from their studies.
Sack-Cycling
Who can't relate to plastic and shopping bags piling up at home. But when you're in the shop you haven't one of them at hand. The team of Sack-Cycling intends to set up bag dispensers from which you can get used bags for free. The idea is also that you can bring your own bags and deposit them for others to use. In a first step the team intends to do an evaluation of the needs and locations.
Verein beraber
The already existing assiciation that is engaged in providing extra tuition for children and youth with migrational background. beraber already got a handful of awards for their initiative. For the upcoming project beraber plans to implement a subsidy system to provide extra tuition to children with a low income background to whom the costs often are a big obstacle. A collaboration with the RAV is in the works.
Generationen Garten
The Generationen Garten (generation garden) is intended to improve the exchange between different generations and to raise awareness for interaction with nature. Work in the field as well as the distribution of knowledge are the two pillars of the programme. The residents of the nursing home and kids from a nearby school and kindergarden will engage toghether in the garden. In a first step the team of Generationen Garten will renew the raised beds and make them accessible for wheelchairs.
Vegional
To raise awareness about sustainable consumption with a focus on nutrition is the set goal of this project. Aspects like regional and seasonal produce are going to play an important role as well as increasing the vegetarian and vegan part of the daily diet.
Science Communication
This project was created by students and scientists of the University of Basel and intends to improve the interdisciplinary communication and dialogue between scientist but also non-scientists. Workshops in science communication are going to take place every two months.
BOOST-Gallery 2016