Free Content
BOOST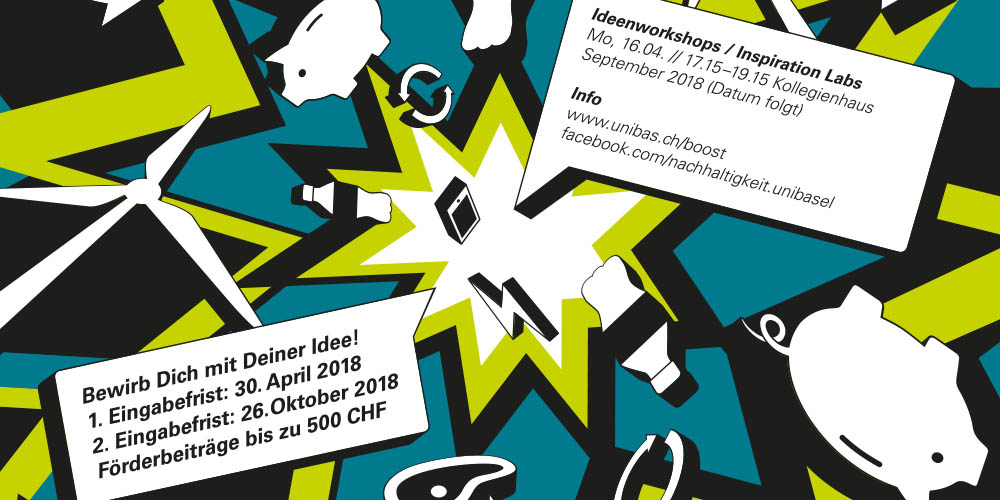 You are full of ideas and are looking for possibilities to put them into practice? Then BOOST is exactly the right place for you!
Sustainability Challenge 2018
Apply now with your idea!
Until 30 April 2018 Students and PhD-Fellows of all fields of study at the University of Basel can apply with their project idea related to sustainability. The best projects will receive a sponsorship in the amount of CHF 500 and the participation in a project management course and further competence courses.
The Guideline and Application form for the BOOST Sustainability Challenge 2018 can be found in the Links & Downloads-Box.
BOOST
BOOST is a program that promotes student projects relating to the topic of sustainability at the University of Basel. Students and PhD fellows at the University of Basel can design and submit their own project ideas to BOOST. When the best projects reach implementation stage, they receive financial support and coaching in the fields of project management, communication and sponsoring.
BOOST was initiated in 2013 by the Sustainability Office and the student initiative SDUBS (Students for Sustainability at the University of Basel). From 2013 to 2016 BOOST was sponsored by the University of Basel and the Sustainable Development at Universities Programme which was financed by the Swiss University Conference and the Mercator Schweiz foundation.
Here you can find all awarded projects of the past years:
With best thanks for the support!