Study-Details
Zahnmedizin

Degree:

Master
Die Zahnmedizin befasst sich mit der Erkennung, Vorbeugung und Behandlung von Zahn-, Mund- und Kiefererkrankungen, mit der Zahnerhaltung, der Rehabilitation und der Regulierung von Zahn- und Kieferanomalien. In der Zahnerhaltung werden kariöse Defekte und Erkrankungen des Zahnhalteapparates (Parodonts) behandelt, in der Rekonstruktiven Zahnmedizin werden ästhetische Korrekturen und Rehabilitationen vorgenommen, in der zahnärztlichen Chirurgie werden operative Eingriffe durchgeführt, die Kieferorthopädie setzt Zahnspangen zur Zahnstellungskorrektur ein. In der Präventivzahnmedizin, der oralen Mikrobiologie und dem Bereich Biomaterialien werden Forschungsprojekte zur Verbesserung von Materialien und Methoden durchgeführt. Der empathische Umgang mit Patientengruppen verschiedenen Alters (von der Kinderzahnmedizin bis zur Alterszahnmedizin), mit Vorerkrankungen und variierendem sozialem Hintergrund bedarf geschulter Kommunikation und grossem Einfühlungsvermögen. Das Spektrum in der Zahnmedizin ist gross und ermöglicht sowohl eine spezialisierte als auch eine umfassende Berufstätigkeit.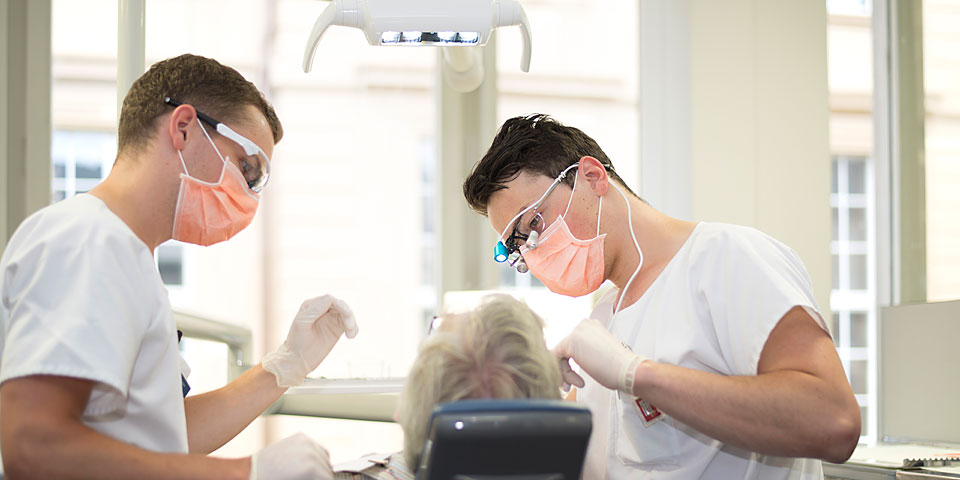 Schwerpunkt der Lehre und Forschung
Im 1. und 2. Master-Studienjahr werden Patient/inn/en an den Universitätszahnkliniken von den Studierenden unter Supervision behandelt. Hinzu kommt die theoretische Ausbildung und praktische Demonstrationen in Parodontologie/Endodontologie/Kariologie, Zahnärztlicher Chirurgie /Stomatologie, Total-/Teilprothetik, Kronen-/Brückenprothetik, Kieferorthopädie/Kinderzahnmedizin sowie Präventivzahnmedizin. Als Besonderheiten werden die interdisziplinären Veranstaltungen der Traumatologie und Implantolgie angeboten.
Studienaufbau
Der Bachelor ist der erste Studienabschluss vor dem Master. Er umfasst insgesamt 180 Kreditpunkte (KP). Ein Kreditpunkt (KP) ECTS entspricht ungefähr 30 Arbeitsstunden. Ein Kreditpunkt (KP) ECTS entspricht ungefähr 30 Arbeitsstunden.
Master of Dental Medicine (120 KP)
Zahnmedizin
120 KP
Studiengang
Fächerkombination
Es handelt sich um einen Monostudiengang ohne weitere Fächer.
Berufsmöglichkeiten
Die meisten Zahnärzte und Zahnärztinnen sind selbständig und führen eine eigene Praxis. Darüber hinaus gibt es Stellen an öffentlichen Zahnkliniken (Schul- und Volkszahnklinik) oder (dies auch in Teilzeitanstellung) bei einem/einer niedergelassenen Zahnmediziner/in. Für die Lehre und Forschung kommt die akademische Laufbahn an der Universität in Frage. Darüber hinaus werden Positionen in der Privatwirtschaft angeboten.
Weiterführende Links und Downloads
Found the right program?