Free Content
Infrastructure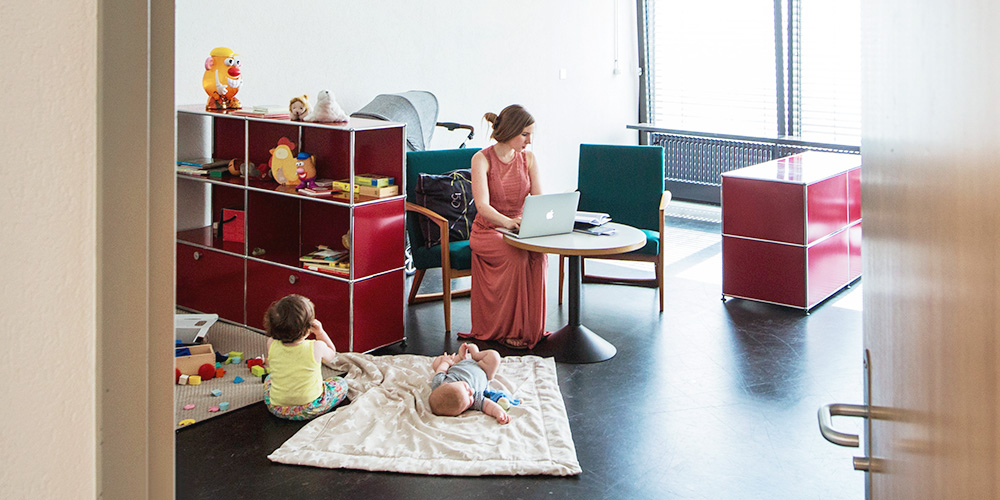 The university strives to make its family friendliness visible and perceptible in everyday university life. The range of appropriate furniture and premises is constantly being expanded. Here you will find information on the current family-friendly infrastructure.
Parent-child room in the University Library
It is a common study room, except that parents with a child or children have priority.
Room number 303, 3rd floor in the University Library at Schönbeinstrasse 18-20
Access: free to the opening hours of the University Library
Equipment
Nursing corner with armchairs and privacy screen
Play corner for toddlers with toys and books
Changing tray, nappy pail and washbasin
---
Children's menu in student cafeterias of the University of Basel
Children up to the age of 6 can choose their favorite meal from three components of the daily menu for CHF 5. Older children receive the daily menus at the student price.
Children's menus are available in the Mensa Universität Basel and in the Mensa in the Department of Physics as well as in the Restaurant Biozentrum and in the Cafeteria La Strada.
---
High chairs for childern in student cafeterias
At least one high chair for children is available in every student cafeteria of the University of Basel.
---
Changing tables
Kollegienhaus (main building) at Petersgraben 1 in the accessible toilet, to the right of the entrance to the Great Hall. Room number 032.
Department of Classical Studies at Petersgraben 51 in the ladies' toilet on the ground floor as well as in the accessible toilet on the first floor
Medical University Library at Spiegelgasse 5 in the accessible toilet on the ground floor
---
Play Box in the Library of the Philosophical Seminary
In the library there is a play box for toddlers. The content of the box has been composed without small parts that can be swallowed.
Access: The box is freely accessible during the opening hours of the library.
---
Breastfeeding and nursing rooms
There are currently no special rest or nursing rooms available at the University of Basel.
In many cases, available meeting rooms or other areas that provide privacy are used.
Mutual tolerance is required to ensure that it is possible for mothers to nurse or express breast milk. Both mothers as well as supervisors must be informed and prepared ahead of time. It is useful to have a discussion concerning expectations and requests from both sides. Further information on brestfeeding and pumping during working hours
If you need support in finding a suitable room, contact Team Diversity.